Simon Saqueton: Once Upon A Time
For Simon Saqueton, computer science and mathematics go together like Batman and Robin - much like his interest in fantasy and science fiction helped inspire his University Honors Program thesis.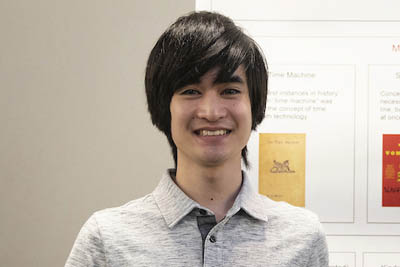 "Through the whole semester, I was reading books and comic books that relate to time travel. Understanding the theory behind each story to see if it is scientifically possible in our reality. With this exposure, I am writing and drawing my own comic book centered around time travel."
Although Simon was born in Tampa, Florida, he has lived in Papillion, Nebraska, for most of his life. He joined UNO after graduating Papillion La Vista High School and not only became a member of the University Honors Program, but of the Goodrich Scholarship Program as well.
He originally began his college career as a mathematics major, but quickly learned that he could apply many of the same skills to computer science as a double major. Now he will be graduating with both degrees in May.
He recommends that all future Honors students take advantage of opportunities like early registration and support facilities.
"Early registration is the most amazing benefit that I've experienced here at UNO. I really appreciate it, happy to get all the classes I want. I also like that the Honors Program facilities are open 24/7, having a nice place to study, even late at night if you don't want to be home."