Biomedical Informatics Lab Awarded EPSCoR Grant to Upgrade Equipment
IS&T's Biomedical Informatics Lab wins an award to help drive more innovation and research on cancer vaccines.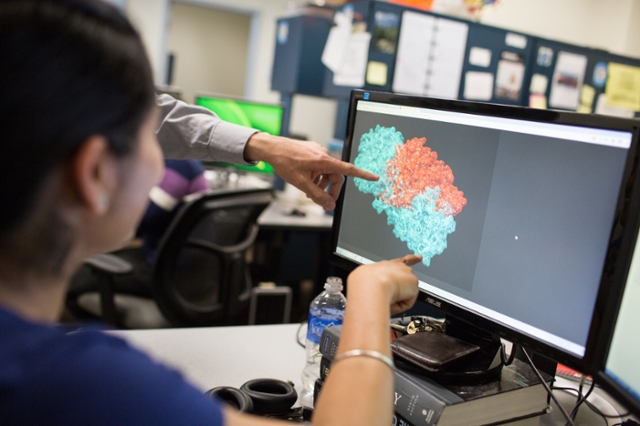 "We want to help medical scientists design better cancer vaccines." Dario Ghersi, assistant professor of biomedical informatics at the University of Nebraska at Omaha (UNO) College of Information Science and Technology (IS&T) said. An ambitious goal, but with the right equipment, he's sure that the biomedical informatics team at IS&T can help medicine get there.
We want to help medical scientists design better cancer vaccines.
- Dr. Dario Ghersi
Sitting in the Bioinformatics Lab on the third floor of IS&T, there's always a lot of activity: students toiling away running gene sequences and collecting big data, a food computer sits in the conference room – mimicking environments across the world to grow plants in a box controlled by a computer, and visiting students from around the world wanting to get a glimpse as to what bioinformatics really looks like. As one of the few bioinformatics and biomedical informatics degrees of their kind in the country, IS&T is poised to be a true leader in this rapidly expanding field.
In order to reach this goal, Ghersi saw an opportunity to ramp up their server performance, and provide secure servers for potentially sensitive data. That meant more sophisticated equipment was needed. Through working with IS&T's information technology department, they found a rack server optimized for high-end, storage-intensive, GPU accelerated computing – perfect for housing DNA sequences, and for training students to use high-performance computing.
Ghersi applied for a EPSCoR Major Research Instrumentation (MRI) Program Awards Equipment Funding to help secure the new equipment, and won the award. The award, which totals $94,520, is a matching grant which was created to help improve Nebraska's research capacity. IS&T will supply the other half of the funds required to purchase the equipment.
"A lot of the data we work with is potentially identifiable data, even genomic sequences. Handling the data can be a sensitive matter," Ghersi said. "So far we have managed with the existing servers in our lab, but there comes a time when you need way more power."
Ghersi points out that the way we study biological systems and tackle critical healthcare problems is rapidly changing, and a focus on computationally intensive, data-driven approaches is needed. With bioinformatics paving the way for precision medicine, equipment like this server will help healthcare solve more health issues.
In Ghersi's work, that means using more precise information in identifying mutations that can trigger an immune response and create cancer vaccines. This involves running sophisticated simulations, with can typically take months to complete on regular servers. The biomedical informatics lab also works closely with UNMC to analyze their data with cancer biology work and other joint projects.
"We're excited to really ramp up our research, and equipment upgrades like this help us do our jobs better," Ghersi said. "With technology moving as quickly as it does, I'm thankful for awards like the EPSCoR grant to help keep us on-track for our goals."