This Maverick Developed New Technology That Breaks from the Herd
You don't have to be a Silicon Valley insider to launch the next great idea. Students at the University of Nebraska have the drive and resources to make a big impact on the state. Students like Rachel Ostrander Brownlee.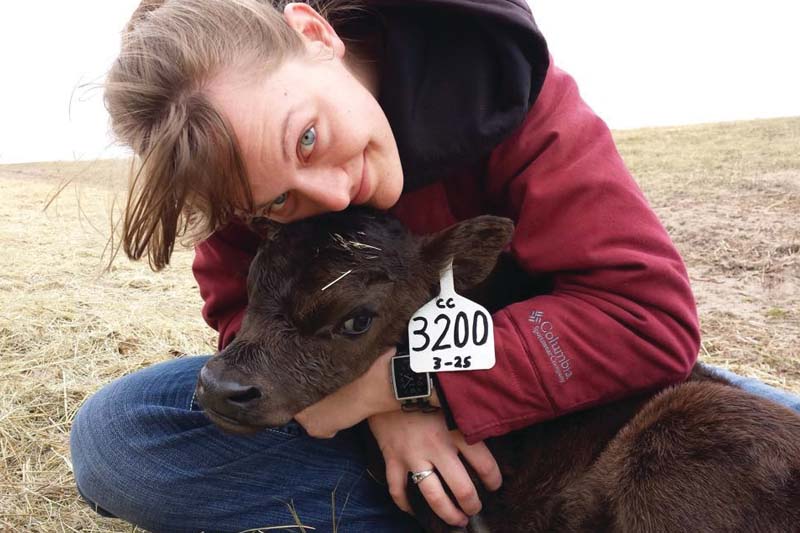 When Brownlee was asked to brainstorm a new product in her first UNO IT Innovation course, she immediately thought of an audience that had a lot to gain from smarter technology.
Brownlee was raised on the Pine Creek Ranch in Rushville—which is also home to 400 head of cattle. So she was more than familiar with the struggles ranchers deal with when it comes to managing their herd. Every calving season, tracking breeding schedules and trends is a headache. For ranchers trying to breed more cattle, timing is everything. Female cows must be monitored for the optimal fertility time, and old-school methods are only so effective. Breeding too early or too late—in as small as an 8-hour window—can result in failed conception, and ranchers may have to wait up to 24 days to try again.
If these ranchers had some kind of automated record keeping app, couldn't they save themselves hours of labor every day?
But Brownlee thought, if these ranchers had some kind of automated record keeping app, couldn't they save themselves hours of labor every day?
That was the beginning of MooManager, Brownlee's idea for an app. What started as a sophomore class project quickly attracted an investment offer from a development company and the prestigious Peter Kiewit Award from the University of Nebraska president (twice). Brownlee was encouraged to use her own background, and input from other ranchers, to build a working prototype in her capstone class.
The future looks bright for MooManager. It's now fully used on Brownlee's in-laws' cattle ranch in Ashby, where they raise 1,200 head of cattle. She's currently determining the scope of a wider roll-out regionally, nationally, and even internationally for cattle operations in South America.
With support from the University of Nebraska, more students like Brownlee can use their specialized backgrounds to strengthen the state's agricultural industry, and possibly even transform the future of ranching. Who says you can't teach an old farm new tricks?
Check out the full story on Rachel on the University of Nebraska site. 
Media Contact
If you have a story idea, news tip or inquiry please contact:
Amanda Rucker, Communication Specialist, College of Information Science & Technology
arucker@unomaha.edu • 402.554.2070
Our Campus. Otherwise Known as Omaha.
The University of Nebraska does not discriminate based on race, color, ethnicity, national origin, sex, pregnancy, sexual orientation, gender identity, religion, disability, age, genetic information, veteran status, marital status, and/or political affiliation in its programs, activities, or employment. Learn more about Equity, Access and Diversity.
scroll to top of page