From the Ivory Coast, Three Brothers Find a Home at UNO
Inspired by their uncle who graduated over a decade ago from UNO, three brothers from the Ivory Coast moved half a world away to major in computer science at IS&T.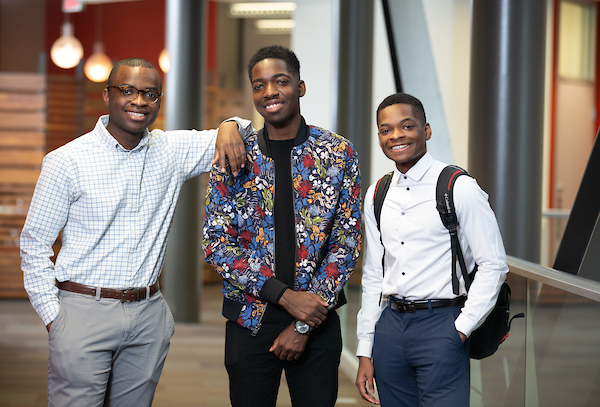 The Allou brothers, from left, Jonathan, Fortuné and Joel.
Omaha, Nebraska may be a long way from the Republic of Côte d'Ivoire, also known as the Ivory Coast in West Africa, but Jonathan Allou knew that the University of Nebraska at Omaha (UNO) was the only university he wanted to attend. His uncle had earned his management information systems degree at the College of Information Science and Technology (IS&T) in 2005, and his positive experiences left an impression on Jonathan.
"I had no concept or clue of colleges or universities, I just went on what my uncle had told me," Jonathan said.
Jonathan's own experiences would have a trickle-down affect on two of his younger brothers, Joel and Fortuné. It wasn't long before the three brothers were living in Omaha and enrolled at IS&T, all majoring in computer science. While the brothers say they didn't have much exposure to information technology in high school, they relied on IS&T's programs to fill in the knowledge gaps where their passion for IT left off.
"Seeing how [Jonathan] enjoyed computers triggered something that made me want to pursue computer science. I also attended Techademy (IS&T's summer camp for middle and high schoolers) for a few summers, which really influenced my decision to attend IS&T," Joel, an intern at West Corporation, said. Joel is planning on taking advantage of IS&T's unique 4+1 program, where students can earn their master's degree in just one additional year.
The youngest Allou brother at UNO, Fortuné, agreed, saying that his older brothers' passion for computer science sparked his own interest in the field. "My first semester went great, I'm really ready to do this thing." Fortune, currently a freshman, will be teaching in IS&T's iSTEM After School this Spring semester.
For now, all three brothers share an apartment near the UNO campus, but not for long. Jonathan, who graduated in December 2018 and was married the very next day, is heading to Kansas City to work for Cerner as a software engineer.
"Coming here, and getting opportunities like working at the Attic (IS&T's student-powered development group), really were formative years for me and are responsible for where I am today," Jonathan said. "These programs really lay out the framework for students to discover their interests."
Being such a long way from family, the brothers relied on each other. Fortune said that his older brothers were like second parents for him, making sure he completed his homework on time and helping him through his first semester.

"People maybe say brothers living together isn't the best, but we have the chemistry that makes it work. We coordinated everything, and we're all computer science majors – we helped each other and gave each other advice," Joel said.
"And when things get bad, you can always call mom and she'll fix it!" Jonathan joked.
The brothers said they made a point to talk to their parents every day. But even then, a little bit of homesickness would creep in. That's when they would turn to UNO's supportive International Studies program, where they could attend events, get guidance from other students, and find a sense of home.
"We were taken care of without being alienated," Jonathan said.

The brothers really encouraged joining student groups, clubs, and being proactive in meeting new friends.
"It's easier than it seems. After a while, you make new family. You start making friends, and friends become siblings. It becomes easier as time goes on," Jonathan said. "It's really easy to assimilate yourself, especially in a place like Omaha where everyone is smiling and respectful."
The brothers talked about their wide social group in Omaha. For Thanksgivings, they were invited to their friends' houses to celebrate the national holiday. They've created their own version of celebrations – they spoke fondly of "13 Days After," where they celebrate Christmas 13 days after the formal holiday in an effort to avoid the high costs of the holiday. Thanks to the large international population at UNO, the brothers were able to experience other cultures as well.
As for the next chapter, when Jonathan moves to Kansas City and starts his new life?
He'll always have a spot here in Omaha.