Alumni Highlight: Stephanie Akpakoun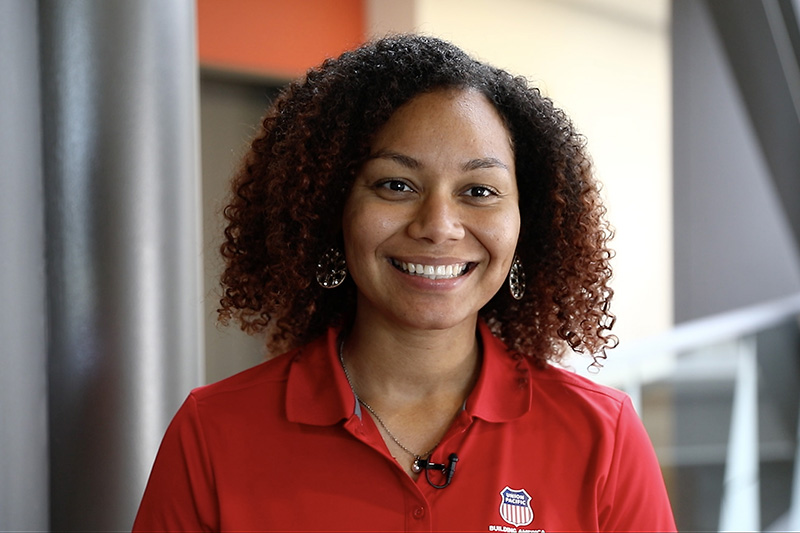 Name: Stephanie Akpakoun
UNO Degree: BS Computer Science (Class of 2016)
Job Title/Employer: Junior Application Developer/Union Pacific
 Hometown/Country: Cotonou, Benin 
Q: Why did you decide to come to UNO? What
opportunities here did you see helping you with your
future career?
I decided on UNO because I liked the size of Omaha. Not too big, not too small. You get the perks of a big cosmopolitan city without having to deal with horrible traffic jams. Omaha is also home to multiple fortune 500 companies, which makes it a very attractive city post graduation. UNO being a renowned University in the Midwest, especially when it comes to IT, my choice was clear cut. I have since enjoyed receiving an education that I was able to pair with practical work through my internship at Union Pacific, which eventually resulted in a full time position.

Q: What about your major drew you in? Why were
you passionate about it, vs. the other
majors out there?
I started my college career not exactly sure what my major should, as have many students before me and many after me. The decision to go into Computer Science came after I took an entry level programming class to test the waters. For someone with no IT background, it was a completely new experience. Writing my first program and making the computer do what I told it to do was exhilarating. I enjoyed the challenge and the creativity that comes into play when programming. That class was my first step in my IT journey. Besides the fun and exciting aspect of it, I also factored employment prospects into my decision. With the IT sector innovating and advancing every other industry out there, it became obvious to me that the place to be was the Tech world.

Q: What class did you love the most, and did
you have a professor that you learned a lot
from?
I enjoyed my Computer Architecture class the most. I like to question the How of everything. Learning the theory and details of processor design, storage and computing helped me have a more holistic view of computers by understanding the capabilities different types of hardware and designs provide. When the concepts clicked and I was able to connect the dots it was the best feeling.

Q: What do you do for fun in your free time?
In my free time, I like to be outdoors, whether it'd be riding my bike around the neighborhood, playing tennis with friends or going camping and hiking. I also enjoy traveling around the country and the world and learn about different places and cultures. I have recently taken up gardening and have successfully grown multiple vegetables and herbs that I use for cooking. 

Q: What challenges have you faced in your
career? What advice would you give someone
looking to make the same transitions you
have?
The first full time job is a big step whether transitioning from an internship or coming in fresh from college. I had an idea of what it looks like to be a full time employee and set that as my goal for the year. It took displaying confidence and volunteering myself for tasks to be able to display competencies in various domains such as coding, teaching, recruiting, leading and facilitating to list a few. While as an intern, I was given work, as a full time employee I got to ask for opportunities to learn, grow and earn responsibilities. I believe rising to challenges and having a positive attitude is the key to growing as a professional in any field.

Q: Anything else you'd like us to know about
you?
I am fluent in French, Russian and Fon (Beninese dialect).
Media Contact
If you have a story idea, news tip or inquiry please contact:
Amanda Rucker, Communication Specialist, College of Information Science & Technology
arucker@unomaha.edu • 402.554.2070