Alumni Highlight: Brittny Escamilla
Brittny's had quite the path to UNO: a California native, this veteran of the U.S. Army found IS&T through reading a chance article in the military news. Learn more about her, and how majoring in MIS, helped change her career trajectory.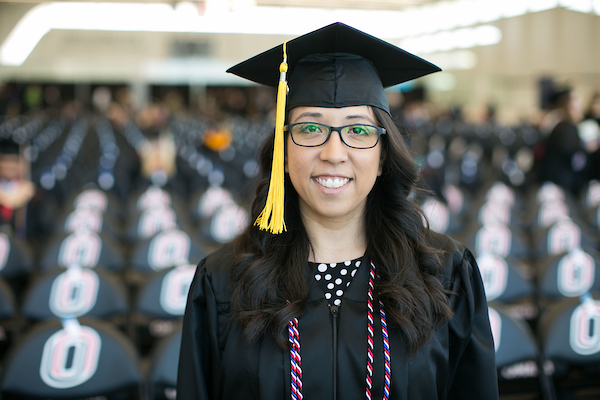 Full Name: Brittny Escamilla
UNO Degree: Management Information Systems
Title/Employer: Enterprise Service Desk Messaging Intern/ Interpublic Group
Hometown/Country: Sebastopol, California/USA
Q: Why did you decide to come to UNO? What opportunities here did you see helping you with your future career?  
Prior to coming to Omaha, I was serving in the US Army as an enlisted Soldier, and I loved the idea of traveling and living in new places. So, when it came time for me to step away from the military to pursue my academics, I wanted to find a city that was thriving in IT, different then California (which is where I'm from), and also had a great military student support program. That's when I heard about UNO through one of the military news sites and that encouraged me to apply here. 
Upon my arrival, I realized that the opportunities are endless here in Omaha. I remember one time being in the women's restroom at PKI and a classmate and I were discussing one of our class assignments. Random location for a convention, I know. But at that exact moment a CEO for a local IT company came out of one the stalls and stated she was impressed with our discussions and asked if we would have interested in interning at her company. This led to us exchanging contact info and making arrangements to meet up again, which was great networking experience. Opportunities like this continued to happen throughout my years here at UNO.
Q: What about your major drew you in? Why were you passionate about it, vs. the other majors out there?
I would say the combination of both business and IT in our studies, and the importance of Project Management is the greatest thing about my major. I feel like I am learning how to speak the lingo for both business and IT, understand what factors matter the most, yet also learning how to develop projects and work with people from completely different backgrounds.
Q: What class did you love the most, and did you have a professor that you learned a lot from?
My all-time favor class has been Java II. Even though it was the most difficult class that I have ever taken, I have never felt so challenged or accomplished after completing that class. Each project would require so much dedication and creativity to complete and I really liked that. I didn't like it so much when I couldn't get my codes to compile, sometimes even cried when I could not determine my errors, but once I got each code assignment completed, I felt like I could handle anything thrown my way. Floating on cloud nine lol
Q: What challenges have you faced in your career? What advice would you give someone looking to make the same transitions you have?
Gosh where would I start… the challenges I faced in my career are endless. I started college back in 2007 at the University of California Davis, where I was a two-sport collegiate athlete studying international relations. Unfortunately, after athletic injuries and sets back in academics, I had to put my career on hold and step away from UC Davis. It was very disappointing time until I spoke to two of my older cousins who were both females in the US Army. After speaking with them, I knew exactly what my next career move was going to be. So, I enlisted in the Army in 2010 as a combat medic/hospital aid, where I got to be stationed in Fort Carson, Colorado. I have gone on two deployments with my unit to the middle east where I learned a great deal about cultures that differed from our American ways. It was very eye-opening. I would have stayed in the military, but the desire to go back to college and finish my studies was still weighing on my mind. So, I left the career I loved and made my way to Omaha. Now almost four years from my military service, I realized that studying in IT is the career I love the most. At UNO I have met more people from all over the world, worked with students and teachers who are such creative and unique personnel. It's been awesome.
Don't hesitate, go out and do what you think will make you truly happy.
- Brittny Escamilla
 So, the advice I would give to someone looking to make the same transition that I have, I would say "don't hesitate, go out and do what you think will make you truly happy. Sometimes we miss the better things in life because we don't recognize the package that they came in, meaning that we get older we tend to misperceive the opportunities we have available to us because we assume that they are supposed to come at us in a certain way. Example being, if I had stayed at UC Davis and pursued my career there, I would have missed out on the opportunity to serve my country, go to the middle east, return to the States and pursue my career in Omaha, and be graduating this coming May with a major I am truly passionate about and will be using what I learned for the rest of my life. This package is something that I am truly thankful that I have received. 
Q: What do you do for fun in your free time? 
Oh, I love learning! So there is rarely a moment where you won't find me reading a non-fiction book, or watching a how-to video online, or trying new ways to network with other people. Each day I try to keep to my goal of knowing a little about a lot.
Q: Anything else you'd like us to know about you?
I also love to travel, and some day hope to take a year off and travel the world. Hopefully that day comes sooner than later.
Media Contact
If you have a story idea, news tip or inquiry please contact:
Amanda Rucker, Communication Specialist, College of Information Science & Technology
arucker@unomaha.edu • 402.554.2070