Alumni Highlight: Jay Austin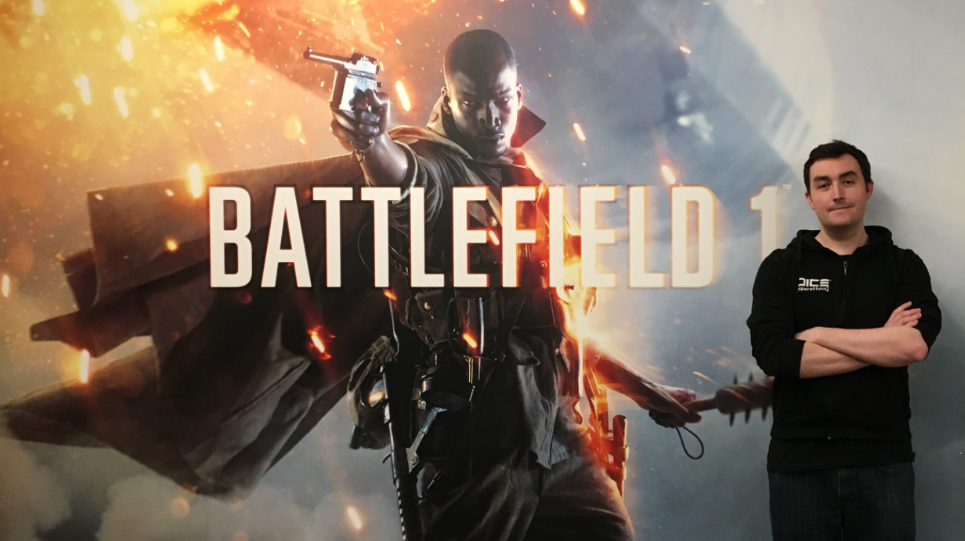 Full Name: Jay Austin

UNO Degree: 
UNO: Bachelors in Computer Science (Graduated 2008).
Rochester Institute of Technology: Masters in Game Design (Graduated 2010)
Employer: Electronic Arts, DICE Game Studio, In Stockholm Sweden
Title: Analytics Lead for the Battlefield Franchise
Hometown/Country: Greeneville, Tennessee. (I lived in McCook, Nebraska from age 10).
Q: Tell us a little bit about what you're working on and what a typical day in your position looks like.
A: DICE is a game studio in Stockholm, Sweden that is part of Electronic Arts. We're most known for the Battlefield series of video games and more recently the Star Wars: Battlefront franchise. I lead a group of analysts focused on using data and analysis to make Battlefield games fun and successful.
Our work follows the game development process from early concepts, to development to public launch and then into a post-launch lifecycle. At each step in the cycle we collect and analyze data to guide the studio towards awesome player experiences and engaging game design.
The data we use comes from several sources;
-        We collect gameplay data directly from game servers and game clients
-        We invite gamers to our lab for in-house playtests
-        We conduct surveys and focus groups
-        We do competitive research to understand games from other companies
-        We look at online sentiment and social impact
-        We coordinate with the finance team to report on business metrics
All of this information is aggregated and synthesized to help different groups within the game studio make better decisions about:
-        What is fun? Above all else, our games need to be fun and engaging.
-        How can games acquire new players? What strategies are best for older games like Battlefield 4, new-ish games like Battlefield 1 and games that will launch in the not-to-distant future?
-        Once we've got a person engaged with a game, how can we keep them coming back to play?
-        What business model makes sense for each game?
Right now we're supporting Battlefield 1 which has been on the market since October 2016 and we're working on a few unannounced games-in-development.
-        In Battlefield 1 we're help plan the "Year 2" campaign. This includes new content from monthly patches and in-game events to keep people playing through the summer.
-        For games in development we're doing research and giving feedback on design ideas and providing playtest feedback based on work-in-progress builds. Going through as many iterative feedback loops as necessary to generate an awesome game.
Q: Could you talk about your time at UNO, and how it helped you in your future career?
UNO gave me a great opportunity to explore a broad range of computer science and engineering disciplines. I got a taste of lots of things I liked and a lot of things I didn't enjoy. The variety helped me narrow down my field of study and get focused on building a skill set for a career that I'd enjoy and be successful doing.
Q: What class did you love the most, and did you have a professor that you learned a lot from?
Toss up between the various programming language courses and information assurance classes. Knowing the history of programming languages and then being forced to use them gives you a lot of perspective. Information assurance/cybersecurity is just a lot of fun puzzle solving.
Q: What challenges have you faced in your new career? What advice would you give someone looking to work where you work?
Transitioning from an individual designer/programmer/analyst into a managerial position is more difficult than it seems because it requires a lot of interpersonal soft skills that you don't pick up by writing code all day. If you want to be a lead or a manager you need technical knowledge and people skills.
If you want to work in game development the best thing to do for yourself is to create a portfolio that shows off your personal work. Showcase the things you've created as hobby projects, school projects, internships, etc. Being able to prove you've got skills and can complete projects is a great way to position yourself for recruitment screenings and interviews.
If you want to work in analytics then start learning about analysis techniques, data models, and visualizing results to tell stories.
Q: What do you do for fun in your free time?
My family and I love to travel and living in Sweden makes it really easy to see different parts of Europe.
We've recently had our first child and are experiencing all of the "fun" that comes with an awesome baby.
Gaming is a hobby that I've been fortunate enough to turn into a career. I play DICE titles in the office and everything else when I'm at home.
Media Contact
If you have a story idea, news tip or inquiry please contact:
Amanda Rucker, Communication Specialist, College of Information Science & Technology
arucker@unomaha.edu • 402.554.2070