Alumni Highlight: Naga Alla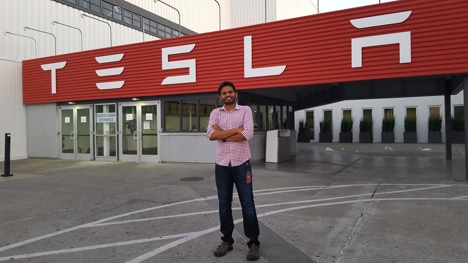 Full Name: Naga Alla
UNO Degree: Masters in Management Information Systems
Title/Employer: Senior Software Engineer, Applications Engineering at Tesla, Inc.
Hometown/Country: Hyderabad, India
That's amazing you're working at Tesla! Tell us a little bit about what you're working on and what a typical day in your position looks like.
I have an NDA signed with Tesla and I will not be able to share a lot of details here but, at an overview I am currently working on multiple projects related to Model 3. I am a part of Applications Engineering Team which build applications to handle all back office business processes like procurement to pay, order to cash and build to deliver.
Below is how my typical day looks like:
10% - meetings with business users
20% - design discussions for current or upcoming projects, sprint planning, backlog grooming and other project management related tasks
25% - current application support
35% - design and development of new enhancements/ features
10% - code reviews, self learning/ reading etc.
Q: Could you talk about your time at UNO, and how it helped you in your future career?
The courses provided all the required theoretical knowledge along with working on real world problems for micro businesses. Working on real world problems helped us understand how they would be solved by applying all the techniques and best practices we learned in the classes.
I had the opportunity to work at MSI System Integrators now Sirius as an intern in their Business Technology Services division. I learned a great deal from my mentor there and had a very good hands on experience. Using the best practices I learned during my coursework on systems analysis and design, database design, and managing software development, I was able to successfully complete a handful of projects.
Capstone: this was one of my favorite parts of MIS masters program. This helped us solve a real world problem by working as a team and build a prototype.
I also had an opportunity to work as a web developer with Zac Fowler (IS&T Attic) and Dr. Jerry Wagner (One Innovation Place) at the College of IS&T. During my tenure here, I handled projects end to end.
By the time I graduated from my master's program, with all my learning experiences and knowledge gained from my coursework, capstone program, internship and on campus opportunities, I was very confident when I started looking for jobs. All these experiences contributed to where I am now.
Q: What class did you love the most, and did you have a professor that you learned a lot from?
I personally liked all the courses/ classes I attended. Each class focused on different aspects of software development. For example, research methods (ISQA 8060), managing software development lifecycle (ISQA 8210), systems analysis and design (ISQA 8220), designing and building databases (ISQA 8410), etc.
Out of all the class, I really enjoyed and learned a lot from Dr. Greiner's, Dr. Wolcott's, Dr. George Royce's, Dr. Stacie Petter's class and Capstone program.
Q: What challenges have you faced in your new career? What advice would you give someone looking to work at Tesla?
I moved from east coast (New England area) to San Francisco bay area for this job. One of my major challenges was work culture. Being in Silicon Valley, Tesla also adopts silicon valley's work culture. Open seating area, extremely long working hours, fast paced, work timings, are few to name and it took time for me to get used to it.
The other challenge I had was domain knowledge. I am new to manufacturing domain and it took me a while to understand the manufacturing related acronyms, business processes, terms, terminologies, etc.
It's a very fast paced environment. Luckily the company I worked for prior to Tesla also had a similar environment so, I was able to adopt and get onboard seamlessly.
My advice to anyone looking to work at Tesla would be to keep an open mind. You work with a lot of smart people here and you learn a lot (I mean a lot).
For the initial few weeks/ months, absorb/ learn as much as you can about the domain. Domain knowledge is the key. Once you get familiarized with the domain, you will understand the business processes and will be able to contribute and be a value add to your team.
Q: What do you do for fun in your free time?
We recently had a beautiful baby girl (Nivrithi). She is three months now and all our free time is dedicated to her. My wife and I are into hiking. Whenever we find free time over the weekends, we hike local trails and mountains.
I also do freelance work (mostly playing an advisory role for now and will be involved in development in future) for a startup.
Q: Anything else you'd like us to know about you?
I would like to take this opportunity to thank all my professors - Dr. Wolcott, Dr. Stacie Petter, Dr. Greiner, Maurie Schoff, Dr. Ken Dick, Dr. George Royce, Dr. Pietron, Dr. GJ, Dr. Ward for their support. Also, I would like to thank Dr. Wagner and Zac Fowler for giving me an opportunity to work with them on cool projects during my time at UNO.