NSF Awards IS&T Research Grant to Improve Computer Science Education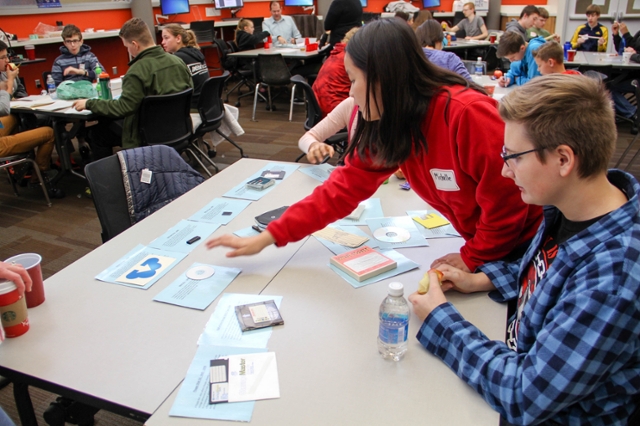 Briana Morrison, assistant professor in Computer Science at the University of Nebraska at Omaha College of Information Science and Technology, recently was awarded a National Science Foundation (NSF) IUSE grant to fund research focusing on improving student learning and retention in introductory programming. Totaling $299,000 over three years, Morrison's research will incorporate instructional techniques identified through educational psychology research and how it can be used to improve early computer science education.
"As we strive to achieve CS 4 All we must find better and more effective ways of teaching computing, including programming, to all kinds of students – not just those initially motivated to pursue careers in computing," Morrison said.
Often, experts teaching introductory-level courses are often unable to explain the process they use in problem solving at a level that learners can grasp. Due to years of practice, many of these experts have automated much of the problem-solving processes and lack the ability to fully explain the beginning processes. To help solve this problem, the NSF grant will fund research that focuses on "subgoal labels," which are explanations that describe the function of steps in the problem's solution to the learner.
Based on the success other STEM fields have seen using subgoal labels, the goal of this project is to use subgoal labels throughout introductory computing courses and investigate the impact on student learning and retention. The research team will develop multiple examples using subgoal labels, and then implement them in multiple classrooms across the United States during varying semesters.
"The potential of this project is extremely exciting. If the program yields the results we hope for it can potentially impact the way all students are taught programming all over the world," Morrison explained.
Part of a collaborative project with other universities across the U.S., other contributors include:
Adrienne Decker, associate professor, School of Interactive Games and Media and MAGIC affiliate Rochester Institute of Technology (RIT)

Lauren Margulieux, assistant professor, College of Education & Human Development's Learning Technologies Division, Georgia State University (GSU)

Liz Johnson, chair, Computer Science, Xavier University
About UNO's College of Information Science and Technology
The College of Information Science and Technology (IS&T) at the University of Nebraska at Omaha represents the joint efforts of the University of Nebraska, the State of Nebraska, and private industry to address the growing global needs for knowledgeable professionals in Information Technology (IT). The College was established at UNO in 1996 to meet the growing demand for IT graduates in the Omaha metropolitan and surrounding area, and is celebrating its 20th anniversary this year.
Media Contact
If you have a story idea, news tip or inquiry please contact:
Amanda Rucker, Communication Specialist, College of Information Science & Technology
arucker@unomaha.edu • 402.554.2070