Cybersecurity Camp Returns to UNO
For two weeks this summer, middle school and high school students and teachers will have the chance to learn from some of the best cybersecurity experts in the country. For free.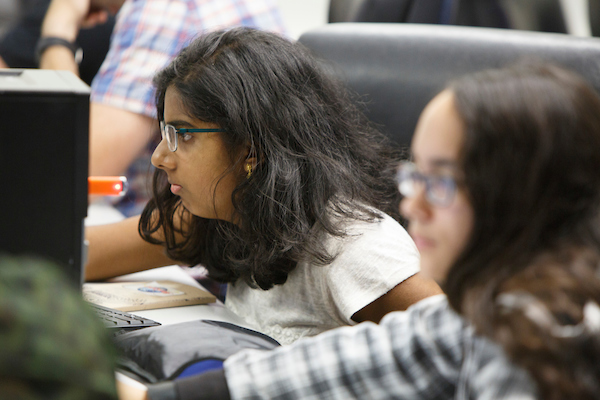 As part of a growing effort to train the next generation of cybersecurity professionals, Dr. Matt Hale, assistant professor of cybersecurity at the University of Nebraska at Omaha (UNO) College of Information Science and Technology (IS&T), is leading the 2017 Nebraska GenCyber camp. Funded by a grant through the National Security Agency and the National Science Foundation, GenCyber is a national program that provides summer cybersecurity camps for K – 12 students and teachers. GenCyber educates high school students about the importance of cybersecurity in our society and works to improve cybersecurity teaching methods in K – 12 computer science curricula. The 2016 Nebraska GenCyber camp was recognized as one of the top combination camps in the country with its innovative structure and engaging curriculum.
 The 2017 GenCyber Camp will run July 24th – August 4th for teachers from middle or high school in any discipline, and July 31st to August 4th for students entering grades 9 or 10 in Fall 2017.
Cybersecurity is fun, and this camp is probably unlike anything our students and teachers have ever done before.
- Dr. Matt Hale, assistant professor of cybersecurity
"Our camp is structured around hands-on activities that really engage students and teachers and show them the ins and outs of cybersecurity and what makes us safe when using technology," Dr. Hale said.
 Dr. Hale went on to say that teachers not only get compensated by a stipend for their participation, but will walk away with in-class exercises to take back with them after camp. "Our camp is entirely free and open source – so students and teachers alike can extend their time here past this summer."
Most teacher and combined teacher + student events will be located at IS&T on UNO's Scott Campus, with most student events located at the Riley Technology Center on the Bellevue University campus.
Thanks to additional funding, the 2017 Nebraska GenCyber camp has additional spots available for both teachers and students. Register today to reserve your spot!
For questions, please email Dr. Hale at mlhale@unomaha.edu. 
This is not the first time IS&T's cybersecurity program has been recognized for its community engagement and academic programming. This fall, the undergraduate cybersecurity program received a designation by the National Center for Academic Excellence in Cyber Operations by the NSA. Check out our program here.
About UNO's College of Information Science and Technology
The College of Information Science and Technology (IS&T) at the University of Nebraska at Omaha represents the joint efforts of the University of Nebraska, the State of Nebraska, and private industry to address the growing global needs for knowledgeable professionals in Information Technology (IT). The College was established at UNO in 1996 to meet the growing demand for IT graduates in the Omaha metropolitan and surrounding area, and is celebrating its 20th anniversary this year.
Media Contact
If you have a story idea, news tip or inquiry please contact:
Amanda Rucker, Communication Specialist, College of Information Science & Technology
arucker@unomaha.edu • 402.554.2070