IS&T Graduation Stories
You did it! We said goodbye to a group of amazing students this May. Here are some of their stories.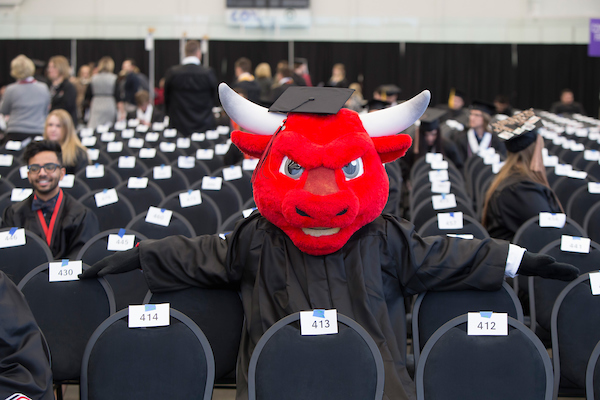 Anson Dsouza
Born and raised in India, Anson Dsouza is now committed to helping citizens in and around the Omaha.
Less than two years after first coming to the United States, Dsouza is graduating with a Master's of Science in Management Information Systems from UNO and already has two jobs lined up thanks to connections he made while a student.
After spending time as a student worker with Omaha nonprofit WhyArts, a partner with UNO's Barbara Weitz Community Engagement Center, Dsouza met Matt Bross, who helps with educational programming for the nonprofit and is co-founder of the multimedia design company OnPxl. Bross convinced OnPxl's parent company, Perfecta Media, to hire Dsouza as a systems engineer while also keeping him on at WhyArts? to help them with administrative tasks and IT support.
"There are two things that I am passionate about: working with technology and working with nonprofits and reaching out to people in our community," he says. "I feel that this is a perfect opportunity."
In addition to his work at WhyArts, Dsouza also worked with Vodec, who provides services to those with intellectual and developmental disabilities; NorthStar, which provides afterschool programming for young men in North Omaha; the Archdiocese of Omaha; and UNO's International Studies and Programs office as a global diplomat, who help incoming international students get acclimated to Omaha.
"Sometimes international students, when they come to a different country, experience culture shock and t's difficult for them because things are so different," he explains. "As a global diplomat, our job is to make them comfortable."
Dsouza also spent his time at UNO as a member of student government and working at Baxter Arena, which he says gave him the chance to interact with a variety of people from Omaha and learn about customer service.
He says that every one of his experiences at UNO has helped him better understand the importance of giving back and how to build strong communities.
"My time here has been great. From what [my life] was a couple years ago to how that's changed in the past year and a half has been really amazing."
Matthew Martens
Sometimes it takes Maverick thinking to make a change in the world.
That sentiment is certainly true of graduating senior Matthew Martens, who is earning his bachelor of science degree in bioinformatics from the College of Information Science and Technology.
Even before graduating, the senior from Blair, Nebraska, has had his research published in the Journal of Genomics and has secured a scholarship to help him earn a Ph.D. from the University of Nebraska Medical Center's Immunology, Pathology and Infectious Disease graduate program.
So, what's next? How about treating malaria?
"This year I've been working with Dr. [Kiran] Bastola on a plant [Artemisia annua] that makes an anti-malarial compound," Martens says. "We found some ways that we can alter the plant's environment to make it produce more of this compound, which is kind of surprising. It's really helpful now because we are seeing high rates of drug resistance in malaria against a lot of the current treatments."
In addition to his research work, Martens is a member of the UNO University Honors Program and is a UNO Distinguished Scholarship recipient. He has also spent time volunteering to help incoming students study to take the test needed to potentially earn that scholarship.
He says that his time at UNO has been incredibly important to helping him find his passion and pursue his desire to help others through research.
Nishchala Tangirala
For Nischala, originally from India, UNO runs in the family. The computer science major came to UNO after her cousins raved about their experiences, and is now on her way to Carnegie Mellon with a full-ride scholarship for start graduate school.
Currently a Network Planning and Operations Intern at Union Pacific, Nishchala says she fell in love with IT because it helped her have a deeper understanding of technology and cultivate an analytical approach to problems.

"IT adds value to your skillset and contributes to your professional growth and enrichment," Nischala said."Software helps you get things done regardless of your geological location. Wouldn't it be cool to design something like that?"
Nischala spent a lot of her time at UNO volunteering and playing tennis, and minoring in Math. Now that she's graduated, she'll be spending her summer designing her future curriculum at Canegie Mellon before she starts graduate school.
Dalton Ellis
Hailing from Bellevue, NE, Dalton took advantage of IS&T's 4+1 master's program and finished his undergraduate and graduate degree in cybersecurity in five years. Helping lead the cybersecurity student group, NULLify, Dalton helped drive the yearly Capture the Flag competition for area high schoolers interested in cybersecurity.
"The IT program at UNO is cool because there are a lot of opportunities to build cool things through coursework and clubs outside of class," Dalton said. "IT products are everywhere in the connected world we live in today. It's very exciting to be able to understand how things work and have the potential to impact the world."
Dalton hopes to continue his research in cybersecurity as he looks towards the future.