IS&T's NULLify to host Fourth Annual Hackathon
Saturday, November 19th will host over 100 Omaha area high schoolers in IS&T's largest Hackathon yet.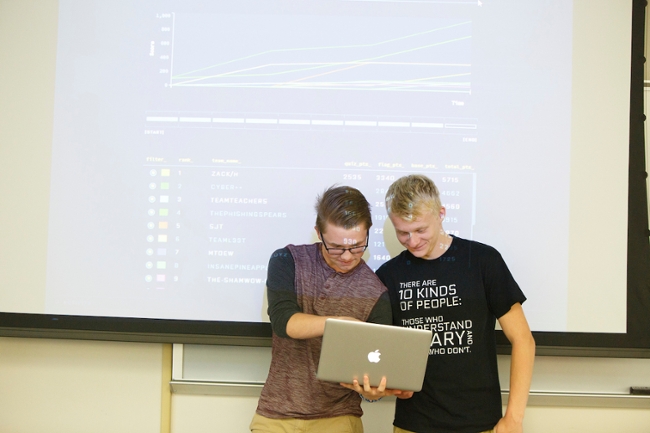 This Saturday, Nov. 14th, University of Nebraska at Omaha College of Information Science and Technology's student-run cyber security group, NULLify, hosting a Capture the Flag (CTF) hacking competition for 12 Omaha high school teams. The event, which is sponsored by BlueCross and BlueShield of Nebraska and Secure Works, will take place at the Universtiy of Nebraska at Omaha Milo Bail Student Center, located on UNO's Dodge Street Campus. This will be the fourth year NULLify has hosted the competition.
With a new twist on this year's event, the students will be using a custom-made Raspberry Pi to solve solve technical security challenges and find "flags," or weaknesses, and submit them for points. The event has grown from just five Omaha high schools teams to over 100 students from Omaha high schools in just four years. The teams of up to five students will compete for prizes. More information can be found at ctf.nullify.uno.
Sponsors for the 2016 NULLify Hackathon are: 
Flower Sponsors: 
Blue Cross and Blue Shield of Nebraska
SecureWorks
Mushroom Sponsors: 
Northrop Grumman
Optiv
Cabela's
NTT Security
ConAgra Brands
CSG International
As one of IS&T's five bachelors degrees, Cybersecurity prepares students to address fundamental problems in secure information systems. Part of a broad range of issues related to information and network security, students are able to participate in classes and research which will develop their skills in risk assessment, develop information security policies, identify critical issues for electronic commerce, and countless other topics regarding securing our nation's information technology infrastructure. In order to meet the urgent demand for highly qualified IA professionals, IS&T has recently started offering a masters degree and graduate certificates in Cybersecurity.
UNO has been named a Center of Academic Excellence in Information Assurance Cyber Defense by the National Security Agency (NSA) and is home to the Nebraska University Center for Information Assurance (NUCIA).
To learn more about our IA programs, please visit ist.unomaha.edu. 
For questions about NULLify and IS&T, contact Amanda Rucker, communications specialist for the College of IS&T, at 402.554.2070.
* * * * * *
The College of Information Science and Technology (IS&T) at the University of Nebraska at Omaha represents the joint efforts of the University of Nebraska, the State of Nebraska, and private industry to address the growing global needs for knowledgeable professionals in Information Technology (IT). The College was established at UNO in 1996 to meet the growing demand for IT graduates in the Omaha metropolitan and surrounding area. IS&T is celebrating it's 20th anniversary during the 2016-2017 school year. 
Media Contact
If you have a story idea, news tip or inquiry please contact:
Amanda Rucker, Communication Specialist, College of Information Science & Technology
arucker@unomaha.edu • 402.554.2070