Alumni Highlight: Joshua Clark
As Undergraduate Speaker for the 2016 Spring Commencement, Joshua Clark has some words of wisdom for students looking at IT careers.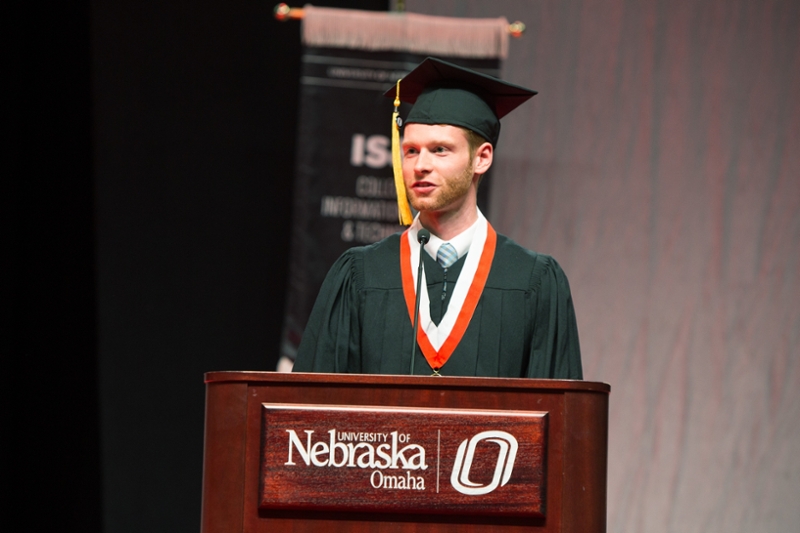 Full Name: Joshua Clark
Major(s): Management Information Systems
Hometown: Gothenburg, NE
Extracurricular Activities: UNO Chamber Choir, running a lot (no, like, a lot), Scott Scholar Leadership Development Program
Congrats on being an undergraduate speaker for graduation! What did you talk about? Where did you get your inspiration?
 Thanks!  The speech was focused on what the class of 2016 has achieved.  It was meant to remind everyone that just crossing something (college included) off a list is something to celebrate and recognize as good work done.  The inspiration is my own struggle with telling myself that I've actually done something good or even noteworthy.
How did you choose your major, and why IT?
MIS was easily my first choice: most broad, most big-picture, most analysis-based, in my opinion anyway.  Our generation has been told for how long that IT is the job market to be in?  Not to mention I grew up tinkering on home and school computers whenever an idea struck me.
Why are you happy about your career choice, and what do you like about IT? 
Information Science and Technology is the cutting-edge right now.  Why not be there?  It's this amazing use of logic and machinery to optimize processes in anyone's life.  IT is cool!  It's fun, it's geeky, and it makes people happy and healthy if applied right.
Information Science and Technology is the cutting-edge right now. Why not be there?
- Joshua Clark
Why UNO?
The Peter Kiewit Institute's summer camps found me sophomore year of high school.  I never forgot this cool campus nestled in the heart of an active, opportunity rich city.  After checking out the campus again a couple of years later and getting an in-depth look at their IS&T programs, UNO was a no-brainer.
Why would you recommend an IT major to others?
If they've got a head for puzzles and logic, or if they want to find a "better" way to do things we already do or a way to do things humans have never done before, IT is the place to be.  My favorite part: you can usually hit "undo" if necessary!
Any plans after graduation?
Definitely.  I'm all settled in back in central Nebraska, not terribly far from my hometown.  One week from now starts my big boy career with Central Nebraska Public Power and Irrigation District as their new Systems Analyst.  And then there's the globe-traveling, new company, campaign for president, tenure as Director of the London Symphony Orchestra, etc.  Those are a little further down the road :)
Media Contact
If you have a story idea, news tip or inquiry please contact:
Amanda Rucker, Communication Specialist, College of Information Science & Technology
arucker@unomaha.edu • 402.554.2070
Our Campus. Otherwise Known as Omaha.
The University of Nebraska does not discriminate based on race, color, ethnicity, national origin, sex, pregnancy, sexual orientation, gender identity, religion, disability, age, genetic information, veteran status, marital status, and/or political affiliation in its programs, activities, or employment. Learn more about Equity, Access and Diversity.
scroll to top of page