Student Earns Department of Defense Internship, Scholarship
Information Assurance major Amber Makovicka earns an internship and scholarship from the Department of Defense.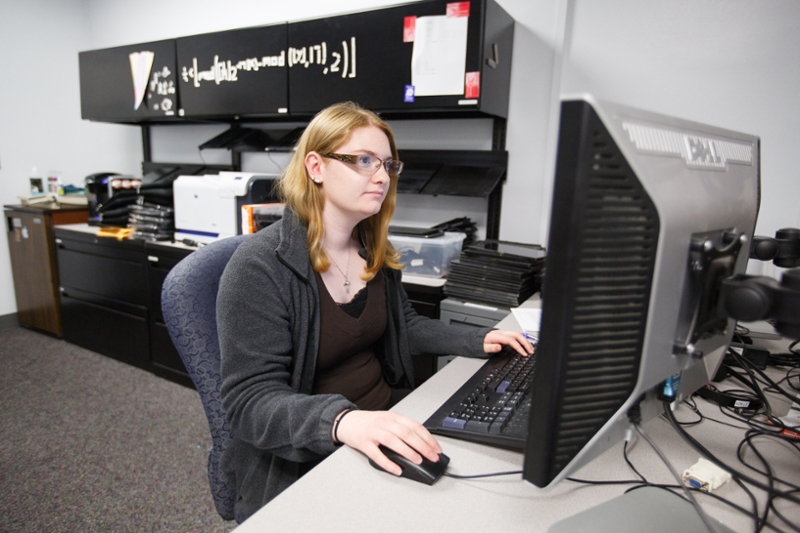 Omaha – Amber Makovicka may need security clearance for her new internship.
She's, understandably, a little nervous.
The Information Assurance student just wrapped up her first year at UNO and she already has her next three summers accounted for, plus a few years of work guaranteed after that.
Makovicka will be busy, but she won't have to worry about paying for college.
The Department of Defense is picking up the tab.
A Teacher's Encouragement
Makovicka has always been interested in computers, but when she was younger she never thought she'd pursue a career in the field.
"I always thought, 'Oh, I'm not good enough for that,'" she said.
That all changed when she started classes at Columbus High School.
An electronics teacher recognized Makovicka's interest, and pushed her with extra projects that the rest of the class didn't have to do.
"It was very uplifting and it very much encouraged me to pursue it," she said.  
She took that experience with her to a community college, where she was the only female student in her IT classes.
"I never felt ostracized," Makovicka said. "I never felt like it was discouraging. I felt mainly encouraged."
Searching for Scholarships
After earning her associate's degree, Makovicka decided to continue her education at UNO.
But fall semester was still a few months away.
Her technology skills helped her land a summer internship at Nebraska Public Power District's corporate headquarters in Columbus.
"I had a lot of free time, mainly because they didn't always have projects for me," Makovicka said.  
That's something she took advantage of, using downtime to apply for scholarships.
The Department of Defense's SMART Scholarship caught her eye. (SMART stands for Science, Mathematics and Research for Transformation.)
The scholarship covers all of a student's tuition and education-related fees, and offers a $25,000 annual stipend as well as a separate health insurance allowance.
The student interns at a sponsoring facility for 10 – 12 weeks each summer during their college career, and then works for the Department of Defense as a civilian worker for as many years as they benefited from the scholarship.
Makovicka applied.
It would be months until she heard back.
New Opportunities
Makovicka started at UNO in August of 2015.
She wasn't the only female student in her IT classes anymore. She was, however, in need of a major.
"I knew I wanted to go into IT, but I wasn't sure which degree offered here would be the best fit for me," she said. "After asking advice from other students and faculty, everyone said Information Assurance would be a good one."
She also wanted to work on campus.
Information Services liked her resume, including the associate's degree and an A+ CompTIA certification, a credential that certifies the skills necessary to support complex IT infrastructures.
Makovicka says she came to UNO for opportunity, and that's what she got. She's enjoyed her work study position with Information Services and she's also established good relationships with professors.
In late February, another opportunity would pop up in her inbox.
The Interview and the Offer
The email told Makovicka she had made it to the next step of eligibility for the SMART Scholarship, something she'd almost forgotten about.
The email went on, telling her a sponsoring facility would be contacting her.
A few weeks later, the Portland District of the U.S. Army Corps of Engineers reached out to set up a video chat.
As if nerves weren't enough, Makovicka ran into technical difficulties getting a video connection. They had to settle for a phone conversation.
"I thought I didn't do that well because of being late from the video problems, and some things I thought I didn't answer to the best of my abilities, but I guess I said the right things," she said. 
There was no contact for a few weeks until another email appeared in her inbox. She had been selected.
"It was very shocking at the time." 
A Maverick on the Move
Makovicka spoke with her parents and her long-term boyfriend. They agreed, it was a big commitment and a big opportunity – too big to pass up.
This July, Makovicka will travel to Portland for a two-day visit, and then start interning at the facility the following summer.
After her expected graduation in May 2020, she'll be moving to Portland.
She's nervous. She's excited.
And she sums it up best: "It's a very huge move."
Media Contact
If you have a story idea, news tip or inquiry please contact:
Amanda Rucker, Communication Specialist, College of Information Science & Technology
arucker@unomaha.edu • 402.554.2070