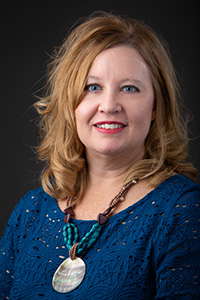 Dr. Lisa Marie Epp
Special Education & Communication Disorders, Instructor
---
email:
office:
RH  512P
office phone:
department phone:
office hours:
Monday 10 a.m. - 11:30 p.m , Thursday 10 a.m. - 11:30 p.m.
note:
This profile is pulling in data from Digital Measures. Postings on personal websites or social media do not indicate that the individual is speaking on behalf of UNO.
General Information
Biography
My experience in education began in 1997 as a Special Education teacher in the Papillion/LaVista School District. I obtained my Masters in Special Education at UNO in 2002 and transitioned to Millard Public Schools in 2005. I served as a Special Education Department Head in MPS and obtained my Special Education Administration endorsement in 2016. I transitioned to higher education in August of 2016 where I served at UNO as a Research and Teaching Graduate Assistant for two years. In August 2018, I accepted a full-time instructor position at UNO in the Department of Special Education and Communication Disorders. During this time I completed my course work toward my Doctorate Degree in Educational Leadership. I obtained my Ed.D in May of 2020.
Teaching Interests
Introduction to Special Education, Differentiated and Inclusive Practices in Special Education, Methods in Special Education, Professional Collaboration, and mental health in schools.
Research Interests
Impacts of trauma on student outcomes, special education achievement gap, the impact of race/ethnicity on academic achievement, evidence-based instructional practices, and the special education teacher shortage.
Service Summary
I have formed a collaboration with Project Harmony to raise awareness regarding the impact of trauma on students in Omaha and surrounding communities. In addition, I have joined a collaborative effort with UNO colleagues to create a trauma-sensitive campus. I am also serving as an advisor to the UNO SCEC.
Education
BS, University of NE at Omaha, Elementary Education, Special Education , 1997
MS, University of Nebraska at Omaha, 6001 Dodge Street, Omaha NE, 68182, Special Education, 2002
Other, University of Nebraska at Omaha, 6001 Dodge Street, Omaha, NE 68182, Special Education Administration, 2017
EDD, University of Nebraska at Omaha, Educational Ledership, Trauma-Sensitive Practices in Schools, 2020
Professional Development
Institutional Training, Faculty Search Training, 09/17/2021 - present
Institutional Training, AACTE SPED NIC, 09/30/2021 - 10/02/2021
Licensures and Certifications
Professional Teaching Certificate, Nebraska Department of Education, 02/22/2022 - 08/31/2032
Scholarship/Research/Creative Activity
Selected Publications
Epp, Lisa . 2020. Educational Professional's Perceptions of Their Roles in Moving Toward a Trauma-Sensitive School, ProQuest, 90.
Service
Department, College, and University
Special Education Area Meetings, Attendee, Meeting, Attend area Special Education Meetings, accept tasks as given per role as full time instructor. , 08/07/2018 - present
Advisor to The Student Council for Exceptional Children, Faculty Advisor, My responsibilities include meeting with officers monthly to coordinate campus events and volunteer opportunities within the community. , 08/01/2020 - 08/31/2020