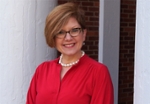 Sharon Storch
Assistant Professor
Communication Studies
---
email:
office:
department phone:
fax:
402.554.3836
Additional Information
Biography
Sharon Storch is an assistant professor in the School of Communication. She earned her doctorate in communication from the Indiana University of Pennsylvania. Her primary research interests qualitatively examine mobile devices and their subsequent influences on organizational, educational, familial, and interpersonal dynamics. Other research interests include the ethics of advertising within entertainment outlets such as films, TV, social media, and gaming, and cultural studies on technology within animated series. Sharon has taught Organizational Communication, Communication Research Methods, Interpersonal Communication, Business Communication, Human Communication, Communication in Small Groups and Teams, and Human Computer Interaction.
.
Research and Creative Activity Interests
Recent publications:
Storch, S. L. & Ortiz Juarez-Paz, A. V. (2019).  Bridging the digital divide to stay in touch with grandparents: Communication with intergenerational relatives when away at college.  In J. Mazer (Ed.), Communication and social media: Case studies in personal and professional relationships.Oxford University Press.
Storch, S. L. & Ortiz Juarez-Paz, A. V. (2019).  Motivating or distracting? Efficacy of cell phones within instructional design. International Journal of Mobile and Blended Learning, 11(1), 12-25.
Storch, S. L. & Ortiz Juarez-Paz, A. V. (2018). The role of mobile devices in 21st century family communication. Mobile Media & Communication. 1-17. doi/10.1177/2050157918811369
 Storch, S. L., & Ortiz Juarez-Paz, A. V. (2017). Family communication: Exploring the dynamics of listening with mobile devices. International Journal of Listening, 1-12. doi:10.1080/10904018.2017.1330657
Storch, S. L. (2015).  Normal or Norman:  Rockwell's influence on mass society.  In Laurel Highlands Communications Conference Proceedings, Indiana, PA: IUP Communications Media Department.
Education
University, Degree, Year (master's & doctorate):  Indiana University of Pennsylvania, Ph.D. 2018; Indiana University of Pennsylvania, M.Ed. 2003