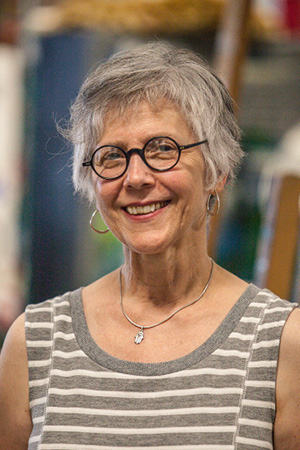 email:
office phone:
fax:
402.554.3436
personal website:
Additional Information
Office Hours
Monday/Wednesday 8 a.m. - 9 a.m., noon
Thursday 1 p.m. - 2 p.m.
Biography
Barbara Simcoe has been a working artist for more than thirty years. Her formal art training was at the University of Illinois, Urbana and the University of North Texas, Denton. She lived and worked in Dallas 16 years where she was very involved in the art community and in exhibiting her work. Currently residing in Omaha, NE she is a Professor on the faculty of Art and Art History at the University of Nebraska and has taught painting and drawing since 1998. Barbara has shown widely in nationally and in European venues in many invitational and juried exhibitions. She has had numerous one person exhibitions, awards and grants, in 2004 she received a Fulbright Grant for which she lived, taught and made artwork in Lithuania. She traveled to Israel summer 2005 to participate in an international exhibition in the city of Akko. Academic year 2006-07 she was on sabbatical, the focus of which was working in the studio and a trip to Poland where she had a solo exhibition of her digital photos at the Albert Gallery in Krakow. Her most recent international exhibition was in the Czech Republic for which she showed digital photo collages influenced by a trip to France summer 2008. Barbara's work consists of oil paintings, graphite and ink drawings and digital photography. Stylistically she works with realistic figuration inhabiting psychological and symbolic spaces.
Artist's Statement
The perception that much of the world is largely pre-occupied with itself on a level that excludes spirituality draws me to make my work. In the culture's violence, its unrelenting dedication to the exterior to the exclusion of the interior and its fascination with spectacle, is there a place for contemplation.
The figurative imagery I use in my work is exclusively of women and it is in the area of feminine archetypes that I am most interested – woman as vessel of creativity, as intercessor, as of the earth, as mother, as primal aspect of the feminine/masculine dichotomy, as the complement of masculine divinity. These are the subtexts of my work.
In designing my pieces I direct my actions to subconsciously access archetypes to create works that function as metaphor. They are intended to be vehicles for contemplation of silence as the medium through which one can sense spirituality. My works are quiet yet at the same time they challenge a sensory overloaded and violent culture. The intention is that the works function to mediate the space between perception and meditation, a liminal space that is ephemeral and intuitively accessed.
Research and Creative Activity Interests
Paintin, drawing, photography, ancient Middle East and the Ancient World overall, Christian iconography, Buddhism, Jungian psychology
Education
BFA, University of Illinois Urbana; MFA University of North Texas
Scheduled Teaching
Life Drawing, Intermediate/Advanced Painting, Intro. Drawing and Design, Alternative Media