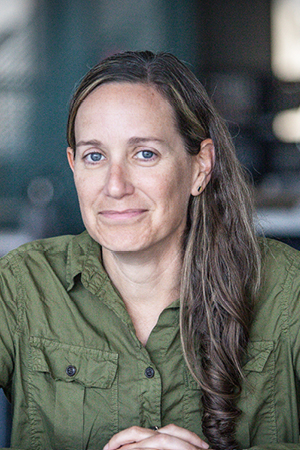 ---
email:
office:
office phone:
fax:
402.554.3436
Additional Information
---
Office Hours
Wednesday 10 a.m. – 2 p.m.
Biography
Amy Haney was born 1974 in Omaha, Nebraska. Trained specifically in printmaking, Amy received her BFA from the Ringling College of Art and Design, MFA from the San Francisco Art Institute, and MA in Art History with an emphasis in printmaking from Prescott College. She has taught printmaking at the Kent Bellows Studio, Metropolitan Community College, University of Nebraska at Omaha and her studio in the Hot Shops Art Center. Printmaking for Amy is about strategizing, problem solving and the thrill of revealing an image when pulling a print.
See more of Amy's work at amyhaney.com
Artist's Statement
Printmaking has been my medium of choice since 1994. For me, it has always been about experimentation, meditation through process, and reflection. The process of creating an image on the plate's surface, manipulating it, mixing color and pulling a print is so methodical that I find these steps captivating. I have found such a connection to printmaking that I returned to school to study the history of printmaking. I enjoy looking closely at traditional printmaking through the development of inventions, movements and artistic influences. Understanding and studying the evolution of printmaking has inspired me in the studio and as a lifelong learner.
Research and Creative Activity Interests
Traditional printmaking, painting, drawing, history of printmaking
Education
B.F.A., Ringling College of Art and Design; M.A., Prescott College; M.F.A., San Francisco Art Institute
Scheduled Teaching
Foundation Drawing and Design, Foundations Theory Practice: Alternative Media, Foundations: Color and Visual Literacy, Watercolor, Life Drawing, Elementary Printmaking, Special Topics in Studio Art