Do you have a business idea worth the startup capital? Or are you looking to grow your existing business? All it takes is a 90-second recording of you pitching that business idea to receive an opportunity at competing for over $1000 in cash prizes.
Submit your pitch and vote for your favorite business idea today!
2020 BigIdea! Pitch Contest Details
The BigIdea! Pitch Contest, hosted by the Center for Innovation, Entrepreneurship & Franchising (CIEF), is a contest where any University of Nebraska at Omaha (UNO) student with an innovative and original idea can showcase their business idea and receive funding for that business idea. 
This year's two-round contest is currently accepting submissions until November 6, 2020. Like previous years, students will be given 90 seconds to pitch his or her business idea. However, this year the first round will require participants to record themselves and submit their recording to ShortStack.
There are three idea categories for pitches, each of which will have a fan-favorite winner:
Tech-Based
Non Tech-Based
Non-Profit
After submitting a video, students will share their pitch via Facebook, Instagram, LinkedIn, and Twitter to gather support and votes from their friends. Voting period begins on October 23, 2020. The top-voted in each category will win $100 and will automatically advance to the Final Round. After the submission deadline of November 6, 2020, all video pitches will be scored on originality, the nature of the problem, and the viability of the solution. The 9 top-scoring contestants will advance to the final round, along with the fan favorite in each category. 
The Final Round for the 2020 BigIdea! Pitch Contest will be live on November 17, 2020 via webinar. Finalists will be given 90 seconds to pitch their idea to a live panel of judges followed by up to five minutes of question and answer. Family, friends, and community members are encouraged to attend and support these exceptional entrepreneurs. Please see BigIdea! Pitch Contest Rules and Instructions for more information regarding the rules of the contest.
2020 BigIdea! Pitch Contest Winners
Kaitlyn Baysa, senior in the College of Information Science and Technology, and University Honors Program, graduating with her Bachelor of Science in IT Innovation, with a minor in Spanish, pitched the idea, Actívate. Actívate is a non-profit educational resource for Spanish speaking students in middle-late elementary school that assists students in learning the basics of computer science. She aims to diversify the technology field by developing a website that offers learning modules in Spanish. Her mission is to empower Spanish speaking students by activating learning, creativity, and confidence in the next generation of technologists.
Edward Whittle received 1st Runner-Up in the 2020 BigIdea! Pitch Contest. Edward pitched the idea Music Ringer, a web application that allows for users to effectively view and hire musicians. Currently, there are no effective ways to locate and hire reputable musicians, resulting in millions of gigs worldwide being left unmatched. Music Ringer addresses this problem as its mission is to connect musicians with the world by allowing them to become more discoverable and successful.
Justin Krug is a senior in the College of Business Administration pursuing a Bachelor of Science in Business Administration with concentrations in Marketing and Business Management. Justin won 2nd Runner-Up with his idea Chim. Chim is a premium Christmas stocking line that allows consumers to show off their school allegiance. By taking advantage of being the first mover in the local Omaha area, Justin plans on utilizing peer to peer marketing and social media marketing to establish a proof of concept before adding to his product line and scaling nationwide.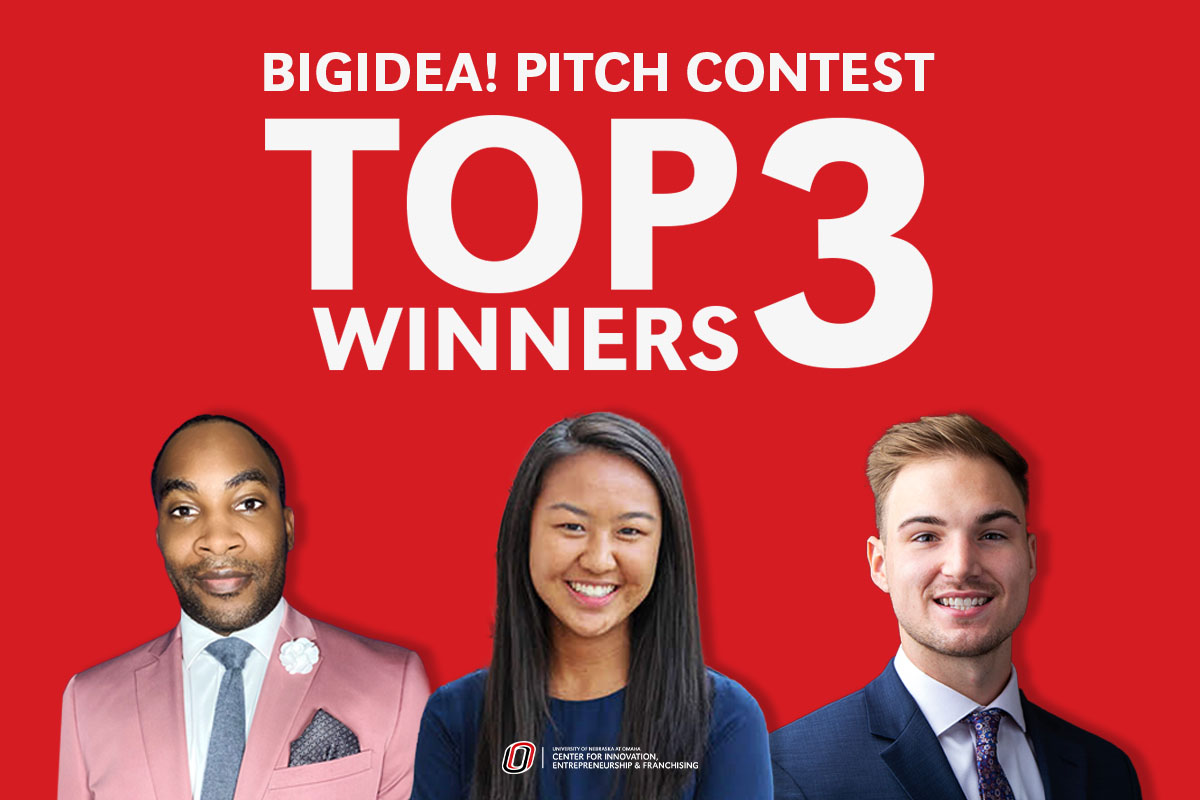 2019 BigIdea! Pitch Contest Winners
First place for the 2019 BigIdea! Pitch Contest, hosted by the Center for Innovation, Entrepreneurship & Franchising on October 15, 2019, was awarded to Emily Buettner. Emily Buettner's business, Plug, is a social recruitment platform that democratizes the recruiting process for athletes and recruiters. Plug uses necessary recruitment features like geolocation and advanced search filters, so that athletes and recruiters can connect with recruitment opportunities. Users on Plug can upload videos that showcase their skills, highlights, or training, along with representing their training facilities so that other users can interact. Plug has integrated unique features like a user player card, built in direct messaging, and offers recruiting events near the user that make the recruitment process efficient and compliant with NCAA regulations.
Second place was awarded to Blake Phillip's and his business, PostMyProject. PostMyProject is a free project estimator for over 160 types of home improvement projects and an online community for service providers. Blake's service allows the average homeowner to develop a professional grade estimate and renovation item list by using just a few simple measurements, and then connects them with verified service providers. Blake received $250 and an bid into the 2019 National CEO Pitch Competition in Tampa, Florida.
Third place received $100 and was awarded to Patrick Grover for his self-assisting yoga mat. This yoga mat assists anyone from amateur to expert yoga goers with rising from the yoga mat.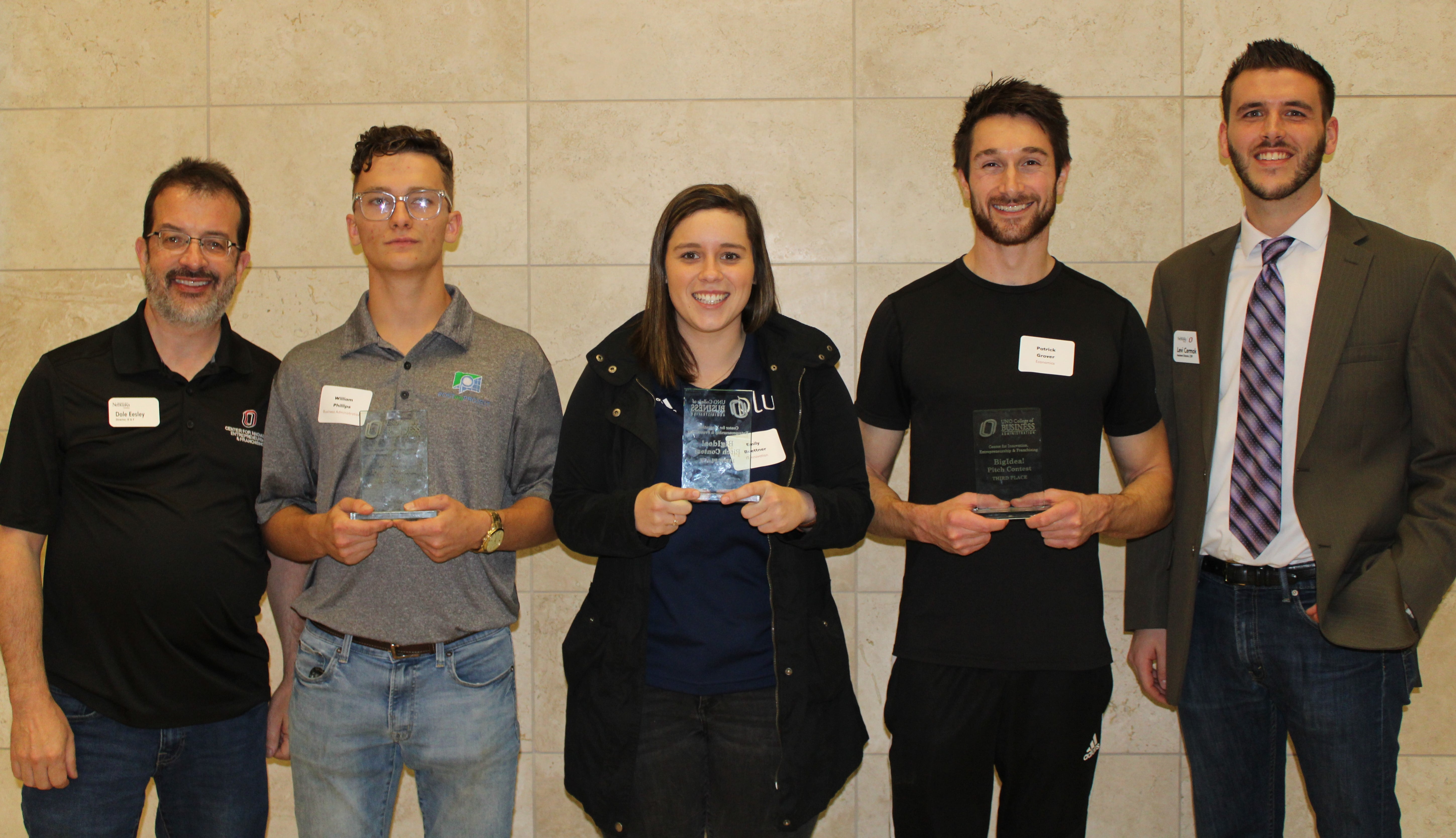 2019 National CEO Pitch Competition Recognition
University of Nebraska at Omaha had two students' representatives at the 2019 National Collegiate Entrepreneurs' Organization Conference and Pitch Competition, Emily Buettner and Black Phillips. Emily Buettner pitched her business, Plug, in the Ideators portion of the pitch competition and Black Phillips pitched his business, PostMyProject, in the Founders portion of the pitch competition. Altogether, these two UNO students competed against 80 other college students from around the globe.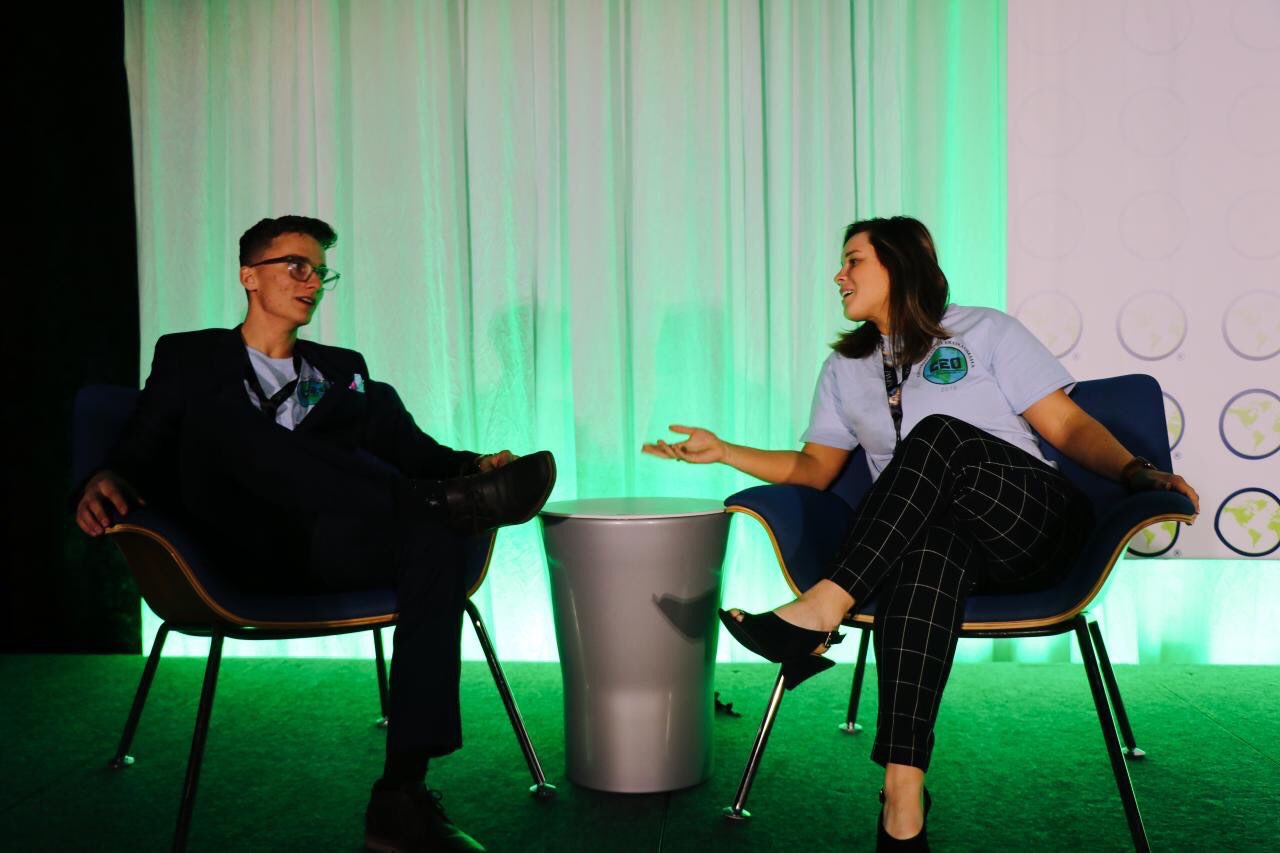 2018 BigIdea! Pitch Contest Winners
First place for the 2018 BigIdea! Pitch Contest, hosted by the Center for Innovation, Entrepreneurship & Franchising on October 9, 2018, was awarded to Ly Phan, a business administration major from Vietnam. The first-place winner received a $500 check and an all-expense paid trip to the National Collegiate Entrepreneurs Organization (CEO) Pitch Competition in Kansas City. At CEO Nationals, she placed in the top 16 out of the other 80 competitors that made it to Nationals.
Her business concept is NailedIt – a management system for nail salons in the form of an app – benefits nail technicians, salon owners, and customer. It would increase efficiency of communication between salon owners and nail technicians while allowing customers and technicians to build rapport. Additionally, it will allow customers to see ratings and performance reviews of salons and technicians, allowing for a seamless experience from all angles.
First runner-up was awarded to Michael Mazgaj and his Hollar Scholar idea. Hollar Scholar is an audible abstracted service that aids researchers in maximizing their time in digesting literature.
Second runner-up was awarded to Suzy Fendrick and her Chorie idea. Chorie is an app that is described as "Hudl meets choreography and dance."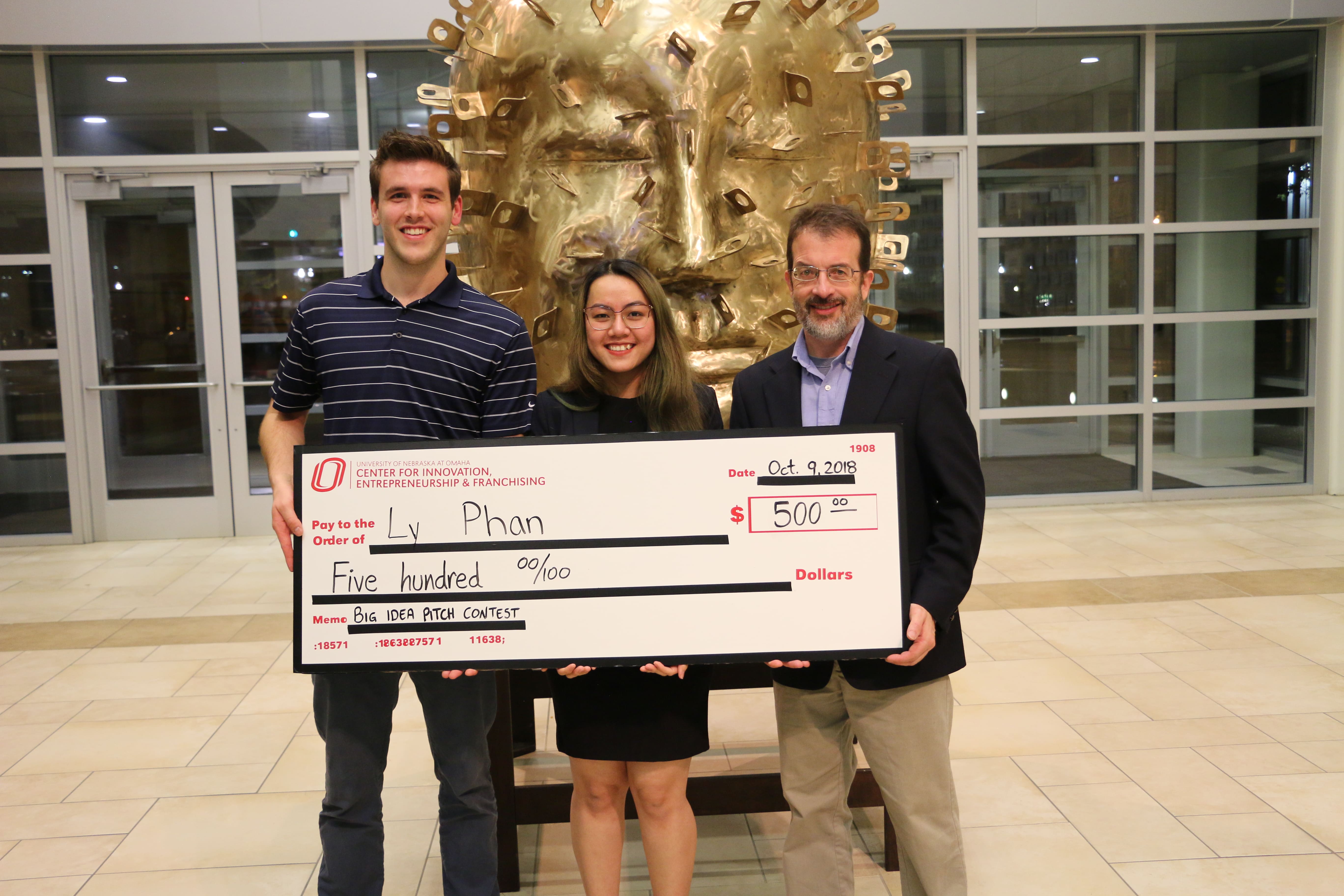 2018 National CEO Pitch Competition Recognition
Along with Ly Phan, Michael Mazgaj also represented UNO CEO at the 2018 National Collegiate Entrepreneur's Organization Pitch Competition. Michael Mazgaj is an MBA and IT Innovation graduate student and he placed in the top 16 with his idea, Hollar Scholar.
More Information
For more information about the 2019 BigIdea! Pitch Contest, please email Connor Berg: cberg@unomaha.edu 
2020 BigIdea! Pitch Contest Sponsors