Dale Eesley 
Dr. Eesley is CIEF director, the John Morgan Community Chair in Entrepreneurship and an associate professor of Entrepreneurship and Strategy. He has been teaching entrepreneurship and working with startups and small businesses for over 15 years. His courses focus on entrepreneurship, innovation, entrepreneurial finance and corporate strategy.
Contact Dale:
---
Jenna Taulman
Prior to joining CIEF, Jenna worked for a Fortune 150 transportation company, supporting the innovation arm with market and financial analysis. She is a UNO alumna, receiving her Bachelor of Business Administration in Finance. As a student, Jenna supported a network of Angel investors, conducting due diligence on numerous early stage startup companies. She is passionate about helping others understand the importance of continuous innovation and the entrepreneurial mindset.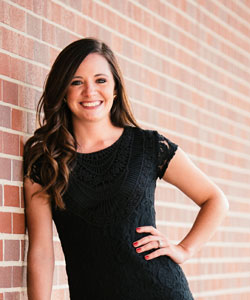 Contact Jenna:
402.554.3605
jtaulman@unomaha.edu
---
Pamela Peterson 
In her current position, Pam teaches the upper division sales courses, including MKT 3100 Fundamentals of Selling and MKT 4460 Consultative Selling Principles. Her research interests lie in the areas of buyer/seller relationships, sales training effectiveness, and customer retention and loyalty.
Pam has more than 30 years of diversified experience in sales and marketing at the national and global levels. Her industry expertise includes professional service firms and industrial and durable goods manufacturers ranging in size from startups to Fortune 100 corporations, including Accenture and Tyco. Equally conversant in the sales and marketing disciplines, she specializes in defining and executing go-to-market strategy, identifying and capitalizing on new product and market opportunities, building brand equity and creating viable sales enablement tools. Pam is recognized for her ability to grow sales, market share and margins in the core markets and in adjacent markets.
Pam received her MBA from the University of Chicago, Booth School of Business and a B.S. degree from the University of Nebraska at Omaha.
Contact Pam:
---
Erin Bass 
Erin teaches in the undergraduate and MBA programs in the College of Business Administration. Her teaching and research center on strategy, entrepreneurship and ethics, focusing on firm innovation, corporate governance and social entrepreneurship. She is particularly interested in the emergence of entrepreneurship in unlikely contexts, ranging from emerging markets to arts communities. She has experience in the energy and nonprofit sectors.
Contact Erin:
402.554.2457

---

Ben Smith 

Having founded and run a software company for more than a decade, Ben views economics as very entrepreneurial. He teaches Managerial Economics and Essential Concepts at the master's level. 

Much of Ben's research has an industrial organization focus. Current work includes the impact of patents on the size of emerging technologies, explorations of two-sided markets with lock-in, and plant agglomeration. Ben's previous work has been published in the Journal of Urban Economics and Significance.
Contact Ben:
402.554.4816

---

Erin Pleggenkuhle-Miles

Contact Erin:

402.554.2744

---

Leif Lundmark

Prior to joining the College of Business Administration in Fall 2014, Leif founded and directed Lyssna Audio Inc., a manufacturer of hi-fidelity audio equipment. He has lived in the Dominican Republic and Sweden and has worked and consulted for numerous startups in the transportation and design industries.  

Dr. Lundmark's areas of expertise include strategic management and entrepreneurship with a specific focus on the cognitive and behavioral foundations of problem formulation and innovation. His research explores cognitive biases in the IPO process, how problem formulation impacts innovation, and the role of affect in altering the search and recombination of knowledge. Dr. Lundmark's research has also examined macro-level phenomena, including the determinants of formal and informal entrepreneurship as well as the influence of social media on organizational legitimacy and IPO performance.

Contact Leif:
Our Campus. Otherwise Known as Omaha.
The University of Nebraska does not discriminate based on race, color, ethnicity, national origin, sex, pregnancy, sexual orientation, gender identity, religion, disability, age, genetic information, veteran status, marital status, and/or political affiliation in its programs, activities, or employment. Learn more about Equity, Access and Diversity.
scroll to top of page