UNO Collegiate Entrepreneurs' Organization
Enjoy the show Shark Tank? Want to learn tips and strategies that you can implement to start your own business or grow your professional network? Then you're in the right place!
UNO's Collegiate Entrepreneurs' Organization (CEO) is a student-run organization building the next generation of Nebraskan entrepreneurs and business leaders. Put simply, CEO meets every Wednesday during the semester from 4-5 pm. At our weekly meetings, we frequently invite company founders, CEOs or experienced entrepreneurs to speak directly to our UNO student base. At these meetings, not only will you gain valuable advice about running a successful business or thriving in the business world, but you'll also have a unique opportunity to ask industry leaders for advice/questions. To add on, CEO is a door-opener to incredible opportunities outside of UNO (ex: internships)
NOTE: CEO is a great opportunity for
ALL MAJORS
!
Outside of weekly meetings, CEO also hosts and attends various events and conferences as a club each year.
To summarize, if you are a student interested in one day owning your own business or simply want to make new friends, expand your professional network, and gain transferable leadership skills, then come check out CEO -- seriously, just swing by one of our meetings!
Fun Fact: The Collegiate Entrepreneurs' Organization is an international club that was brought to the University of Nebraska at Omaha's campus to inspire and encourage students to pursue a future in entrepreneurship. To learn more about CEO, click
here
.
Schedule for Spring 2022
Meeting will be In-Person in Room 117 OR Virtually
Updates through CEO's weekly emails
January 26th, 2022 | Todd Graeve, CEO of Scooter's Coffee (VIRTUAL)
February 2nd, 2022 | Aagya Subedi, Chef/Co-Owner at Kathmandu Momo Station (VIRTUAL)
February 9th, 2022 | Kirby Keomysay, Founder/Creative Director at Ko & Co Studios & Grind Coffehouse
February 16th, 2022 | TBD
February 23rd, 2022 | TBD
March 2nd, 2022 | TBD
March 9th, 2022 | TBD
March 16th, 2022 | TBD
March 23rd, 2022 | TBD
March 30th, 2022 | TBD
April 6th, 2022 | TBD
April 13th, 2022 | TBD
April 20th, 2022 | TBD
April 27th, 2022 | TBD
The Aviture x CEO Garage Fund (TBD)
The Aviture x CEO Garage Fund was established in the Fall of 2020 with a simple goal in mind: to support UNO student entrepreneurship. For the Spring 2021 semester, one UNO student will receive $500 and two workshops (on March 10 & April 14 at 4 pm) dedicated to helping your business/idea succeed. At these workshops, you will receive input from CEO members on specific challenges in your business and we will work to address them as a group.
Interested in taking your business/idea to the next level? View contest details and apply today!
Apply Now: https://forms.gle/Qiazs4atCYb7urxE6
2022 Aviture X CEO Garge Fund Details
More Information
For more information, please email President Maysaa Khalaf, mkhalaf@unomaha.edu
UNO CEO Visits Tampa, Florida
UNO's Collegiate Entrepreneurs' Organization visits Tampa, Florida to attend the 2021 CEO Global Conference. UNO CEO took home 2nd Place Chapter Reward for Social Media/Marketing!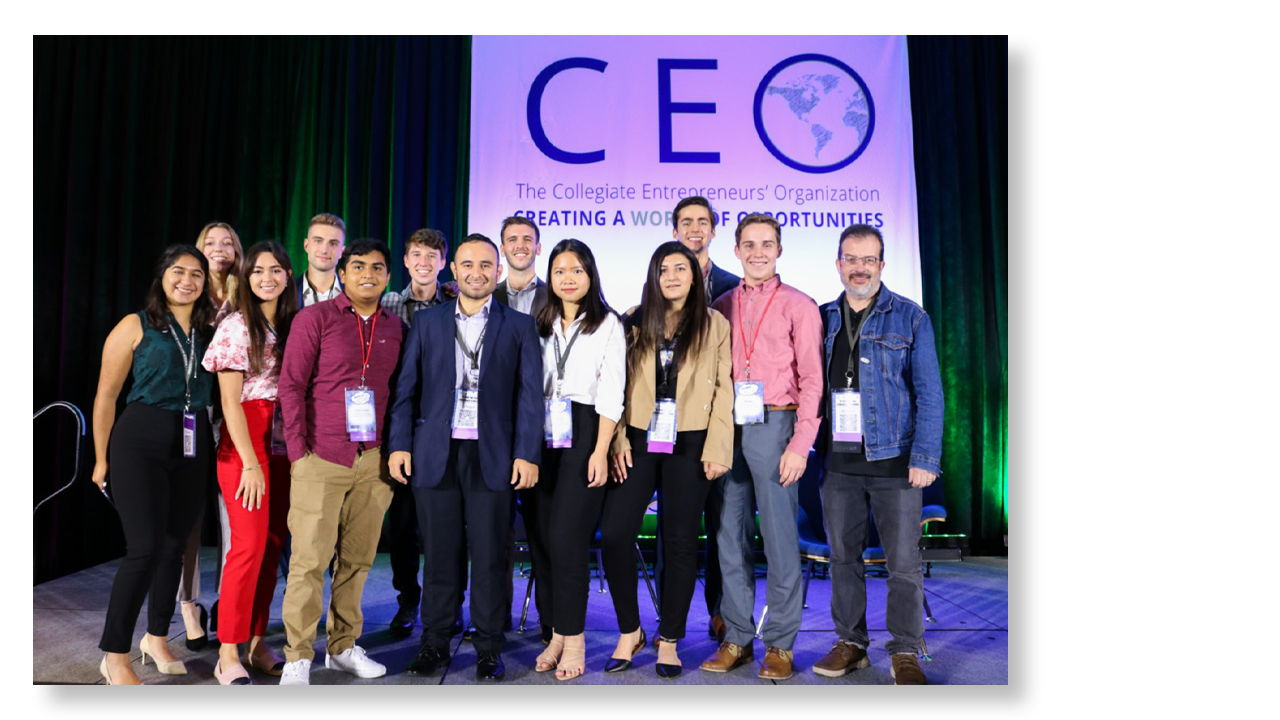 2021 Collegiate Entrepreneurs Organization Sponsors