Perú 2013:

19 June 2013. If I heard "Macchu Pichu" five days ago, the first thought that would come into my mind was "oh, the lost city that looks like a maze made of stone." As a group, we traveled about 12 hours for the trip to Macchu Pichu. I was not too sure what it would be like, despite my preconceptions. After our first 6 hours of travel, we hiked about ten minutes up a winding stone path and I was rewarded with the most breathtaking site I have ever seen in person..... Read more

Students at Universidad Antonio Ruiz de Montoya, Lima, Peru uarm.edu.pe
Latest news about the trip:
✓ TRAVEL UPDATE: Flight times have changed; more information is now available. View Travel Bulletin #1 Update III to see the updated times and information.
✓ An Optional Survival Spanish Workshop was taught by Dr. Claudia García on Wednesday, May 29, 1:30-4:00pm in ASH 411. All participants will benefit from 'survival Spanish' classes and Spanish Breakfasts with Dr. García while in Peru. Contact Dr. Claudia García directly if you have any questions.
✓ Attention Selected Students:
The Scholarship should now appear in your mavlink finances.

Latest News about Perú:
✓ Indigenous Peruvians protest state oil company taking over their land
✓ Last of Shining Path's Original Leaders Gets Life Sentence in Peru
✓ Peru foreign minister quits over health after Venezuela spat
✓ Peru: Strike in Iquitos in Protest of Corruption
✓ In Peru, Wounds of Civil War
✓ Gamarra Fashion entrepreneurs look to do business in New York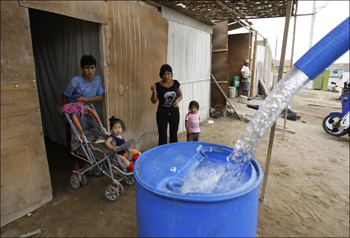 Buying water in the Lomo de corvina shantytown in Lima. AP/Martin Mejia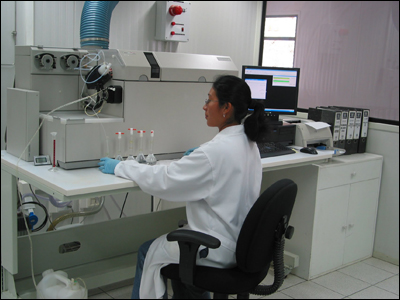 Peruvian scientist uses sophisticated equipment to analyze water quality Kike Unico
Come to Peru this Summer 2013 and...
✓ Experience how urbanization and modernization are affecting water quality and access among the urban and rural poor in Peru.
✓ Get involved in global health issues and learn about water-borne diseases in Lima and Cuzco.
✓ Discuss conventional and non-traditional strategies for sustainable water use and food production with Indigenous leaders, academics and policy-makers.
✓ Work alongside UNO and Peruvian scientists working on water issues.
✓ Participate in Peru's indigenous rituals that speak to alternative visions of nature and sustainability.
✓ Witness Cuzco indigenous communities' distribution of water resources and labor.
The 2013 application period is now closed.
SCHOLARSHIP: The University of Nebraska Foundation will cover the tuition of selected students.
For More Information:
Contact Yuriko Doku, OLLAS Project Coordinator, or Clare Maakestad, OLLAS Study Abroad Assistant, at (402) 554-3835, for further information about the Peru 2013 Study Abroad program.
Coursework Info:
✓ Latin American Study Abroad: Perú
LLS 4950/8956-850 (2 credits)
Totally Internet Mediated: April 8-May 2, 2013
✓ Study Abroad: Water Quality in Latin America
BIOL 4030-003/8060-001 (Lab) (2 credits)
Meets in person: Allwine Hall 408
Fridays 3:00-5:30pm, March 29-April 26, 2013