The Office of Latino/Latin American Studies (OLLAS)
OLLAS Informational Materials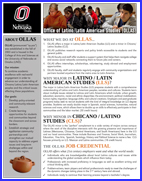 Read more about OLLAS' mission and goals, along with information about the Latino/Latin American Studies (LLS) Major and Chicano/Latino Studies (CLS) Minor. This flat sheet also describes the OLLAS Job Credential and what some of our graduates have said about OLLAS.
Lea sobre la misión y los objetivos de OLLAS, junto con la información sobre la especialización en Estudios Latinos y Latinoamericanos (LLS) y la sub-especialización en Estudios Chicanos/Latinos (CLS). Este hoja informativa describe también la credencial de trabajo que ofrece OLLAS y lo que algunos de nuestros graduados opinan sobre OLLAS.
---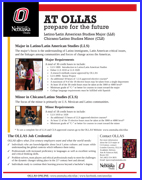 Read about our major and minor requirements, the OLLAS Job Credential, OLLAS staff and faculty and selected OLLAS Programs on this informational flat sheet.
---

---