The Office of Latino/Latin American Studies (OLLAS)
Established in 2003 with the support of UNO faculty, staff, and students as well as the metropolitan community, OLLAS has helped fill a void in the Nebraska and Great Plains region's infrastructure dedicated to the productive incorporation of the new and growing Latino population into the political, economic, and social life of the region. The office is dedicated to developing our institutional capacities and academic initiatives aimed at improving our understanding of Latino/Latin American issues and populations within and across borders.
OLLAS Informational Materials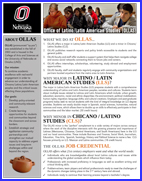 Read more about OLLAS' mission and goals, along with information about the Latino/Latin American Studies (LLS) Major and Chicano/Latino Studies (CLS) Minor. This flat sheet also describes the OLLAS Job Credential and what some of our graduates have said about OLLAS.
Lea sobre la misión y los objetivos de OLLAS, junto con la información sobre la especialización en Estudios Latinos y Latinoamericanos (LLS) y la sub-especialización en Estudios Chicanos/Latinos (CLS). Este hoja informativa describe también la credencial de trabajo que ofrece OLLAS y lo que algunos de nuestros graduados opinan sobre OLLAS.
---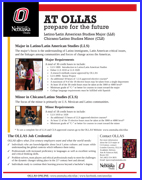 Read about our major and minor requirements, the OLLAS Job Credential, OLLAS staff and faculty and selected OLLAS Programs on this informational flat sheet.
---

---