ISSUED: (Thursday, January 14, 2021 21:55 PM)
SEVERE WEATHER ALERT
All classes, campus operations, and campus events will be suspended for Friday, Jan. 15, unless otherwise noted. Normal operations will resume on Saturday, Jan. 16.
More Information
CLOSE

X
The Office of Latino/Latin American Studies (OLLAS)
OLLAS Informational Materials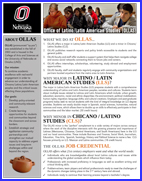 Read more about OLLAS' mission and goals, along with information about the Latino/Latin American Studies (LLS) Major and Chicano/Latino Studies (CLS) Minor. This flat sheet also describes the OLLAS Job Credential and what some of our graduates have said about OLLAS.
Lea sobre la misión y los objetivos de OLLAS, junto con la información sobre la especialización en Estudios Latinos y Latinoamericanos (LLS) y la sub-especialización en Estudios Chicanos/Latinos (CLS). Este hoja informativa describe también la credencial de trabajo que ofrece OLLAS y lo que algunos de nuestros graduados opinan sobre OLLAS.
---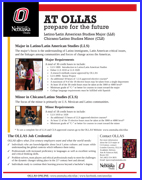 Read about our major and minor requirements, the OLLAS Job Credential, OLLAS staff and faculty and selected OLLAS Programs on this informational flat sheet.
---

---