John Kerry, Chuck Hagel Discuss Global Leadership at UNO Forum
The former U.S. Secretaries of State and Defense provided guidance and perspectives on current issues that will become challenges for tomorrow's leaders.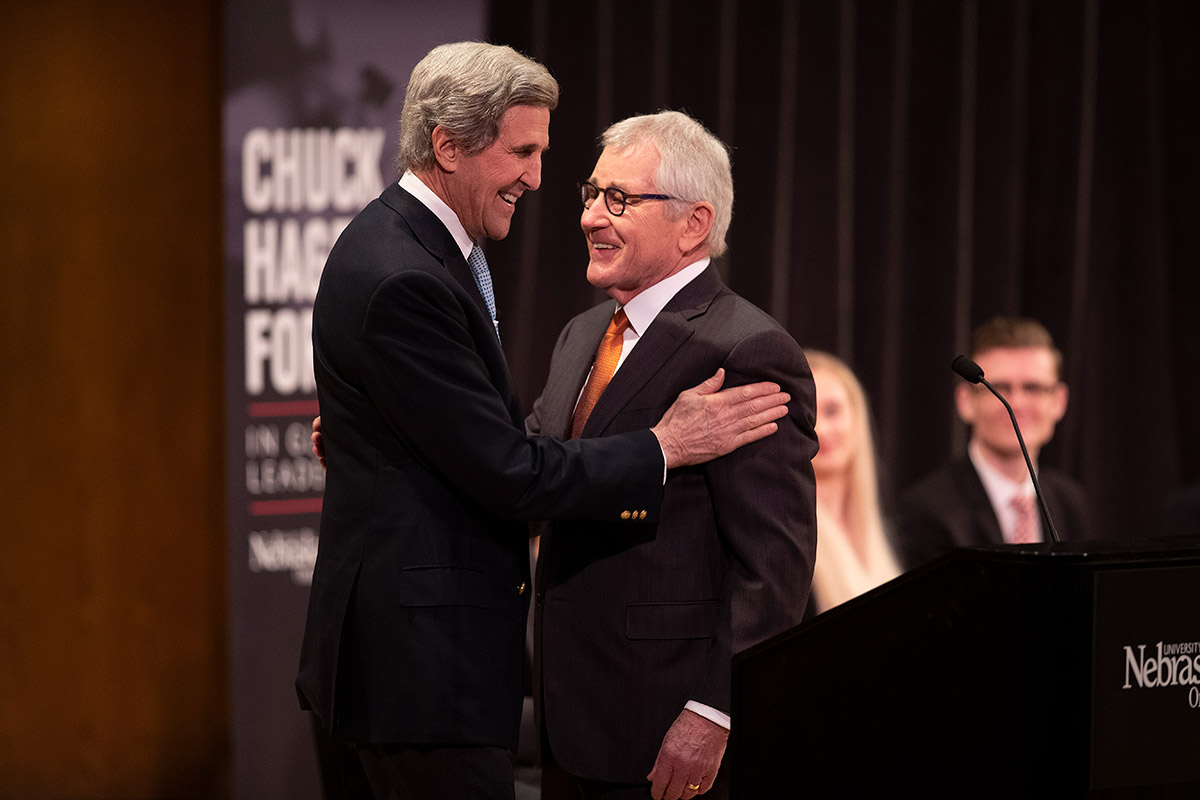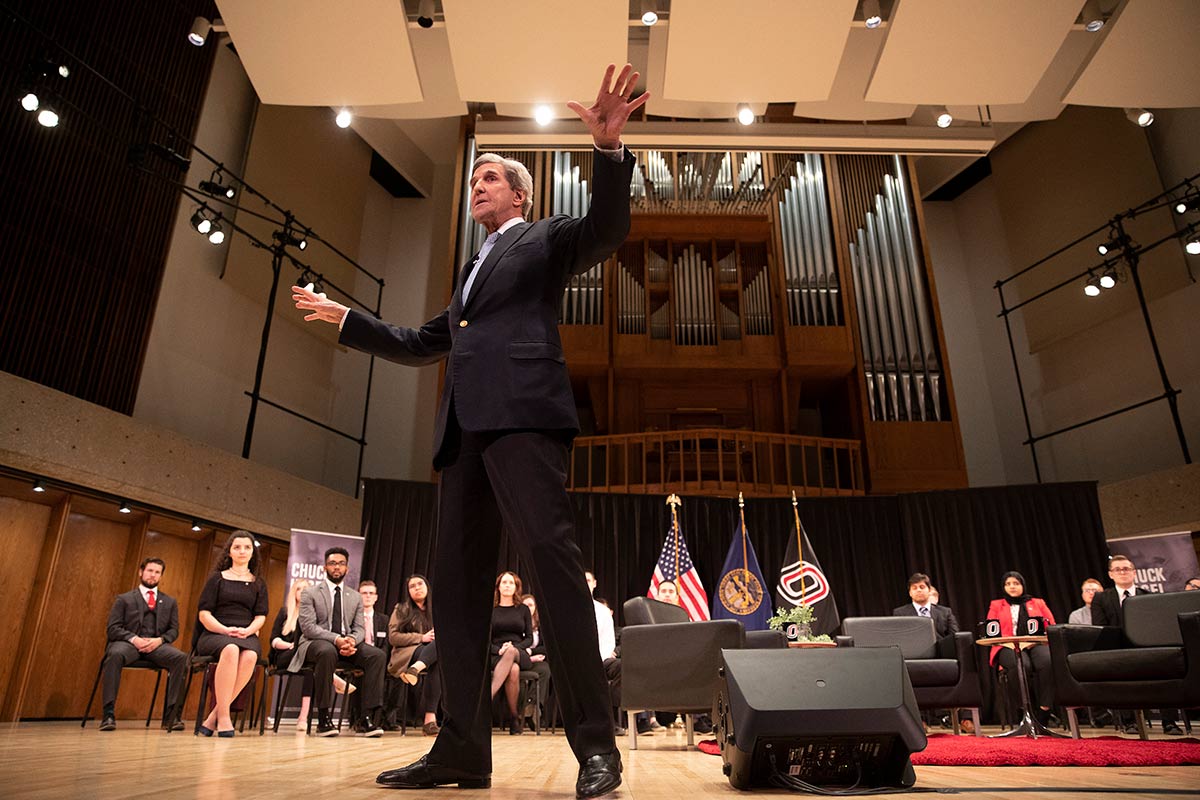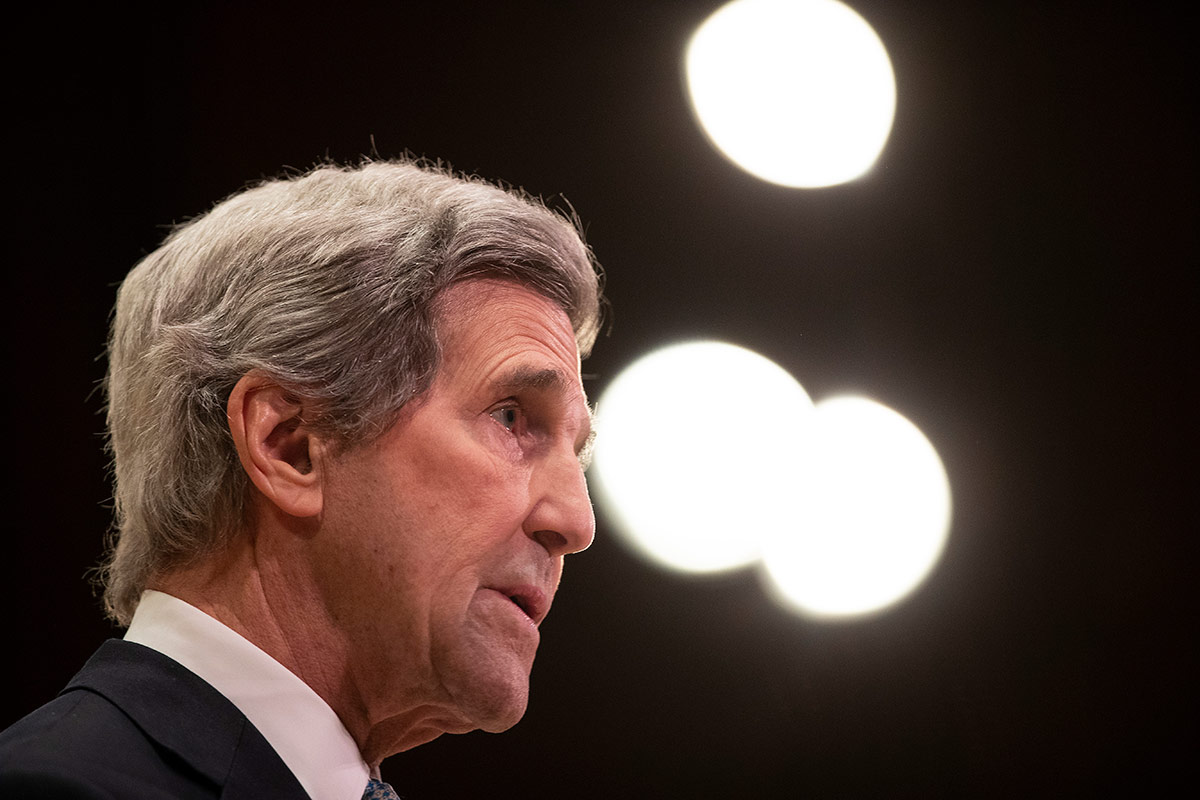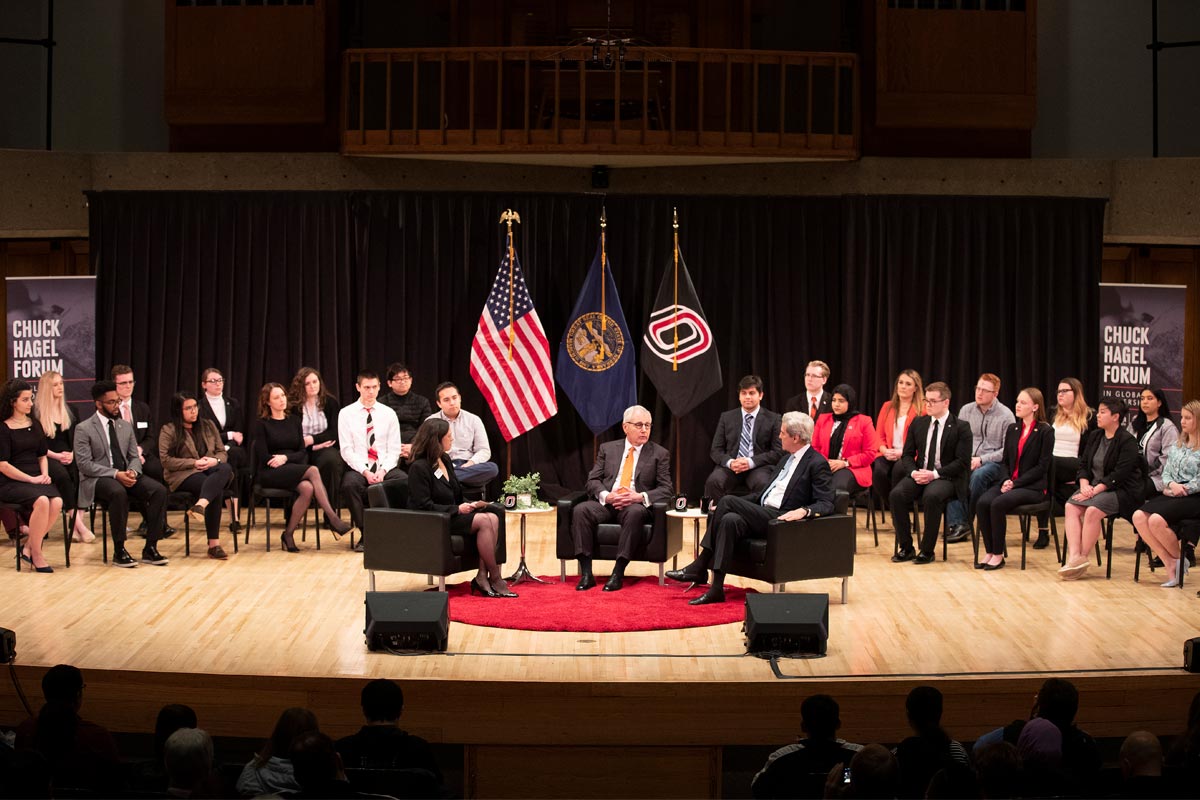 Two national leaders in international policy came together on the UNO campus Wednesday, Feb. 26, to discuss the role of the United States, and its citizens, as global leader now and in the future.
Former U.S. Secretary of State John Kerry, who served from 2013 to 2017, and former Secretary of Defense Chuck Hagel, who served from 2013 to 2015, spoke to a sold-out crowd at the second annual Chuck Hagel Forum in Global Leadership, held in UNO's Strauss Performing Arts Center.
Hagel introduced Kerry as "a decorated Vietnam war veteran, prosecutor senator, and Secretary of State," adding that it was "not a bad resume."
"I am particularly proud and privileged he would accept an invitation to speak here tonight," Hagel said. "I don't think there is anyone I've known and worked with over the years that embodies, understands global leadership like John Kerry does."
The event also featured remarks from UNO Senior Vice Chancellor for Academic Affairs Sacha Kopp, Ph.D., and UNO Student Body President Aya Yousuf.
"The Chuck Hagel Forum in Global Leadership launched in 2019 with a mission to explore critical issues with global leaders in search of solutions to today's challenges," Kopp told the audience, highlighting the rarity of being able to hear from two former U.S. Secretaries.
Welcome to Secretary Chuck Hagel, here to host Sec'y John Kerry for the annual Hagel Forum in Global Leadership @UNOmaha — back in Maverick country!! pic.twitter.com/hB6AXEGGk5

— SachaKopp (@SachaKopp) February 27, 2020
Yousuf provided thanks to Kerry and Hagel on behalf of the UNO student body, a number of whom were in attendance or watching remotely.
"Thank you for your decades of public service, and for sharing your time with the Maverick community. We are thrilled and honored to welcome you to the University of Nebraska at Omaha."
In his prepared remarks, Kerry, who also served as a U.S. Senator from Massachusetts for nearly 30 years, detailed the changes in climate the world has seen in recent years and the need for international communities to come together to commit to finding ways to encourage innovation and hold each other accountable.
Kerry's remarks also touched on the impact of technological shifts due to advancements like the Internet, and how it set the stage for the next big advancement in addressing today's most pressing issues.
"We are seeing tectonic cultural, political, economic, warfare transformations that are altering the possibilities of the way we think about things," he said. "These shifts are just as big as the transformations our nation went through during the industrial revolution."

"The reality is that this one of the greatest opportunities we could ever have," he added, explaining that technological revolutions can also spur solutions to the world's problems."
Student Body President/Regent Aya Yousuf and Vice President Jabin Moore presented former Sec. of State @JohnKerry with a Mavericks jersey. Kerry will speak at tonight's Chuck Hagel Forum in Global Leadership. #Hagel | #Kerry pic.twitter.com/GZ9FxK1cNy

— University of Nebraska at Omaha (@UNOmaha) February 27, 2020
Attendees, who included community members and university supporters, also had an opportunity to ask questions of both Kerry and Hagel.
Hagel, a UNO alumnus and U.S. Senator from Nebraska for nearly two decades, joined Kerry in a robust discussion, moderated by Elizabeth Chalecki, Ph.D., assistant professor of political science. The discussion covered a variety of topics, ranging from divisiveness of American politics, the Iran Nuclear Deal, and possibility of ecological diplomacy over political diplomacy.
One key takeaway from the evening's discussion, was the importance of not just talking about global leadership, but engaging in it as well.
"I think it is imperative that people know how the rest of the world works; how people are living ... what we've done as a nation is remarkable, but we also have to put it in perspective," Kerry said. "There is no over there anymore. It's everywhere."
The Chuck Hagel Forum in Global Leadership returned for 2020 after an inaugural outing last February with former Vice President Joe Biden as guest. Hagel also hosts a recurring Symposium in Public Service each semester for local high school students to connect them with local experts and helped host a two-day symposium in 2016 exploring the legacies of the Vietnam War featuring government officials, national journalists and Vietnam veterans.
Hagel graduated from UNO with a bachelor's degree in 1971 after serving in the Vietnam War and enrolling through the Bootstrapper program. In 2008 Hagel named UNO home to the archives of his time as a U.S. Senator from Nebraska (1997-2009) and Secretary of Defense.