Nobody's Listening, an Award-Winning VR Experience and Immersive Exhibit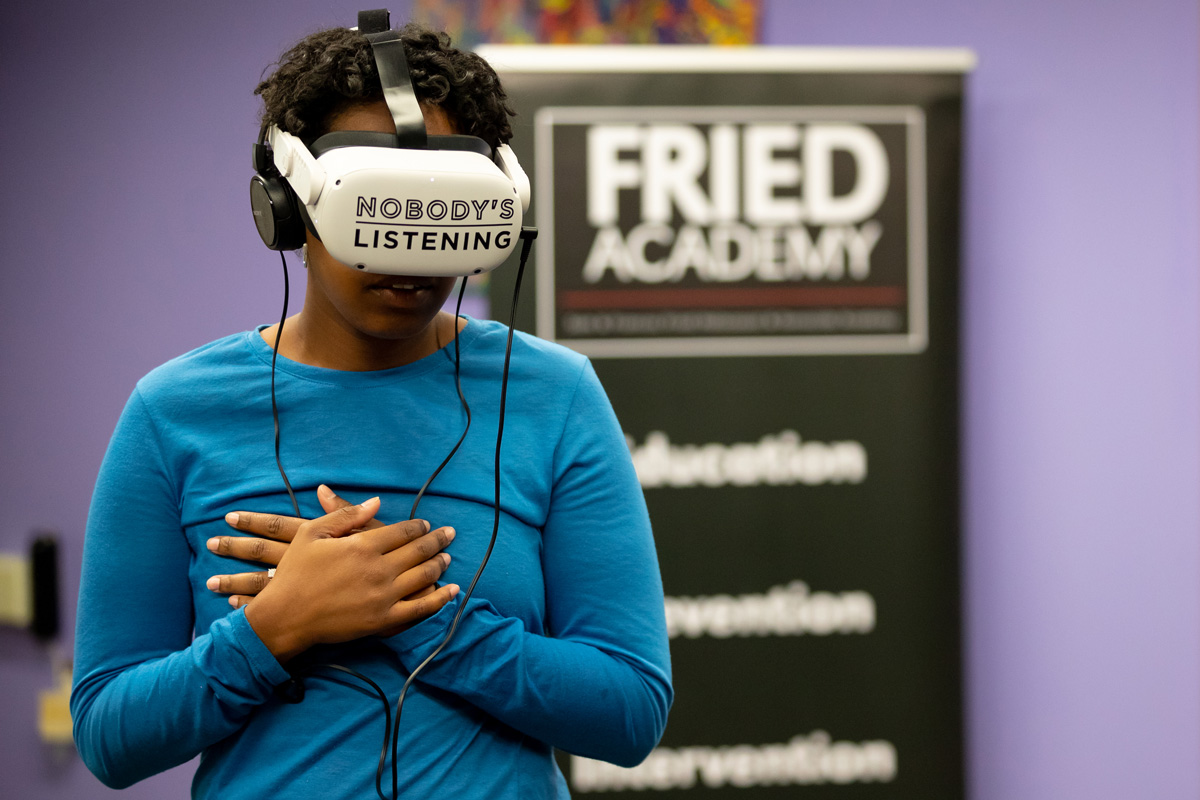 Nobody's Listening, a groundbreaking, award winning virtual reality (VR) experience and immersive exhibition that commemorates the Yazidi genocide committed by ISIS in northern Iraq, will make its premiere in the United States at the University of Nebraska at Omaha this spring. Initiated and sponsored by UNO's Sam and Frances Fried Holocaust and Genocide Academy, the exhibition will be on display at the UNO Art Gallery from January 10 to February 23, 2023. It will then move to universities affiliated with the Consortium of Higher Education Centers for Holocaust, Genocide, and Human Rights Studies, which held its first regular meeting at UNO in December 2019.
Visit the exhibit during the UNO Art Gallery's standard hours:
January 10 to February 23, 2023
Mon-Fri | 10 AM to 4 PM
Sat/Sun | Closed
---
Related Events and Opportunities
Yazidis in Iraq, 2014: an exhibit from the Hagel Archives
January 10 – February 24, 2023
UNO Criss Library
This display will use records from the Hagel Archives and publicly available information to narrate in a limited sense the Yazidi Genocide perpetrated by ISIS in 2014. Accompanying it will be a larger display titled The Iraq War, 2003-2011.
K-12 Field trip Tours and Funding
January 17 – February 23
UNO Art Gallery
Interested in a field trip for your K-12 classes? Scheduled a self-guided tour via the visit and funding request form! Funding for field trips is available with support from Humanities Nebraska and the Nebraska Arts Council and the Nebraska Cultural Endowment.
Witnessing the Destruction of Culture By Isis: Lecture by Piers Secunda
Monday, February 6, 2023 | 6:30 PM
Watch the Recording
Secunda's lecture describes how his abstract painting practice changed direction 20-years ago and became an examination of the destruction of culture. His work has been exhibited internationally since the mid-90's, and was used as a tool of diplomacy between warring factions in Iraq in 2018. His work is in the collections of the Victoria and Albert Museum, London; The Iraq National Museum, Baghdad, and on permanent display at the Ashmolean Museum at Oxford University — the oldest Museum in the world.
ISIS and the Forgotten Genocide of the Yazidis
Monday, February 13, 2023 | 6:30 PM
CEC 201/205/209
This panel discussion will mark the International Day for the Prevention of Violent Extremism as and when Conducive to Terrorism, 12th February 2023, by exploring the root causes of the Yazidi genocide, the dangers of violent extremism and how it contributed to ISIL's atrocities in northern Iraq, and the importance of preventing violent extremism today.
---
Historical Background
In early August 2014, the self-declared Islamic State of Iraq and the Levant (ISIL) launched attacks in the Sinjar district in northern Iraq, which is home to a minority Yazidi population. They killed men and boys who refused to convert to Islam, as well as older women. They sexually enslaved women and girls and destroyed Yazidi shrines and temples. Other religious minority groups were also targeted by ISIL, including Christians, Kaka'i, Sabean Mandaeans, Shabak, Turkmen and Arab Shi'a peoples.
An estimated 12,000 Yazidis were killed by execution, starvation, or dehydration. Over 6,000 were kidnapped. The UN Human Rights Council consider the attacks to be genocide, as well as crimes against humanity and war crimes. Despite this, only a few countries have recognized the genocide as an international crime.
Victory over ISIL in Iraq was announced in December 2017, but the impact and trauma for Iraq's religious and ethnic minorities continues. Thousands of Yazidis and other women and girls belonging to other minority groups are still missing, many believed to be in captivity. Hundreds of thousands of people are still displaced and continue to live in camps under harsh conditions. Barrister Amal Clooney of the Center for Justice and Accountability has worked to hold ISIL accountable. Recently, German courts have convicted ISIL women for their involvement in the enslavement of Yazidi women. To date, no ISIL fighters have been prosecuted for their crimes.
---
Fried Academy Sponsors Nobody's Listening
Dr. Mark Celinscak, Executive Director of the Sam and Frances Fried Holocaust and Genocide Academy, became increasingly interested in the subject after working with Father Patrick Desbois and Yahad-In Unum. Author of The Terrorist Factory: ISIS, the Yazidi Genocide, and Exporting Terror, Father Desbois spoke at UNO in 2019 about the Yazidi genocide. Nebraska is home to the largest Yazidi community in North America.
"I invited members of Yazda and the Yazidi community to hear him speak," Celinscak remembers. He adds, "After the lecture, I promised members of the community that I would find a program on which we could collaborate. Nobody's Listening is that program and it's an honor to bring it to UNO."
In September 2022, the Fried Academy hosted an introduction to Nobody's Listening and previewed the virtual reality for students and faculty in some of UNO's history, art, and teacher education courses. The event also featured two speakers, including the director and founder of Nobody's Listening, Ryan D'Souza, and Saad Murad, a human rights activist, board member with Yazda and survivor of the 2014 genocide. Students were deeply affected by the experience. Nobody's Listening recently received the 2022 VR Social Impact Award, which is given for using technology as a cause for social good.
The Nobody's Listening exhibition at UNO will be supported with related programming, including lectures, workshops, panels, and community events. Substitute teacher and transportation funding is available with the support of Humanities Nebraska and the Nebraska Arts Council and the Nebraska Cultural Endowment. To learn more about the Nobody's Listening exhibition and related programming, please join the Fried Academy mailing list to receive updates.