Wear Black, Give Back | CAS Edition
Mark your calendar for the Wear Black, Give Back 24-hour giving event, from Noon on Oct. 12 to Noon on Oct. 13.
published: 2022/09/21
contact: Courtni Kopietz - College of Arts and Sciences
email: ckopietz@unomaha.edu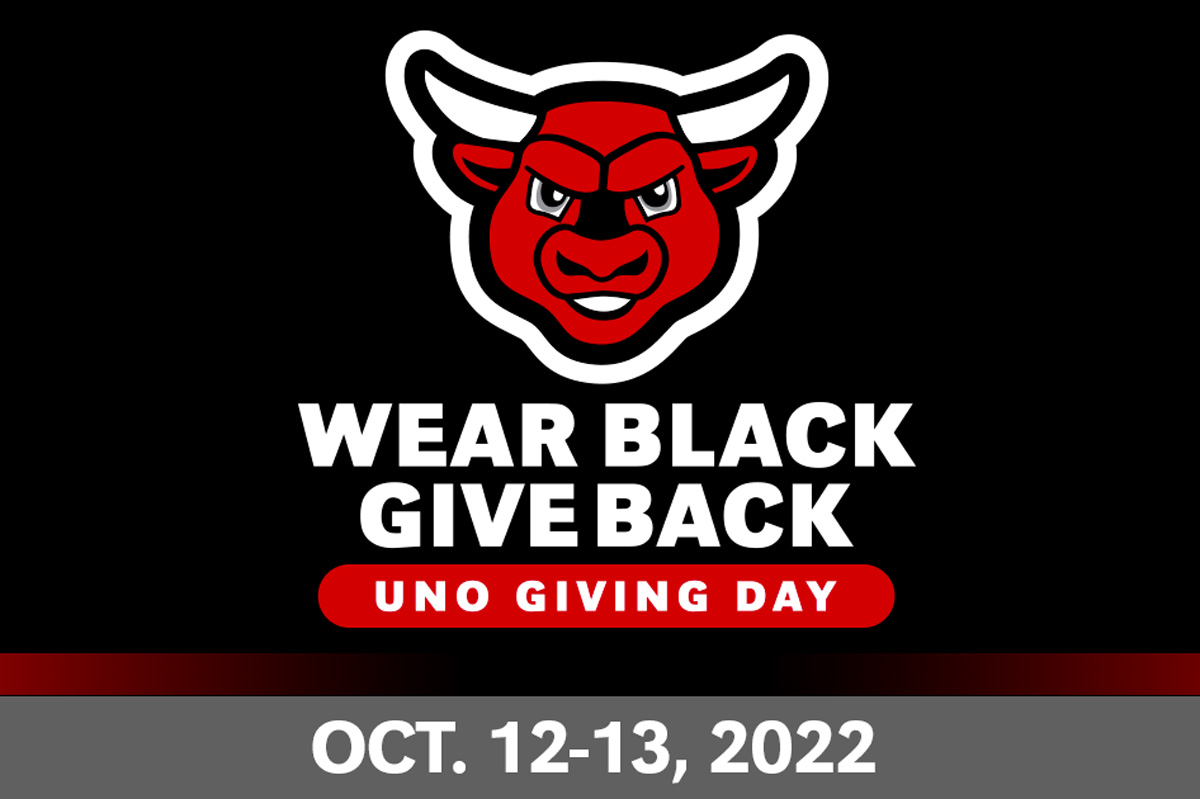 Wear Black, Give Back is a 24-hour day of giving to UNO to raise money for scholarships; colleges and programs; student groups and activities; inclusion and wellness; and much more!
Wear Black, Give Back officially kicks off at noon on Wednesday, Oct. 12, and will last through noon on Thursday, Oct. 13. Every gift of $5 or more will be counted toward this year's goal of 2,500 donors. All donors of $60 or more will receive a complimentary pair of UNO knit gloves.
Besides donating, there are other ways you can support this effort:
Dress in black and/or take a picture with flat Durango and share what UNO means to you with the hashtag #WearBlackGiveBack.
Let your friends and family know how they can support the UNO causes that mean the most to them and share the givingday.unomaha.edu website.
Participate in the Party in the Pep Bowl on Oct. 12! The UNO Alumni Association is hosting a grill-out in the Pep Bowl from 11:30 a.m. to 2 p.m. Stop by and grab a hot dog (or vegan alternative), enjoy games, take a photo with Durango, and learn more about Wear Black, Give Back!
The College of Arts & Sciences has many programs and causes that need your support. You can find all the details on the CAS Wear Black, Give Back page.
You don't have to wait until October to show your support. The giving has already started! Go to givingday.unomaha.edu to schedule your gift and be one of the first to show your support of CAS.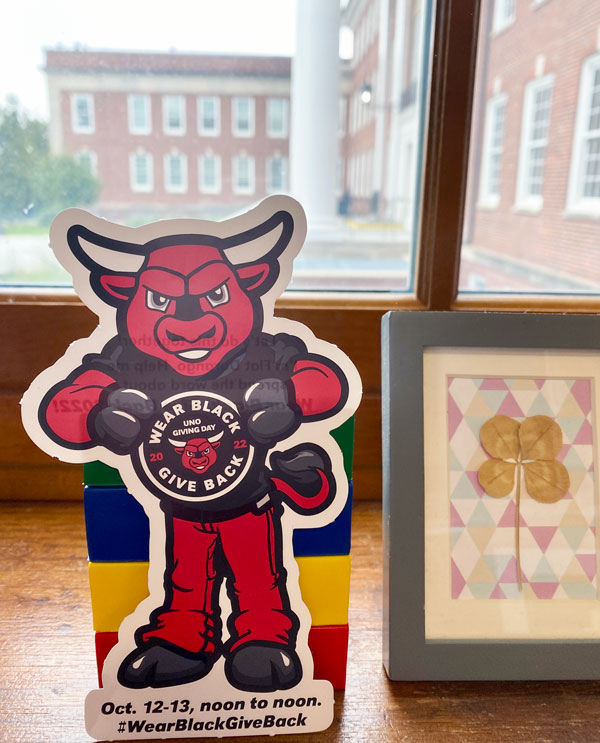 Our Challenges
Donations of any amount count towards our challenges, as long as enough individuals donate to the causes!
A&S Cross the Finish Line Scholarship Challenge — If 150 people give to the UNO College of Arts and Sciences during Wear Black, Give Back (to any of our departments or programs!), an anonymous donor will contribute an additional $10,000 to the college's Cross the Finish Line completion scholarship.
UNO Geology Challenge — If 25 people give to the UNO Department of Geology during Wear Black, Give Back, alumna Erin Ramaker ('07) will give an additional $2,000 to support the department.
UNO Black Studies Challenge — If 25 people give to UNO Black Studies during Wear Black, Give Back, alumni Viv ('83, '86) and John ('85, '87) Ewing will give a bonus $500 to the department and its students.
See details on more challenges to participate in our annual giving day in the way that is most meaningful to you!
If you have a story idea, news tip, or inquiry please contact:
Courtni Kopietz | ckopietz@unomaha.edu