MA CCT Allows Grad to Pivot into Multiple Endeavors
Everett Levison loves how the MA CCT allowed him to explore his many academic interests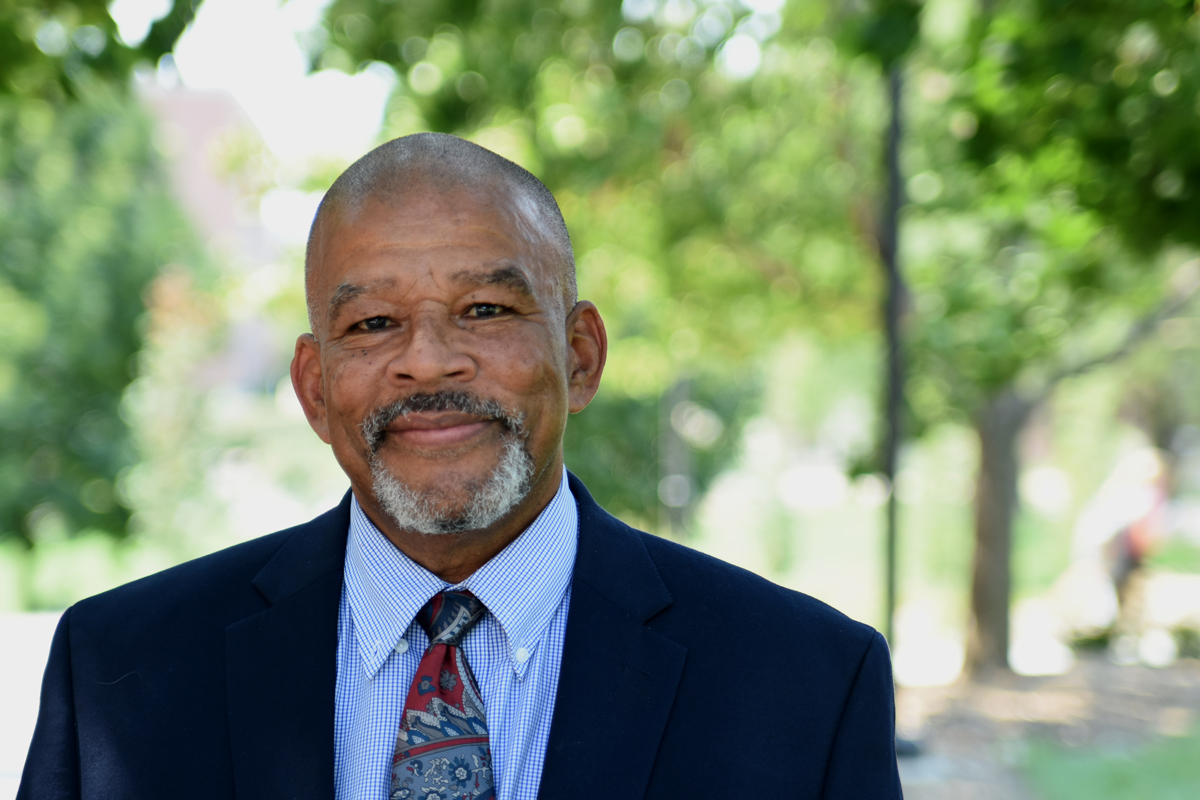 Everett Levison, a 2018 graduate of the Master of Arts in Critical and Creative Thinking (MA CCT) at the University of Nebraska at Omaha, says his dad used to call him a "jack of all trades."
"I'm in love with learning," Levison says. "I'm a learning lover. And so I saw the MA CCT as an opportunity for me to have all these disciplines that I could play in. My mind has a lot of different interests, and I have a lot of different pursuits going on. My dad always called me a jack of all trades, master of none, but that's just the way I am."
Levison has had an intriguing career path to say the least. He spent a large portion of his career in construction as a cement mason, working on bridges, large highways, and skyscrapers in various parts of the world. He says he loved his job but was injured and not able to return.
He prefers the term "older learner" over "non-traditional student," for someone like himself, who entered UNO at a later point in his career, where he earned a Bachelor's degree in 2013 with a double major in Spanish and English literature.
For graduate school, he says he chose the MA CCT for two reasons: it was interdisciplinary and all classes were available in an online format.
The MA CCT program offers students the opportunity to pursue breadth and depth within the liberal arts and sciences as they develop the skills and abilities necessary for critical thinking, creativity, and leadership. Students can choose from one of six concentrations to focus their studies, and Levison chose Cultural and Global Analysis.
"It gave me a view of the world. Global economy, cultural psychology, identity formation, statistical analysis, environmental sustainability," Levison says. "All of those things were areas that I was very interested in. So what that diversity of courses has done for me is it has allowed me to analyze various things from a global economic point of view, an environmentally sustainable point of view, and others. I find that I have abilities that I can channel into a number of various endeavors, occupations, projects, et cetera, so I felt really equipped to basically do whatever I wanted to do."
The MA CCT requires a final project at the end of a student's coursework, and Levison's focused on adolescent identity formation.
"I had a group from Colombia, from Brazil, and from Montreal, Canada. I took a cultural cross section of adolescents and did a statistical analysis, and it shows that the way an adolescent perceives himself physically will have an impact on the way he feels about his social competence and how that works to create overall self-esteem."
Levison says this final project served as a springboard into his career as a learning specialist at UNO's Thompson Learning Community (TLC), a job he landed shortly after graduating from the MA CCT. The TLC aims to transition students with Susan T. Buffett Foundation scholarships smoothly into the college learning environment, and Levison works closely with students from a wide variety of cultures and backgrounds.
He says he uses aspects of what he learned in the MA CCT in his other pursuits as well. He recently traveled to Ecuador as part of his role on the board of directors for Punto Verde, an organization connected to Spirit of Wellness, a United States-based nonprofit that works around the world to increase opportunities in rural communities.
"It's a number of entities. We work to preserve the flora of the rainforest and to educate young students in Ecuador. Ecuador considers themselves the nursery of the world and the organic food producers of the world. So there's a big push there right now to create organic food in a sustainable way."
Levison has also started the Tagua Ivory Company, a business that works hand-in-hand with Spirit of Wellness. Tagua is a nut that, when cured and dried, closely resembles real ivory. His company sells chess pieces and other pieces carved by Ecuadorian artisans, with a large percentage of what they sell going to preserve the integrity of the environment and local economies.
"My education in Cultural and Global Analysis—I use it every day. I use the understanding I received of the global economy and how that works, the things that happen with trade agreements, imports and exports, as well as numerous cultural aspects. So I stay busy, and I'm doing everything that I love to do. That's all as a result of those skills, knowledge, and understanding I gained from the MA CCT."
If you have a story idea, news tip, or inquiry please contact:
Courtni Kopietz | ckopietz@unomaha.edu