Celebrating Winners of the Dean's Essay Contest
contact: Courtni Kopietz - College of Arts and Sciences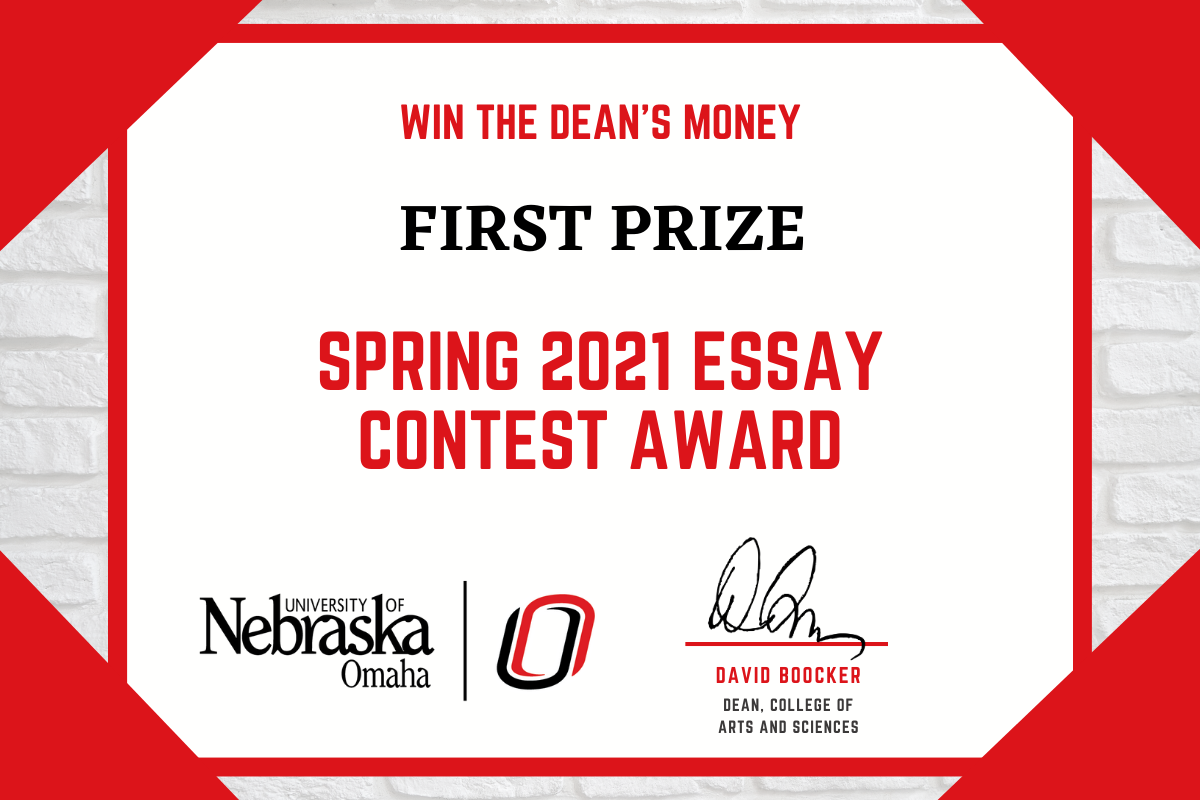 Seven students were awarded prizes in the Arts and Sciences Dean's Essay Contest in which they persuaded Dean David Boocker to attend one of their favorite classes. Students explored the various aspects of their courses—including course content, faculty teaching style, and class dynamics—that make their classes fun and challenging. While the original intention was to name two winners, the dean so enjoyed the entries that he expanded the prizes. The winners include:
See excerpts from the winning entries below.
Karoline Ford is currently a biology major with minors in chemistry and environmental science, so the Ecology course is required for her program. As Karoline says, "Ecology is the study of intersections between living organisms and their non-living environment. It looks at natural cycles and patterns, and how living things have evolved to thrive and find a niche regardless of their environmental circumstances."
While adjusting to learning virtually has been a challenge over the last year, Karoline says Dr. Tom Bragg excels at it.
"Dr. Bragg has engaging Zoom lectures with clear diagrams and examples. Many of the examples he uses in lecture include photos he himself has taken while doing research in the field! His expertise in the subject is evident in how well he presents the information. His exams are the best I've taken at UNO—they aren't easy, but each question is well-written to test your knowledge of the subject and is a fair assessment of the content. Dr. Bragg is a top-tier professor, and because of this course I have decided to pursue my Ph.D. in Ecology once I complete my undergraduate degree. I believe that Dr. Bragg's course is exemplary and deserves this honor from the Dean."
---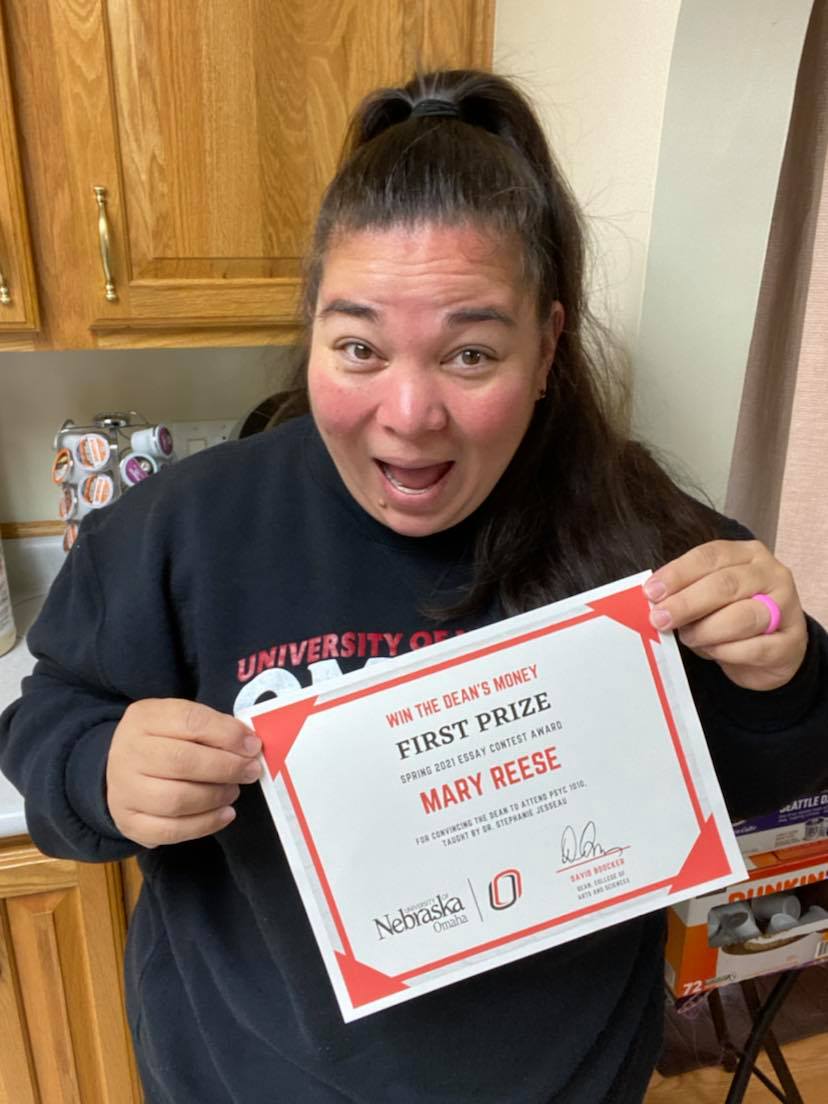 Mary Reese finds the content in PSYC 1010 to be engaging and interesting with something to interest everyone.
"The real question is, 'Why would you miss this class?' There is something for everyone here. It is better than the movies, it is real life! Action packed adventure is found in learning about experiments of whether the mouse is going to get cheese or shocked (classical conditioning). You will find humor when discussing laughter as response to a situation. Why do we laugh? There is always suspense in studying subjects in their natural environment, "people-watching" at its finest, (field experiments).
Mary also appreciates how Dr. Stephanie Jesseau uses a variety of teaching techniques to appeal to different learning styles.
"She recorded interactive lectures for you to follow along with notes to complete the 'blanks'. There are weekly face-to-face Zoom lectures from an instructor using an engaging app to poll/question the class throughout the lecture to help with learning/recall of the information. The learning assistant is also available on the weekly face-to-face Zoom lectures to help answer any questions the instructor may have missed while teaching. Each one of the staff members have office hours and are available through a message or appointment for help."
---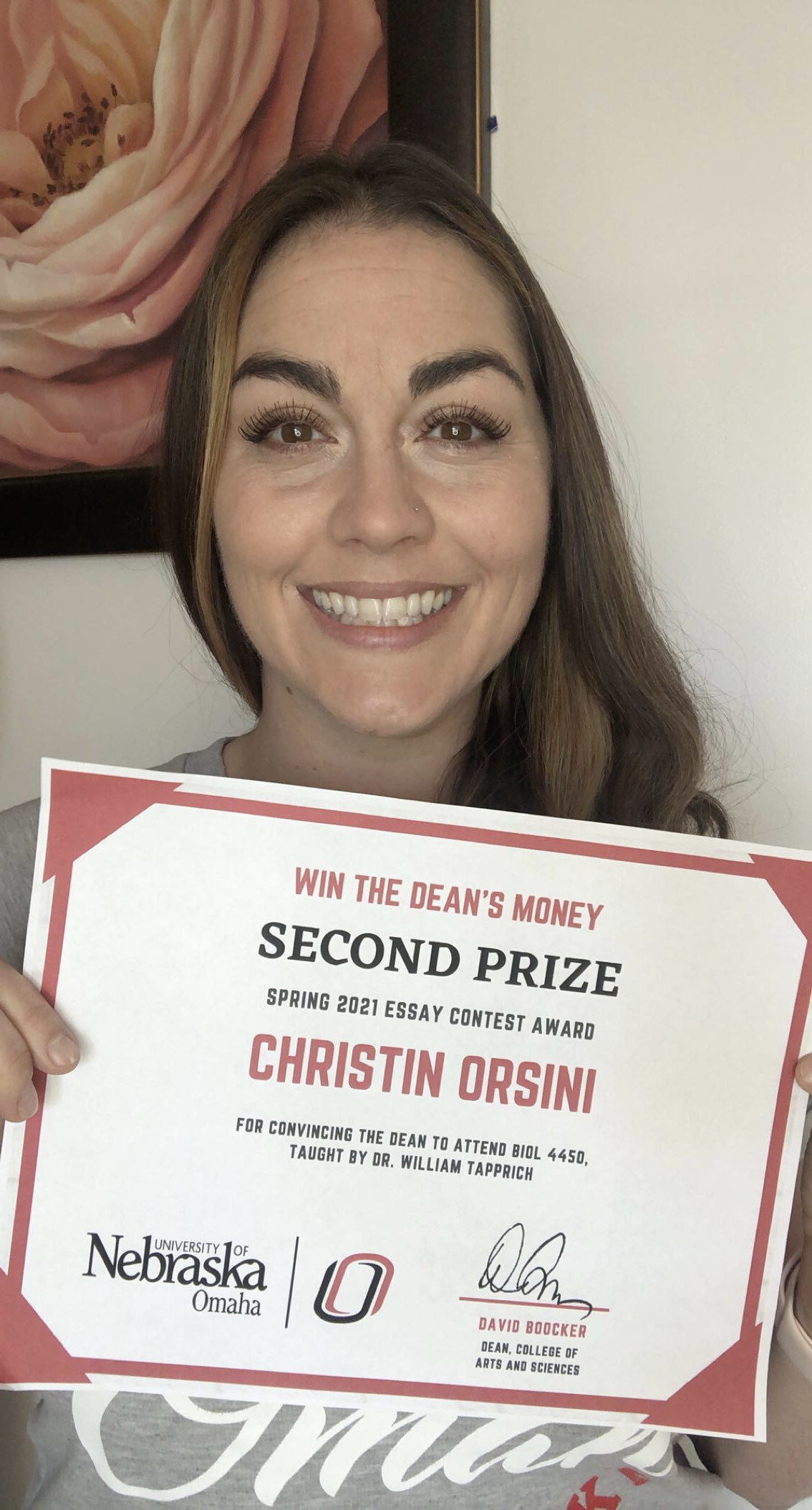 Christin Orsini:
"The number one reason you should attend Virology with Professor Tapprich this semester is to better educate yourself on SarsCov2 and Influenza. We are studying viruses in the middle of a worldwide pandemic. How cool is that? Not only are we learning interesting facts about the statistics surrounding both of these viruses, but Professor Tapprich makes class fun."
Christin emphasizes that not only is the content interesting, Dr. Tapprich encourages questions and promotes class participation.
"The most fun part of class is debating on which colors we think we are seeing in the molecular structures on slide presentations and drawing and labeling the processes of gene replication. This may sound silly, but even as adult students, emphasis on a little color and silliness really does help absorb material. We have regular in-class assignments that keep people coming to class and focused. The challenge of this course comes with understanding the very difficult concepts and being able to reiterate them well."
---
In James Tillotson's words, "classes like Modern Familiar Essay break the chains early learning places on each of us, freeing us to speak the truth buried behind structure and form."
In this class taught by Dr. John Price, students learn to move beyond the 5-paragraph essay structure that may have been drilled into them in high school to explore new forms of expression.
"Dr. Price unveils ways we can tell our own story with fluid prose, through guarded hermit crab essays, sprawling research papers, and short, sweet snapshots of singular moments in our own lives. The modern essay focuses on the author, even when not about the author like in "Consider the Lobster" by David Foster Wallace. Each student has a story to tell, and we have the words to do so, but we need to learn how to arrange those words, slotting each into place like shards of opaque colored glass in a temple window. We have to know the craft before we can begin to make our own, and in the judgment-free space of his classroom, we can let the stories be as timid or gruesome as we want, baring skin and soul to the red pen of our classmates or hoarding our secrets for ourselves. The class gives students their voice back, lets us scream our secret truths to strangers we may never see again, and vanish an hour and fifteen minutes later. Come and listen to your students let their stories free."
---
Robert Fuller says Dr. James Wilson's class on science and critical thinking is one of the most unique ones he's taken.
"The class goes over all things I've heard about both fantasy, fiction, urban legends, and the supernatural. So far, we've learned about the universe and how scientists think, along with some anatomy of the eyes and ears."
Everything from aliens to Ouija boards to sasquatch is covered in this course, exploring the how and why of these beliefs and teaching critical thinking skills that could be applied to these conversations as well as any future concepts.
---
For Elizabeth Holloway, the appeal of the World Civilizations class has a lot to do with Dr. Martina Saltamacchia's teaching style.
"We play role-playing games in which we all have a part and we get to debate and discuss what to do in certain historical situations. Sometimes it goes completely differently than real history, but we learn about the actual history on the way too. I think that if the dean were to attend, he would see how well Dr. Saltamacchia engages her students when they're all playing their parts. I feel that, instead of just memorizing parts of history, I have something more specific to prepare for, and it helps me understand history while I'm doing it. It brings history to life more. This class challenges me with the work that it requires, but I think it's very much worth it."
---
Samantha Svendsen says that, in her opinion, one of the most fun parts of the academic experience is in executing experiments, which is exactly what happens in Dr. Beth Lyon's psychology research methods course.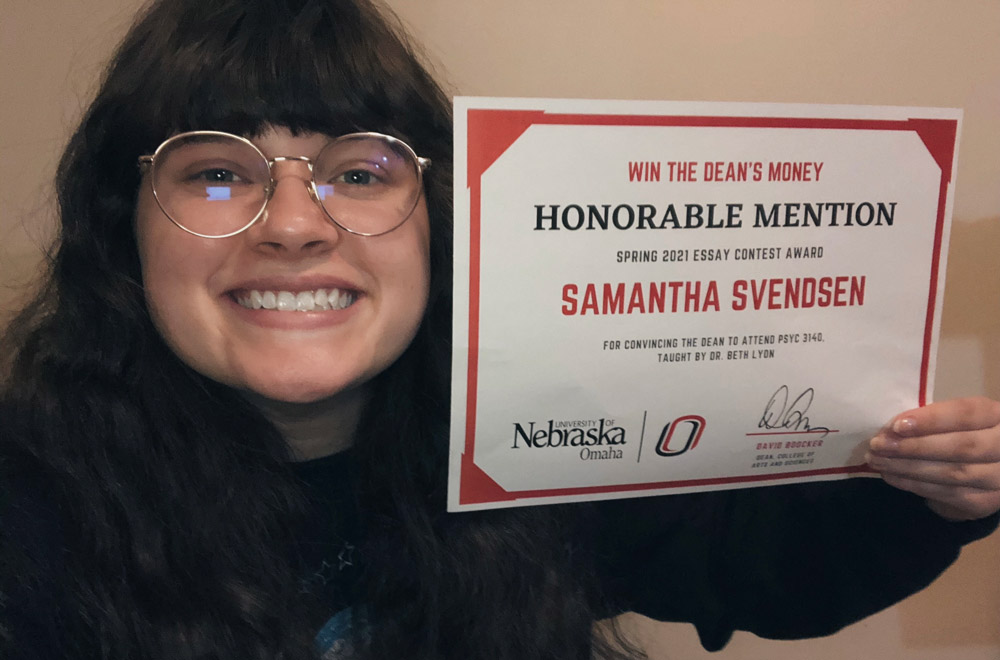 "The entire semester is spent working with a small group to plan, design, carry out, and analyze an experiment. It is excellent first-hand experience. I mean, who doesn't enjoy being a scientist for the day? This class, both lecture and lab components, makes me excited to attend because I am so passionate about psychology and learning all it has to offer, and this class is the perfect opportunity to learn more and more every class session. Also, with Covid, there aren't many opportunities to meet new people and form connections with them. In this class, though, we have a small group of three other people to work with. Getting to work with other students who enjoy the class as much as I do has brought back a sense of normalcy to my academic life that has been lacking for a couple semesters now."
Besides the course content, Samantha also appreciates the enthusiasm Dr. Lyon brings to the course.
"From the first zoom session we had, I could tell how incredibly passionate she is about psychology. She is so obviously enthusiastic about psychology, and it allows for a refreshing teaching method. She makes learning about independent and dependent variables exciting and interesting somehow! This class makes me excited to continue to pursue my degree, and, if you were in it, I just know you would feel the same way!"
Contact Us
If you have a story idea, news tip, or other question, please email the UNO News team at unonews@unomaha.edu.