OLLAS ArteLatinx Show Wins Omaha Entertainment and Arts Award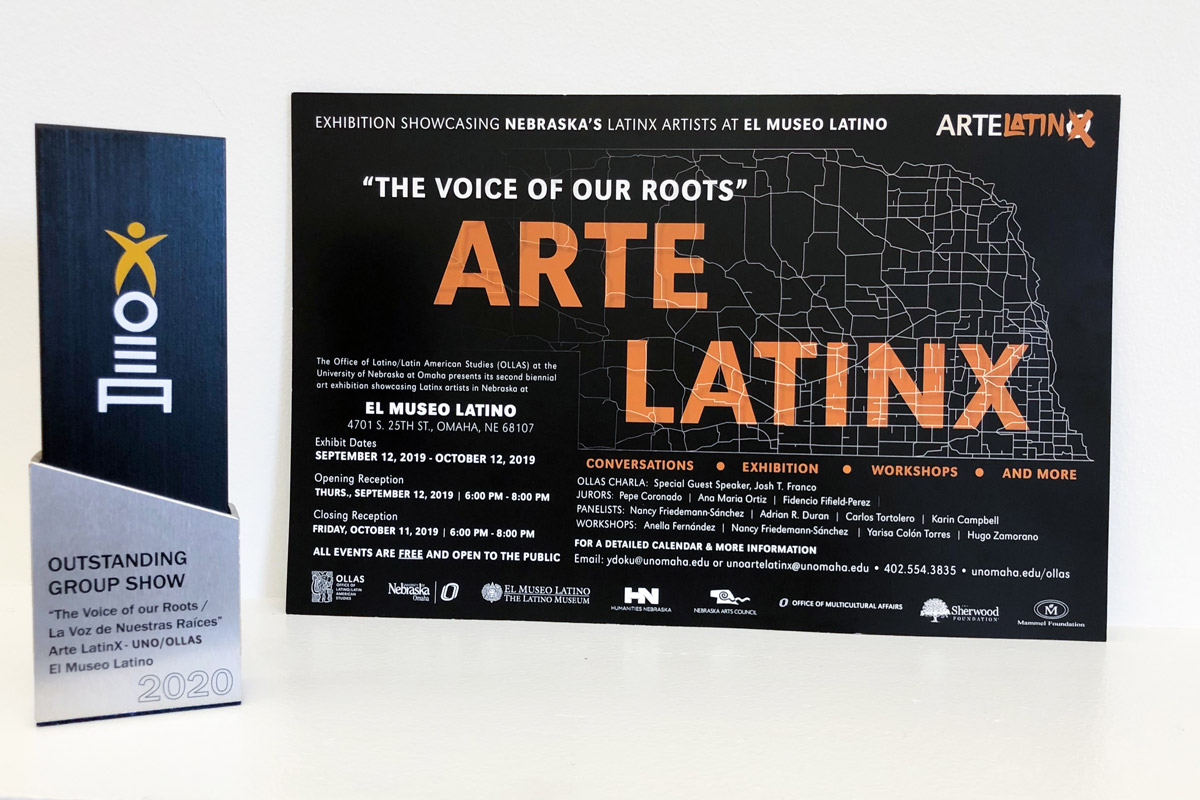 Congratulations to UNO's Office of Latino/Latin American Studies (OLLAS) ArteLatinX at El Museo Latino on winning "Outstanding Group Show" for the Omaha Entertainment and Arts Awards (OEAA)! This award speaks to the hard work that OLLAS staff and committee members put forth to create this amazing event.
This event would not have been possible without the support of amazing community partners and incredible participating artists: Belinda Acosta, Gary Brunzo, Daniel Castaneda, Linda Garcia, José Hernández, Katherine Hernandez-Mayorga, Guadalupe Lopez, Lucia Marquez, Slovenka Murray, Stephanie Niverson, Hugo Zamorano, Aaron Olivo, Ilaamen Pelshaw, Daffnie Realpe, Ricardo Trejo, Karmen Valadez, and Bart Vargas.
OLLAS hopes to continue creating a space for the work of Latinx artists whose work is often invisible and lacks sufficient support to fully flourish. ArteLatinX addresses these challenges by developing and consolidating a new space to showcase the relevance of Latinx artists and creating a dialogue between those in and outside the arts.
ArteLatinX 2019 was generously supported by Humanities Nebraska, Nebraska Arts Council, The Sherwood Foundation, Mammel Foundation, and the UNO's Office of Multicultural Affairs.
If you have any questions or would like more information on ArteLatinX please contact Ana Díaz-Orozco, OLLAS Community Engagement Coordinator at unoartelatinx@unomaha.edu.
If you have a story idea, news tip, or inquiry please contact:
Courtni Kopietz | ckopietz@unomaha.edu