The Critical Role of Fire in Prairie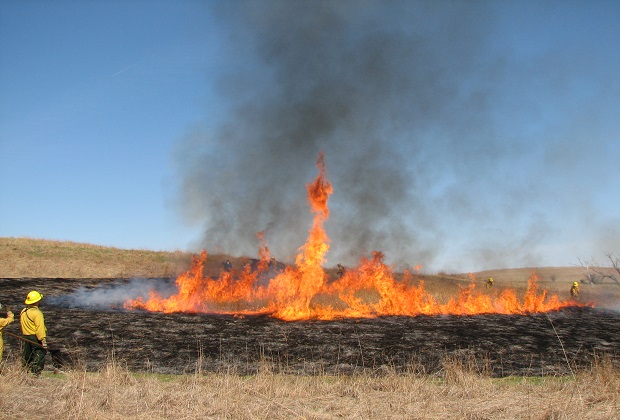 Historic Fire Regime: Fire, the Native American's "Red Buffalo" is an essential component of the prairie environment. Among its many benefits are preventing woody plant encroachment, removing litter to enhance prairie seed germination and seedling development, and physiologically enhancing the vigor of prairie plants (e.g. Collins and Wallace 1990). In addition, burned areas provide more nutritious forage for large ungulate grazers, such as Bison (Bison bison), contributing further to the dynamics that characterize native prairie. Whether started by lightning or by Native Americans, fire has been a part of the evolution of the Tallgrass Prairie for several thousand years. Thus, fire is critical to the maintenance of prairie and other grass-dominated ecosystems including Savanna, which is characterized by scattered trees embedded within a grass-dominated matrix. Fires of the past are known to have burned over hundreds of square kilometers and, in the Tallgrass Prairie, are estimated to have occurred as frequently as every 3-6 years (Frost 1998, Guyette et al. 2012). However, through active suppression, increased conversion to other uses, and the resulting isolation of remnant prairies, fires no longer occur naturally resulting in woody plant encroachment and further degradation and loss of prairie.
Approximating the Historic Fire Regime Today: In the absence of natural ignitions, today's land managers use prescribed burning to approximate the historic conditions necessary to maintain prairie. Prescribed burning, sometimes referred to as "controlled burning", is the process by which an area is intentionally burned under conditions and at a time determined by land managers. In particular, the land manager must decide what to burn, when to burn it, and when it should be burned again, decisions that are benefitted by some knowledge of the historic fire conditions at a location. Since the effects of fire differ from one location to another, the answer to these questions varies from site to site with much yet unknown. Some of these questions are being answered with the long-term research plots at Glacier Creek Preserve. Many resources are available to obtain information on fire in general or prescribed burning in particular. Two websites relevant to prairies in eastern Nebraska are the Great Plains Fire Science Consortium and the Tallgrass Prairie and Oak Savanna Fire Science Consortium.
Prescribed Burning at Glacier Creek Preserve: Glacier Creek Preserve is managed with a 3-year fire return interval in which an area is burned every third year. Prescribed burns are conducted in early spring, generally some time in late April or early May depending on the year's weather conditions. The preserve is divided into five burn units with no more than two units burned in any one year (see map image below). The sequence by which units are burned is designed to maintain our high biotic diversity, with invertebrates one of our concerns. Persistence of a stable population of the regal fritillary (Speyeria idalia) butterfly, a prairie specialist, is evidence of successful management in this regard (Burk 2006).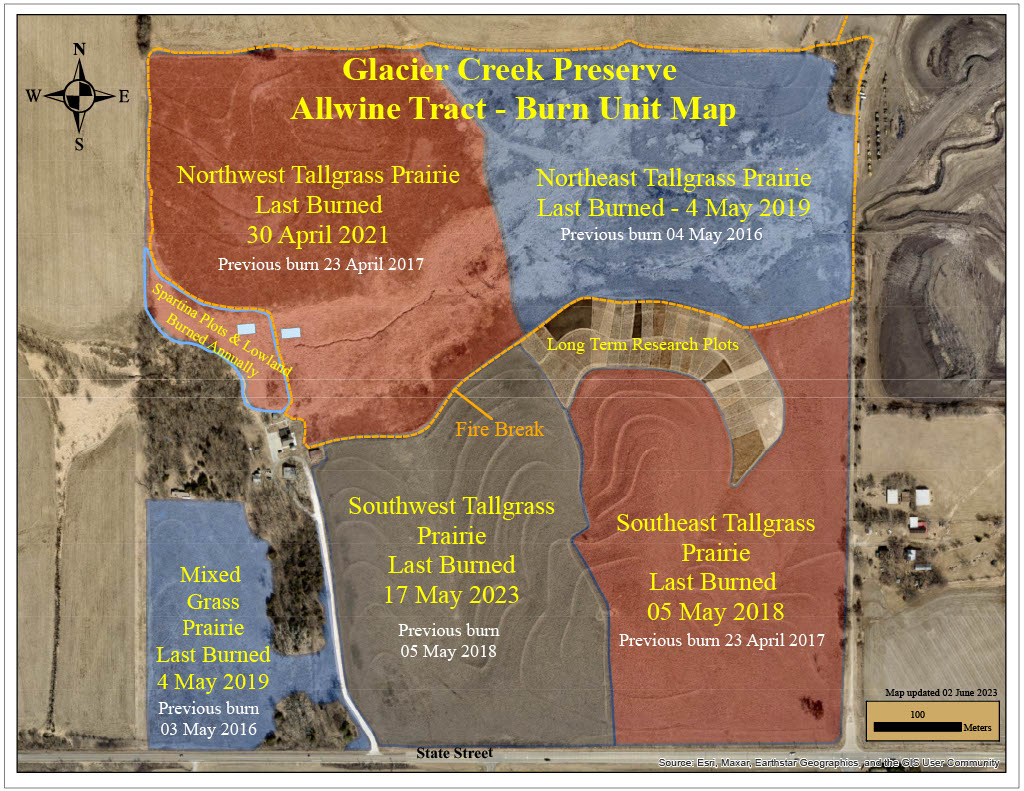 ---
Our burns are conducted with the assistance of volunteers. To volunteer as a burn crew member contact the Preserve and have your name added to the Omaha Red List. To learn more about volunteering on a prescribed burn visit the Volunteer for a Burn page.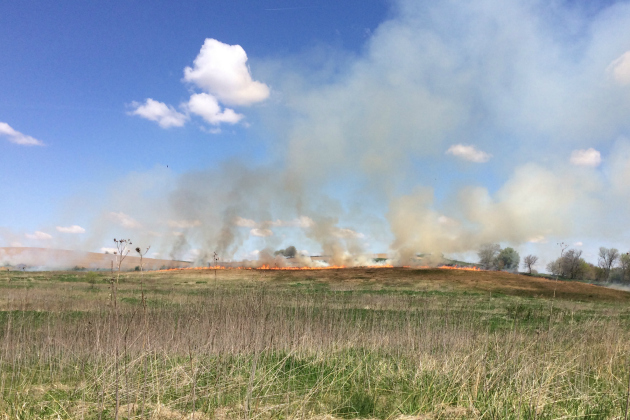 References:
Burk, T. 2006. Butterfly surveys of two Eastern Nebraska prairies. Proceedings of the 20th North American Prairie Conference, University of Nebraska- Kearney, Kearney, NE, July 26, 2006.
Collins, S.L. and L.L. Wallace. 1990. Fire in North American Tallgrass Prairies. University of Oklahoma Press, 175 pages.
Frost, C.C. 1998. Presettlement fire frequency regimes of the United States: A first approximation. Pages 70-81 in Fire in Ecosystem Management: Shifting the paradigm from suppression to prescription (T.L. Pruden and L.A. Brennan, eds).
Guyette, R.P., M.C. Stambaugh, D.C. Dey, and R-M Muzika. 2012. Predicting fire frequency with chemistry and climate. Ecosystems 15:322-335.