Special Events at Glacier Creek Preserve
Events at Glacier Creek Preserve are open to the public and all ages are welcome. There are no associated fees to attend, but an RSVP may be required for some events. For more information contact us at unoglaciercreek@unomaha.edu.
---
Upcoming Events:
Summer Guided Hikes
Join us for a Summer Guided Hike at Glacier Creek Preserve on 16 September 2023. Check out the flyer for more details!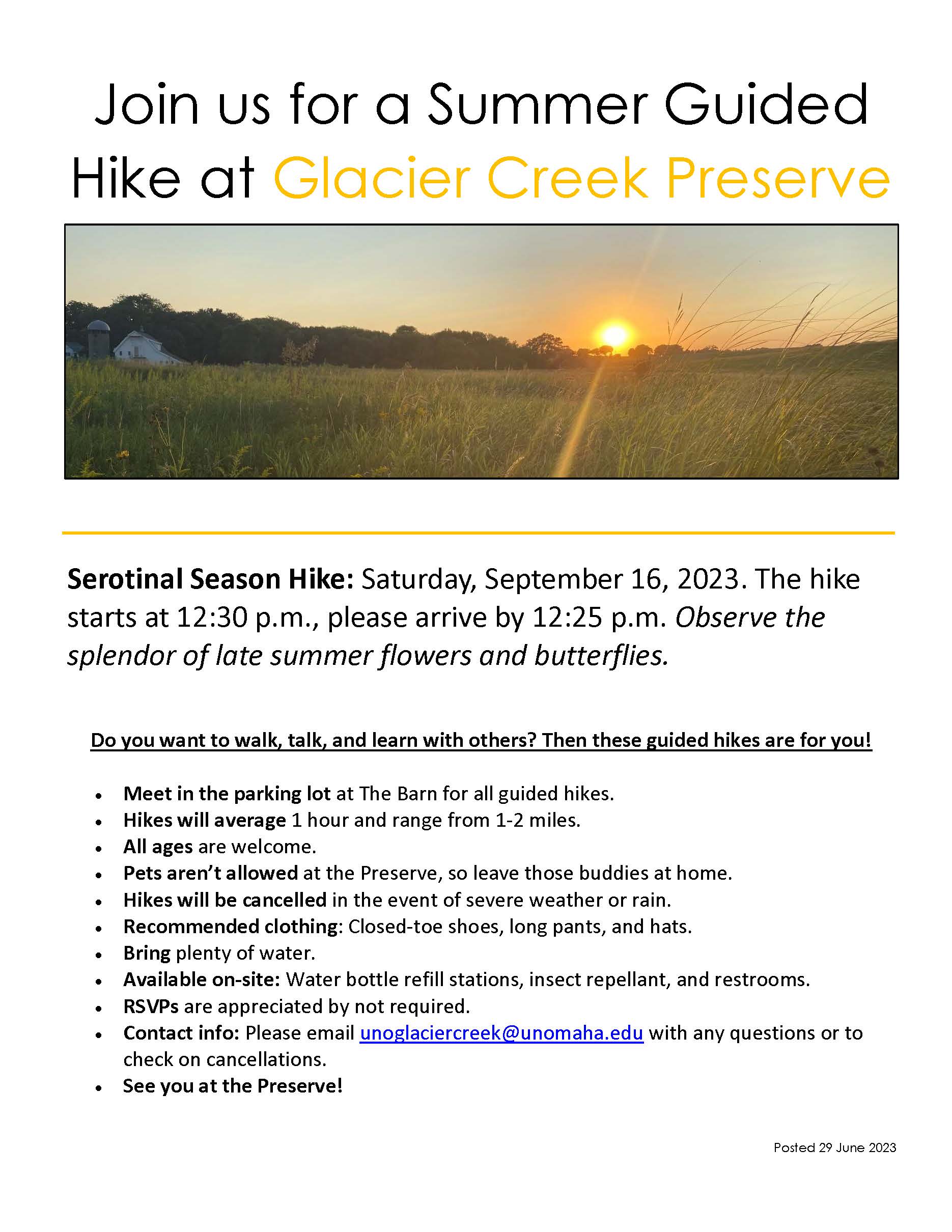 ---
The Bouteloua LitART FEST
The next event will be held on 1 October 2023. This will be a group show running October 1 - 29, 2023.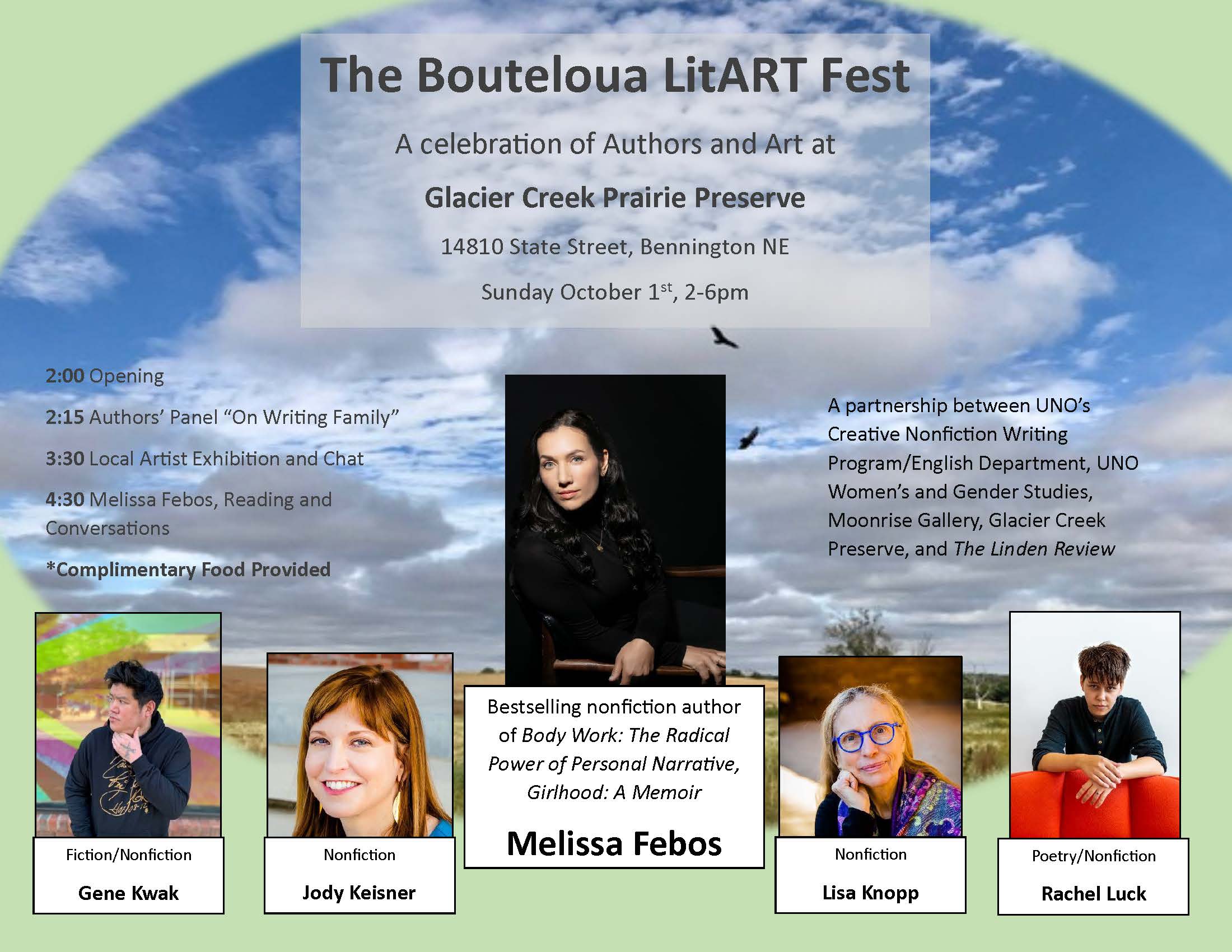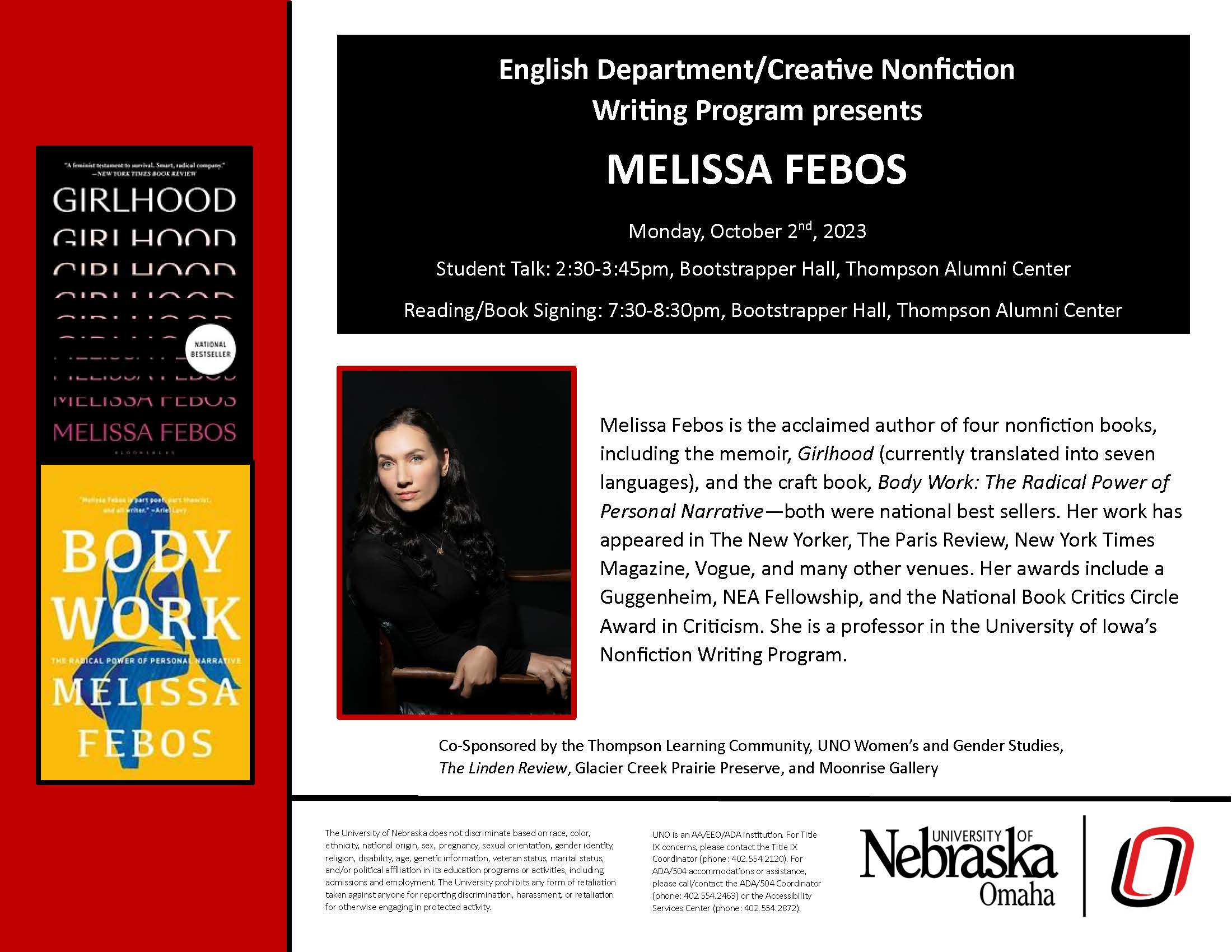 ---
Past Events:
The Bouteloua LitART FEST
The LitART FEST is a celebration of authors and artists held at UNO's Glacier Creek Prairie Preserve that includes book readings and signings, writers' discussion panel, local artists exhibition, and prairie walks. This event was a collaboration of the UNO Creative Nonfiction Writing Program, Moonrise Gallery, and Glacier Creek Preserve.
Past event date: 11 September 2022 (past Event Flier)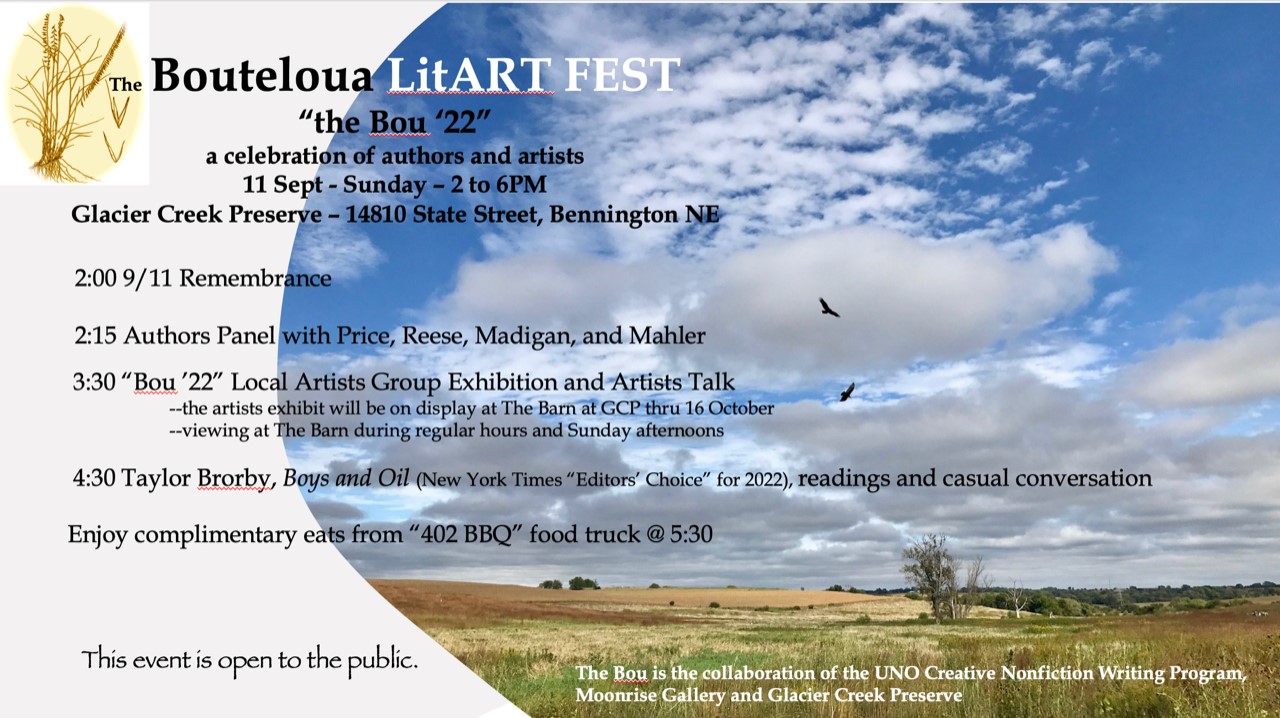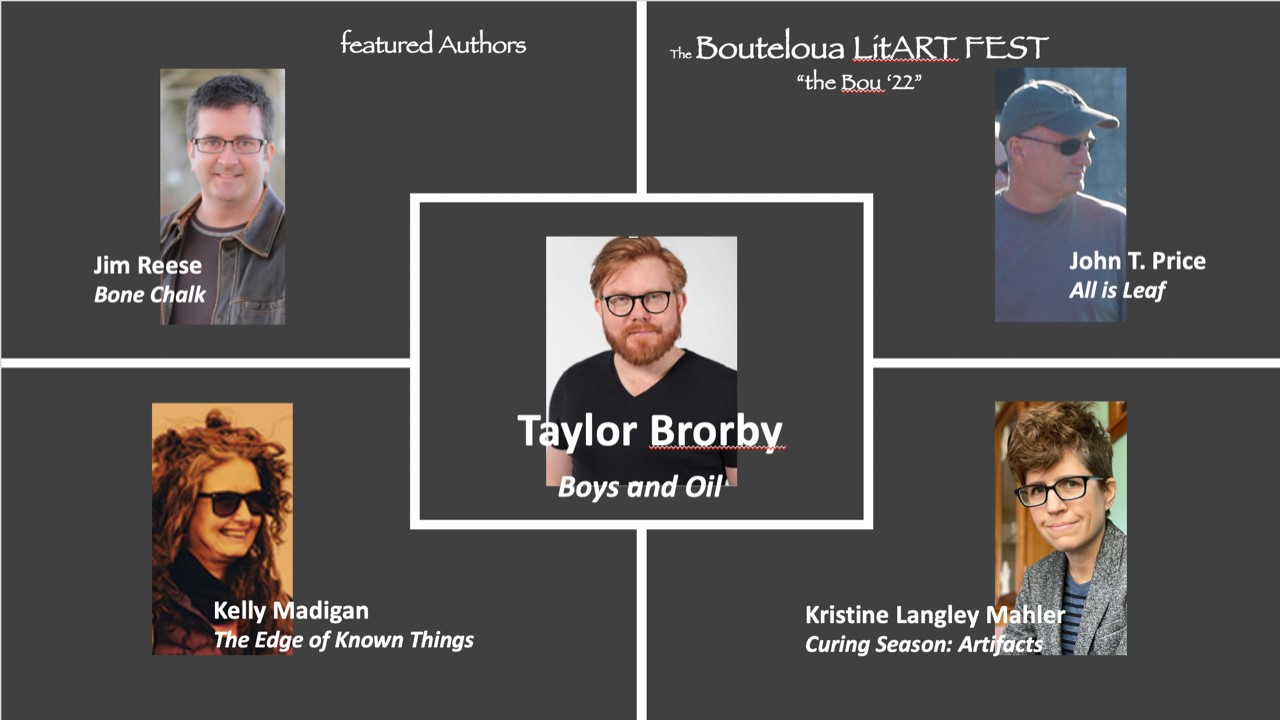 ---
Guided Hikes at Glacier Creek Preserve
Guided hikes provide the opportunity to walk, talk and learn about the prairie with other interested individuals. Come enjoy the beautiful landscape and the breathtaking sunsets.
Night Life at Glacier Creek Preserve
The Night Life events provide an opportunity to experience the sights and sounds of animal activities that go on after dark. Light traps and other collection methods are used to observe insects. The songs of crickets, katydids, and cicadas increase as the evening progresses.
Overhead, we observe bat activity while looking and listening for other sights and sounds of the night-time preserve. Local scientist provide tools and knowledge to guide attendees through the evening.
Past event dates include: 2 August 2018, 21 July 2019, 17 August 2019, 17 July 2021, 18 June 2022, 19 August 2022, 23 June 2023 and 18 August 2023.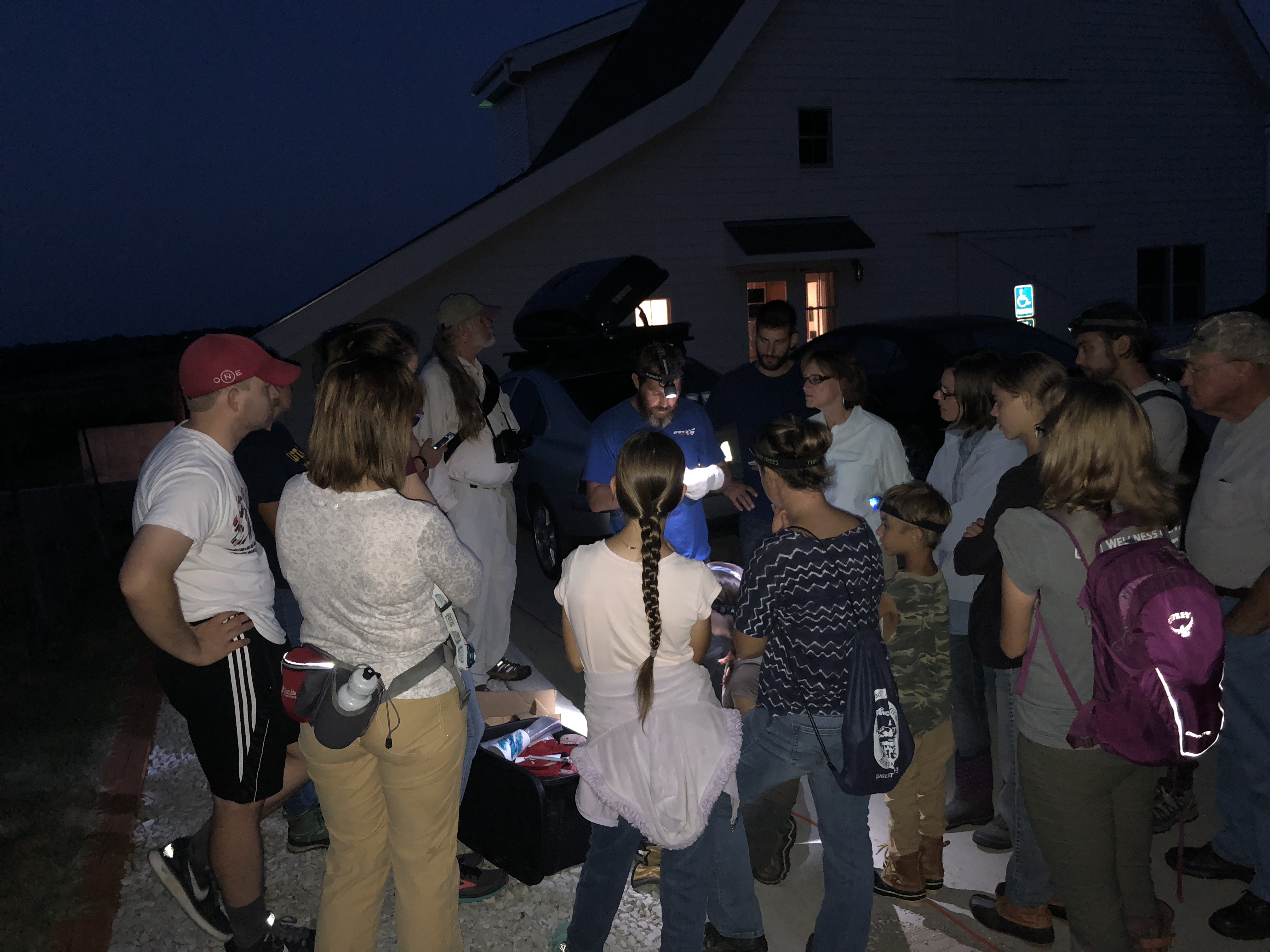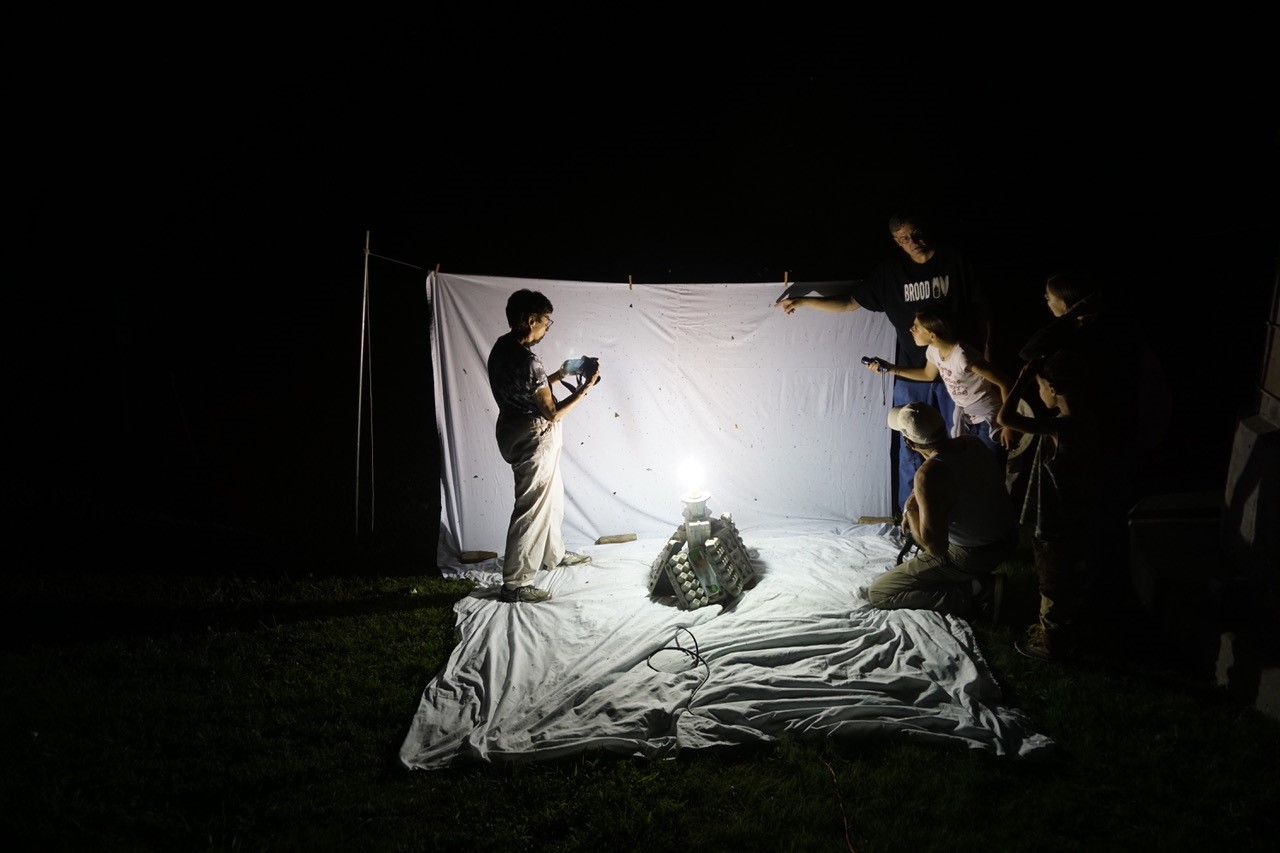 ---
Research Conversations at Glacier Creek Preserve
Research Conversations is an opportunity for those conducting research at the Preserve to share either the results of their efforts to date or plans for future research at the Preserve. The event is also intended to provide a venue to encourage discussions among those attending for possible future projects. For others, the event is an opportunity to learn about the kinds of research being conducted at the Preserve. Research Conversations at Glacier Creek Preserve is an annual meeting and an opportunity for Preserve users to share their present work, initiate ideas about future research and projects, and for others to hear about ongoing research at the Preserve. The most recent Research Conversations event was on 4 March 2023. Future events will be held in February or March annually.
Research Conversations is open to faculty, students and interested individuals. Watch the 2021 Research Conversations at Glacier Creek Preserve event below.
---
Spring Strings at Glacier Creek Preserve
Spring Strings at Glacier Creek Preserve Featuring The Rangbrook Ensemble, a mix of cello, viola, and violin. Spring Strings is an event that connects the melodies of great composers with the beauty of the spring prairie. The next Spring Strings will be held during June 2024, check back next year for details.
Past event dates include: 2 June 2018, 7 June 2019, 11 June 2022, and 17 June 2023.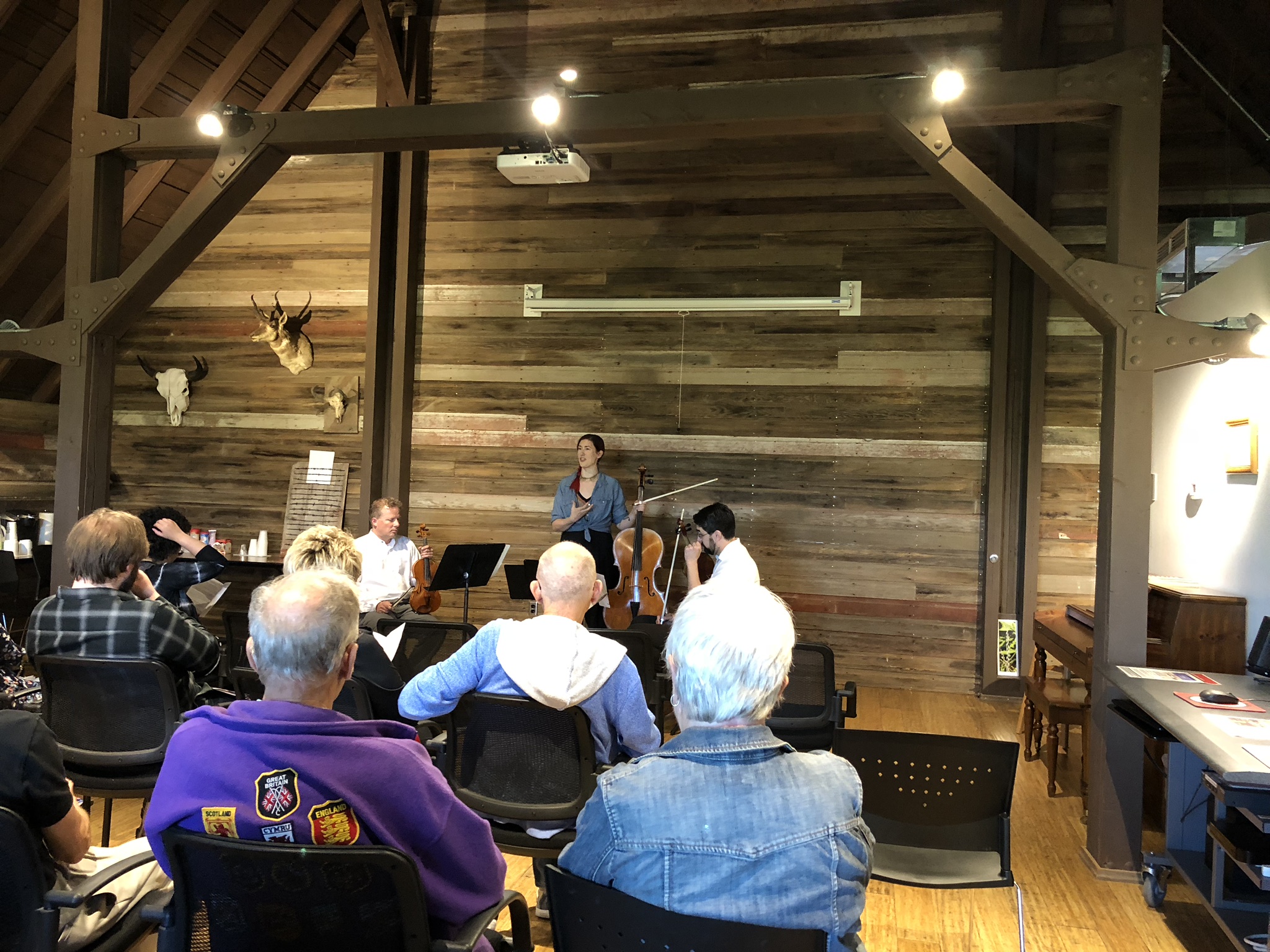 About the Rangbrook Ensemble:
Founded in 2011, the Rangbrook Ensemble is a string trio and string sextet made up of Omaha and Lincoln-based professional musicians. Members of the ensemble are active in the Omaha and Lincoln Symphonies and various music education programs throughout the Southeast Nebraska area.
The Rangbrook Ensemble's members come from a variety of educational backgrounds including studies at the Cleveland Institute of Music, Boston University, and the Oberlin Conservatory. The Ensemble has performed their self-presented series in a wide variety of locations throughout Lincoln and Omaha, as well as performing on local concert series, including Lincoln Friends of Chamber Music and Vesper Concerts.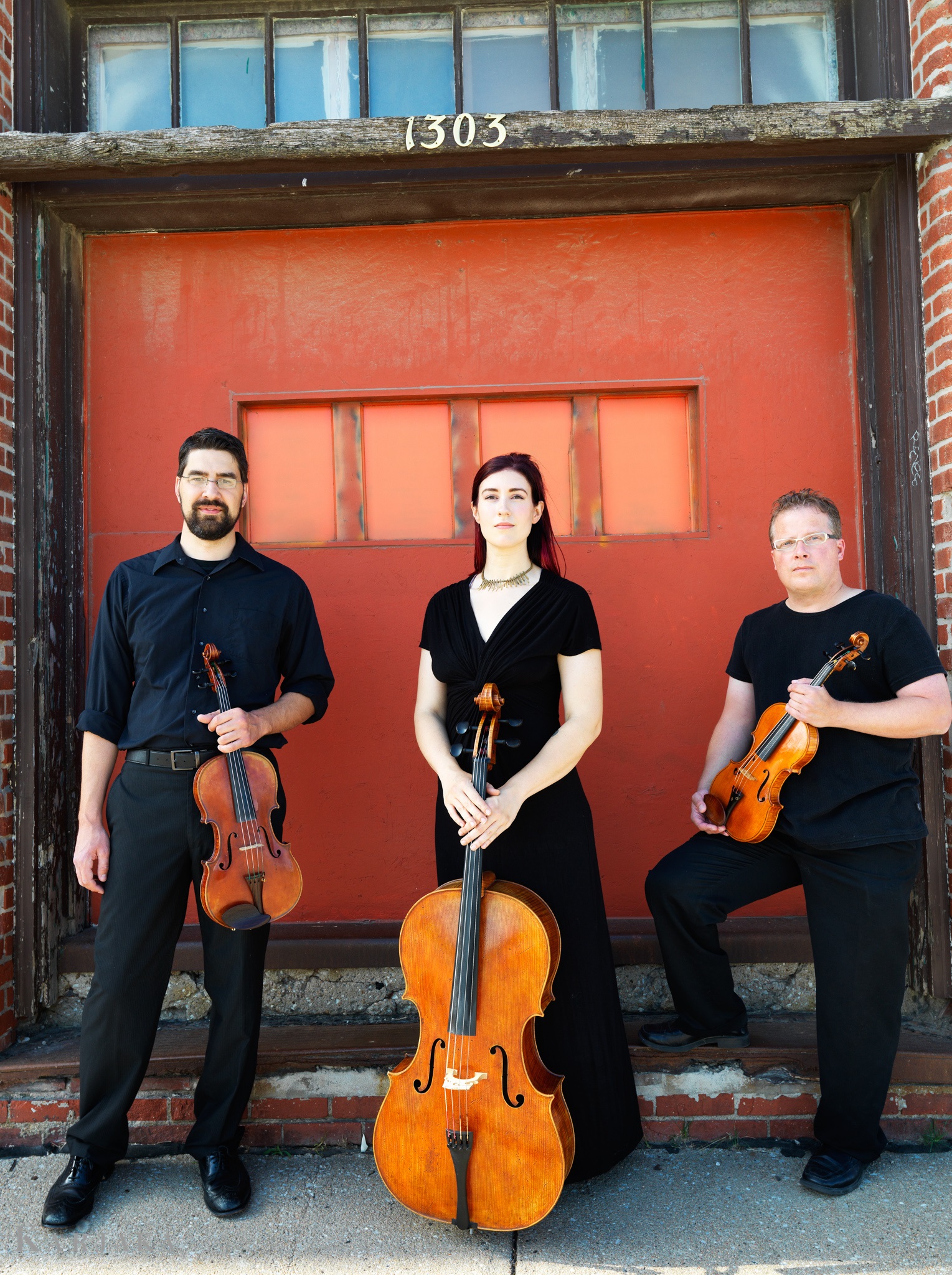 Links to individual bios:
(Bill Wolcott) https://www.rangbrookensemble.org/violins.html
(Jesse Griggs) https://www.rangbrookensemble.org/violas.html
(Sophia Potter) https://www.rangbrookensemble.org/cellos.html