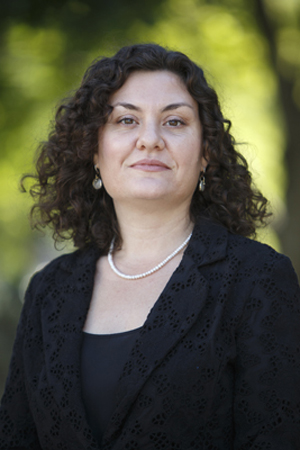 Lana Obradovic, Ph.D.
Associate Professor of Political Science
Director, Holocaust and Genocide Studies Minor
Director, Intelligence Community Center of Academic Excellence Program at UNO
Department of Political Science
---
email:
office:
office phone:
Additional Information
---
Background
Dr. Lana Obradovic is an Associate Professor of Political Science at University of Nebraska at Omaha.
She earned her PhD in Political Science from the Graduate Center of the City University of New York. In the past 15 years, she has taught international relations at St. John's University, Queens College and Hunter College, all in New York City, and Yonsei University in South Korea.
Before moving to Nebraska, Obradovic headed the Mercy College International Relations and Diplomacy program in New York. At UNO, Obradovic serves as the Intelligence Scholars and USSTRATCOM's Deterrence and Assurance Academic Alliance program and research Director. She was also the 2015 Deterrence and Assurance Conference organizer and program co-chair.
Obradovic's 2014 book Gender Integration in NATO Military Forces won the 2015 Best Book in Civil-Military Relations Award by the European Research Group on Military and Society (ERGOMAS) in Tel Aviv. She is also a recipient of the 2010 Midwest Political Science Association's Sophonisha Breckinridge Award for the best paper on the topic of women and the military.
Obradovic has published extensively on Eastern Europe and East Asia, and some of the most recent publications include a book chapter "The Arctic: An Emerging Area of Conflict" in Foreign Policy Issues for America: The Trump Years, an article in Res Militaries (European Journal of Military studies) titled "Comparative Analysis of Women's Military Participation in East Asia," and a chapter in Palgrave's Handbook on Gender and the Military on quantitative methods.
Courses Taught
| | | |
| --- | --- | --- |
| PSCI  | 2210            | International Relations |
| PSCI | 3260/8265 | U.S. Foreign Policy |
| PSCI | 4250/8256 | National Security & Intelligence |
| PSCI | 4260/8266 | International Law |
| PSCI | 4820/8826 | Politics and Film |
| PSCI | 8200 | Seminar in Foreign & Security Policy |
| PSCI | 8585 | Politics of Russia & Post-Soviet States |
| PSCI | 8980 | Directed Research Capstone |
Current Research
Her research interests include international security, American foreign and national security policymaking, gender and security, post-communist transititions, Balkans and East Asia.