GCHR Human Rights Internship Scholarship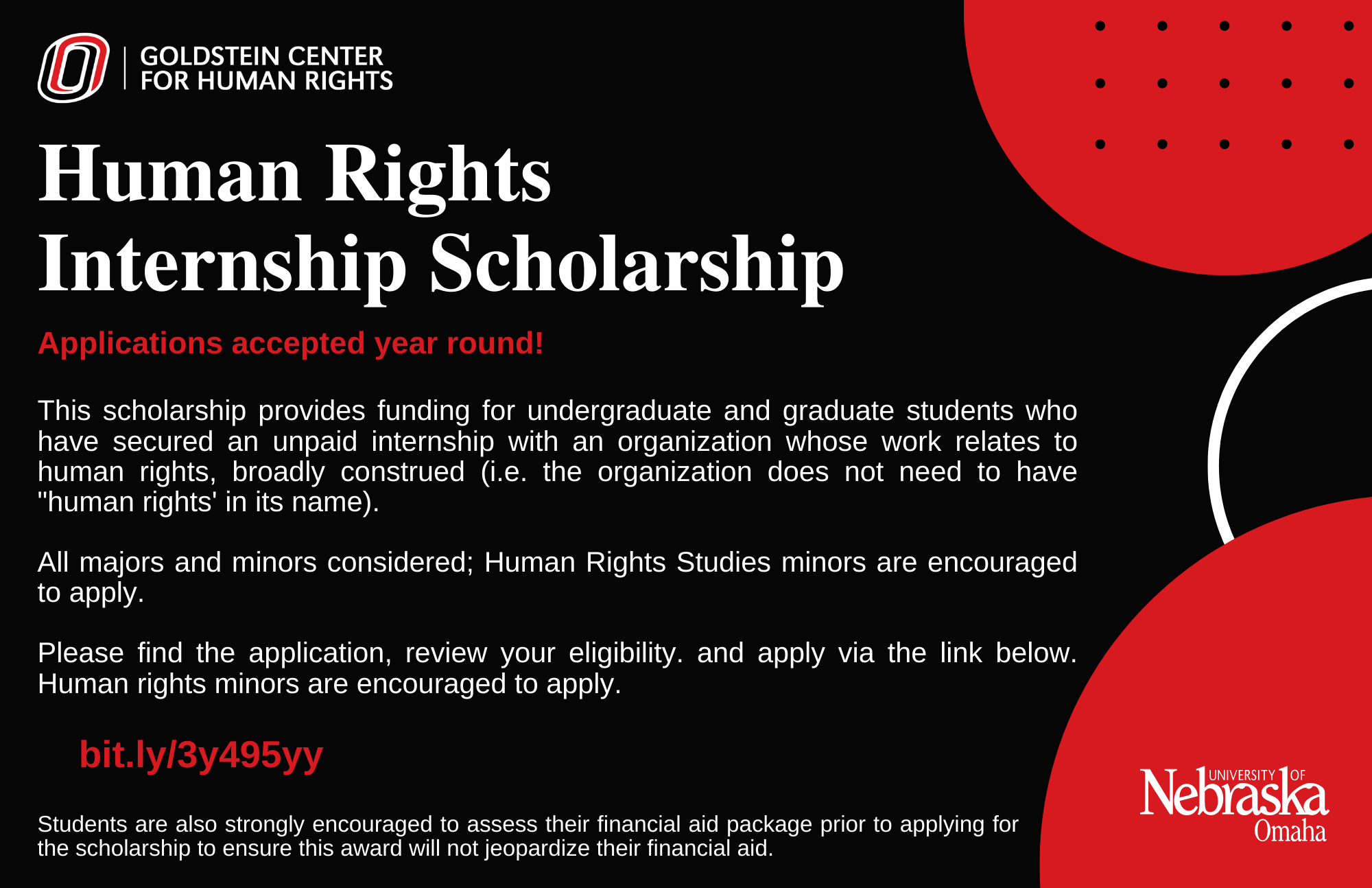 DESCRIPTION
The Human Rights Internship Scholarship is awarded to undergraduate or graduate students pursuing any major at the University of Nebraska at Omaha. Human Rights minors are encouraged to apply. Students are also strongly encouraged to assess their financial aid package prior to applying for the scholarship to ensure this award will not jeopardize their financial aid.
Students may apply for a level of funding corresponding to the total number of hours they will work during the internship. For example, a 10-week summer internship at 40 hours/week would be equivalent to 400 hours. The maximum amount a student may apply for is:
- $1400: 100-149 total hours
- $2600: 150-299 total hours
- $4000: 300 or more total hours
Students may apply for less than the maxinum amount. Please indicate the amount you are applying for in your application.
CRITERIA
To apply, applicants must:
- Have a secured internship.
- Have completed the following credit hours before internship begins
- 54 hours: Undergraduate
- 12 hours: Graduate
- Register for an internship course through a UNO school or department
- The following departments/programs are accepting enrollment in their internship courses:
Religious Studies, Political Science, Goodrich Program, and Sociology & Anthropology.
- Students may enroll in an internship course through another department/program, with
permission from that department/program.
- Students should work with the faculty instructor for the internship course to determine
parameters of the course. Student or instructor may reach out to the Goldstein Center with any
questions about course.
- Not accept a paid position from the internship organization for the duration of the internship.
RECOMMENDED DUE DATES
To ensure applications are reviewed before the start of the semester of internship, highly recommended due dates are below. Applications will be accepted after these dates, but we cannot guarantee that decisions will be made before the start of the semester of internship. If this is a concern, please include an explanation of your concern with your submission.
- July 1: Fall internships
- November 15: Spring internships
- April 1: Summer internships