Alumni Spotlight: Kristine Mahler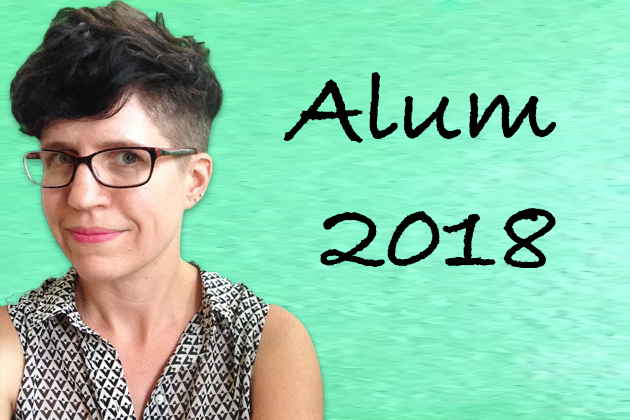 In May 2018, Kristine Langley Mahler graduated with a Master of Arts in English and a Certificate in Advanced Writing from the University of Nebraska at Omaha. While she was a student at UNO, Mahler received the John J. McKenna Graduate Fellowship in Creative Nonfiction, the Wardle/Spire/Lane English Department Graduate Fellowship, and was named a 2017-18 Presidential Graduate Fellow.
Mahler's work in creative nonfiction was thoroughly supported at UNO and the coursework was transformative for her as a writer. Several essays completed as assignments for creative nonfiction courses at UNO led to publications—her final full-length assignment for Dr. Lisa Knopp's Experiments in Creative Nonfiction class won the 2016 Rafael Torch Award for Creative Nonfiction from Crab Orchard Review.
Mahler received a Graduate Research and Creative Activity Grant in 2017 to complete a researched creative nonfiction project examining immigration and her family's four-hundred-year occupation on native land—a project whose roots germinated in Dr. Tammie Kennedy's Graphic Memoir course and culminated in a graphic memoir which was published by Sweet: A Literary Confection. With that grant, Mahler traveled to Québec and Wisconsin to conduct site research, and transcribed eighteen years of her great-grandfather's diaries into 500+ pages of primary source documents. Her research into the privilege of home was presented at the 2017 Western Literature Association Conference as well as the 2018 Student Research and Activity Fair, and is ongoing.
Mahler also received the Graduate Thesis Award for her essay collection, "Pull Me Through the Doorway," advised by Dr. Knopp. Eleven of the sixteen essays in Mahler's thesis have been published in journals such as New Delta Review, Quarter After Eight, and The Rumpus, and she is currently revising the essays into a book-length collection for publication.
Jody Keisner, one of Mahler's thesis committee members, invited Mahler to conduct a guest lecture in summer 2018 for ENGL 4860 Modern Familiar Essay. Her presentation was on erasure essays—another ongoing project for Mahler, who has been steadily completing a book-length erasure of a 1963 etiquette guide for teen girls, originally published by Seventeen magazine. Mahler defines erasure essays as essays created by selectively removing text from an original source to create a new text, formed without adding words/letters and maintaining all words/letters in their original order. To date, Mahler has finished 19/26 chapters, and thirteen of those nineteen pieces have received publication. Most recently, a collaborative erasure essay from that collection, "Tone," was published by The Normal School.
The English/Creative Nonfiction program at UNO was pivotal in Mahler's development as a writer, and she credits her success to the unwavering support, encouragement, and feedback from the department.