ISSUED: (Friday, February 22, 2019 13:55 PM)
SEVERE WEATHER ANNOUNCEMENT
For Saturday, Feb. 23: all on-campus classes are canceled, and campus buildings will be closed. Scheduled activities, unless otherwise noted, are also canceled.
More Information
CLOSE

X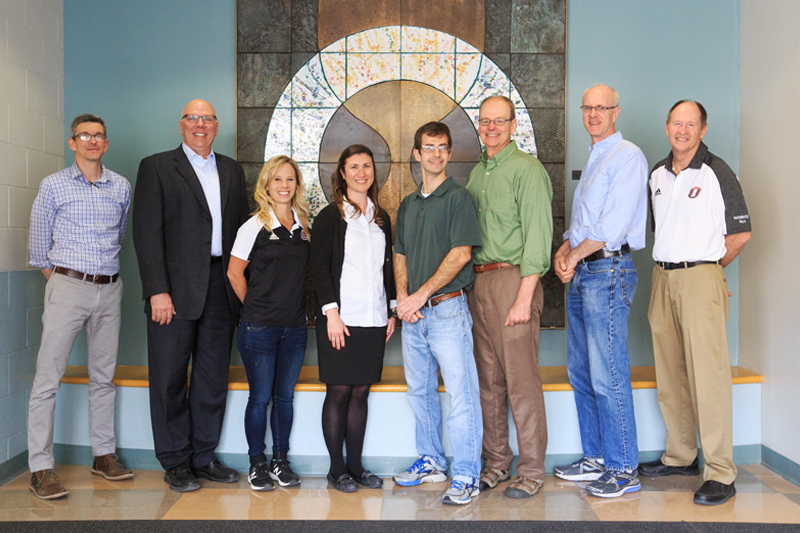 ---
Noyce Scholarship Overview
The National Science Foundation Robert Noyce Teacher Scholarship Program seeks to encourage talented science, technology, engineering, and mathematics (STEM) majors and professionals to become K-12 mathematics and science (including engineering and computer science) teachers. The program invites creative and innovative proposals that address the critical need for recruiting and preparing highly effective elementary and secondary science and mathematics teachers in high-need local educational agencies.  This opportunity is extended to Undergraduate Students, Graduate Students, and K-12 Educators .  
---
Noyce Scholars
The program offers up to $15,000 per year to encourage talented undergraduate science students to major in one of the science fields and earn a teaching credential and commit to teach in high-need school districts.
Juniors and Seniors who are selected as Noyce Scholars will be paired with faculty mentors. Each Scholar will work with an assigned mentor to prepare a personal professional development plan. In the plan, a commitment to leadership in science education initiatives will be outlined, including specific examples. Possible activities may be: (1) leading student professional development efforts such as NE STEM 4U and other Outreach efforts on campus, and (2) completing a research project in science or science education, including a poster presentation at the Student Research and Creativity Fair or a regional conference, and (3) teaching opportunities in science (formally & informally). Scholar applications are due annually on August 1. 
---
Noyce Interns
Each summer, Noyce Interns are selected to participate in educational and teaching opportunities. Activities include: (1) Serving as a learning assistant for courses, (2) writing and editing curriculum for NE STEM 4U and/or Aim for the Stars, assisting with Girls, Inc Eureka! STEM summer camps, and (3) providing summer camp instruction for partners of the Nebraska Department of Education and other state-wide entities. Similarly, professional development opportunities exist during each summer including meetings with current teachers from high needs schools, participation in journal clubs discussing science and science education articles, interacting with other Interns and Research Interns, and working directly with faculty mentor(s). Noyce Interns are awarded up to $4,000 for their full-time summer work
---
Eligibility Requirements
Noyce Scholars
Be a United States citizen, national, or permanent resident alien at the time of application.
Major in science at the baccalaureate level and be on track to complete the requirements of undergraduate secondary mathematics certification.
Demonstrate a commitment to pursue a teaching career in a high-need school.
Have a cumulative grade point average of 2.75 or above on all collegiate courses or, for first-year undergraduate applicants for Noyce internships, a 2.75 or above cumulative high school GPA. (This requirement aligns with admission requirements for UNO's teacher education program.)
Demonstrate financial need.
Noyce Interns
Be a United States citizen, national, or permanent resident alien at the time of application.
Cumulative college GPA of 2.5 or better (or if in high school, 2.5 high school GPA or better).
Have an interest in science and/or teaching.
Able to pass a background check to be able to work with teenagers.
---
Application Information
Noyce Scholars
Complete the online form and written personal statement that reflects your motivation to teach.
Submit transcripts.
Submit at least two (2) letters of recommendation from past instructors/teachers (see below).
If applicable, demonstrate financial need (usually done with your completed FAFSA information).
Send the completed application form and direct your transcripts and letters of recommendations to:
ccutucache@unomaha.edu and jaconrad@unomaha.edu by August 1st each year 
Noyce Interns
Complete the online form.
Submit transcripts.
Send the completed application form and direct your transcripts to:

ccutucache@unomaha.edu and jaconrad@unomaha.edu by January 30th each year
---
Information for References (Noyce Scholars Only)
Thank you for writing a letter of reference for a student applicant to the Noyce Scholars Program. We are particularly interested in reading your opinion about the student's following characteristics:
relationship with you (e.g., first semester calculus instructor, science fair project mentor).
attributes that suggest good potential as a mathematics teacher.
experiences, either inside or outside your class, that suggest significant preparation for a mathematics teaching career.
personality qualities compatible with successful teaching at the middle school or high school level.
Please use your institutional letterhead stationary and be sure to indicate your name, title, institution, and contact information at the close of your letter and send via email to:

ccutucache@unomaha.edu and jaconrad@unomaha.edu
---
FAQ
Am I limited to teaching in Nebraska or can I teach anywhere?
You can teach anywhere in the USA, as long as it is considered a "high-need school."
What is a "high-need school"?
The term "a high-need local educational agency" as defined in section 201 of the Higher Education Act of 1965 (20 U.S.C. 1021) means a local educational agency (school district) that serves an elementary or secondary school located in an area which is characterized by at least one of the following:
a high percentage of individuals from families with incomes below the poverty line;
a high percentage of secondary school teachers not teaching in the content area in which they were trained to teach; or
a high teacher turnover rate.
Must I demonstrate financial need to apply?
Anyone can apply, but preference is given to those who demonstrate financial need.
---
Supervising Faculty
Department of Biology

Department of Chemistry

Dr. Nealy F. Grandgenett

STEM Outreach Coordinator Supervision
Professor, Teacher Education

Dr. Renat Sabirianov

Department of Physics

Department of Biology

Department of Chemistry

Department of Chemistry

Department of Mathematics

Department of Geology & Geography
---
Acknowledgements
The Robert Noyce Teacher Scholarship Program, authorized under the National Science Foundation responds to the critical need for K-12 teachers of science, technology, engineering, and mathematics (STEM) by encouraging talented STEM students and professionals to pursue teaching careers in elementary and secondary schools.
This material is based upon work supported by the National Science Foundation under Grant No. DUE-1439796.
Our Campus. Otherwise Known as Omaha.
The University of Nebraska does not discriminate based on race, color, ethnicity, national origin, sex, pregnancy, sexual orientation, gender identity, religion, disability, age, genetic information, veteran status, marital status, and/or political affiliation in its programs, activities, or employment. Learn more about Equity, Access and Diversity.
scroll to top of page