Academics
Academic Advising - A partnership between the advisor and the student, where students learn more about themselves, the services UNO has to offer, and develop a course of study that will help them achieve their academic, and career goals.
Academic & Career Advising Center (ACDC) - ACDC provides career development and academic success for UNO students. Services include resume reviews, major exploration, career coaching, and more.
Canvas - Our online system, which supports classroom instruction. Instructors may use the site to share syllabi, collect class assignments, make announcements, or display grades, amongst other options.
College - Academic programs and departments fall within various colleges at UNO, based on topic and focus. UNO has six colleges housed on our campus, with an additional set of programs offered in partnership with the University of Nebraska at Lincoln.
DegreeWorks - Allows students to view their current progress towards their degree. It shows all courses taken or in progress and which courses still need to be completed.
FERPA - The Family Education Rights and Privacy Act designated to protect the privacy of student education records. The Act provides students with the ability to limit disclosure of "personally identifiable information," amongst other actions.
General Education - Courses taken by student areas of study, such as English, Math, Public Speaking, and Fine Arts that are intended to give students general knowledge rather than to develop specific skills needed for a profession.
MavLINK - The online student information system used for signing up for Orientation, reviewing financial aid awards, registering for classes, and more.
NetID - A student's username for online services that are specific to UNO.
NUID - A unique 8-digit number assigned to all students during the admissions process. It is used to log into various UNO services, such as MavLINK.
---
Student Resources
Cashiering/Student Accounts - The office responsible for billing, collecting, and answering questions regarding student charges and accounts. They also administer Perkins Loans and cash personal checks.
Counseling & Psychological Services (CAPS) - UNO's Counseling and Psychological Services provides students with 8-10 free individual sessions as well as an array of various support groups that are free for students to attend.
Financial Support & Scholarships - The office responsible for minimizing financial barriers for students by assisting them with the exploration of financial aid including grants, scholarships, work aid, and federal or alternative loans.
Milo Bail Student Center - UNO's student center that is located on Dodge Campus and houses many campus resources including the Gender and Sexuality Resources Center, Student Involvement Office, the Bookstore, Multicultural Affairs, Student Government, and Office of Military and Veteran Affairs.
Handshake - Handshake is a website where students and alumni can browse and apply for local, national and on-campus job opportunities from employers, view upcoming career fairs and events, and schedule career advising appointments.
---
Student Life
Aksarben - An Omaha neighborhood located adjacent to UNO's Scott Campus, which offers a variety of housing, restaurant, and entertainment options. It got its name by spelling Nebraska backward.
B-Cycle - A bike-sharing program that allows anyone to easily ride a B-CYCLE bike from one station to another.
Durango Days - A week of involvement opportunities, social activities, entertainment, and free food, which takes place during the first week of fall and spring semesters.
MavCARD - The official identification card at the University of Nebraska at Omaha. It is used to access many services on campus and can be used as a debit card to make purchases on campus and at select off-campus businesses.
MavRIDE - Free Omaha Metro bus passes provided by Student Government.
Resident Assistant (RA) - Student leaders who act as resources for students living in University Housing by promoting a positive living and learning environment.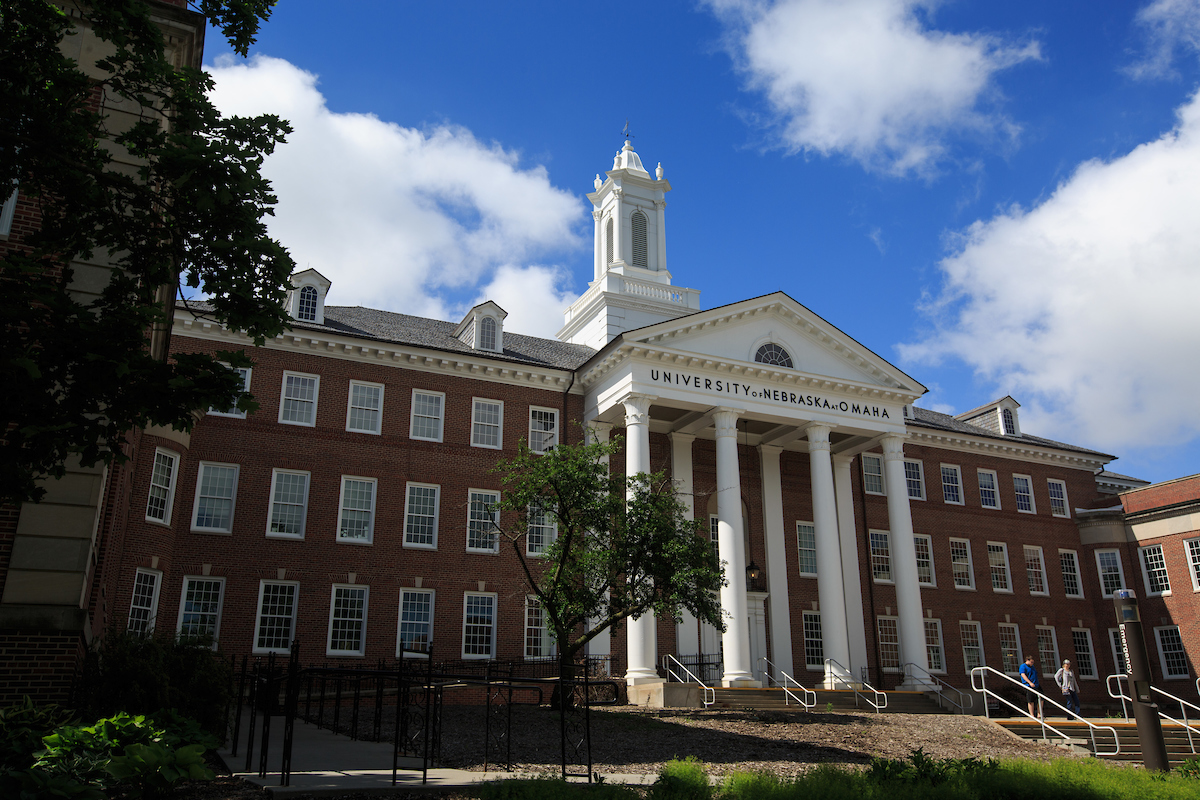 Buildings on Campus
Learn more about the buildings listed below and download campus maps

Dodge Campus
Allwine Hall (AH)
Arts & Sciences Hall (ASH)
Barbara Weitz Community Engagement Center (CEC)
Biomechanics Research Building (BRB)
College of Public Affairs and Community Service (CPACS)
Dr. C.C. and Mabel Criss Library (CL)
Durham Science Center (DSC)
Eppley Administration Building (EAB)
Hayden House -Previously Welcome Center (WC)
Health & Kinesiology (HK)
Kayser Hall (KH)
Milo Bail Student Center (MBSC)
Roskens Hall (RH)
Sapp Fieldhouse (SFH)
Sculpture and Ceramics Studio (SCS)
Thompson Alumni Center (TAC)
Weber Fine Arts Building (WFAB)
Scott Campus
Mammel Hall (MH)
Maverick Landing (ML)
Parking Services (PSB)
Peter Kiewit Institute (PKI)
Scott Conference Center (SCC)


Center Campus
---
Residence Halls on Campus
Dodge Campus
Maverick Village (MV)
University Village (UV)
Scott Campus
Scott Court
Scott Crossing
Scott Village
Scott Hall