Export Control
Export control includes laws that regulate the transfer of controlled information outside the United States or to foreign persons in the United States. In recent years, attention to compliance with export control regulations has increased because of heightened security concerns, and leaks of U.S. technology to economic competitors.
All institutions of higher education and their faculty, staff, and students must comply with export control laws, which are designed to ensure that sensitive information, technology, software, biological and chemical agents, equipment, and know-how are not employed for purposes other than their intended use. In case of violations, criminal sanctions, including substantial fines and even prison terms, can be applied. Further information on Export Controls:
Export Control Training
Purpose
It is the policy of the University of Nebraska at Omaha (UNO) that all personnel involved in or supporting export-controlled activities comply with all applicable U.S. laws and regulations while teaching, conducting research, or participating in other activities at or on behalf of the university. In order to promote compliance with federal laws and regulations governing exports (collectively, "export controls"), UNO provides a training regimen for personnel who do or may engage in activities subject to export controls.
Such personnel must complete training through the Collaborative Institutional Training Initiative Program (CITI), an online training platform. The Export Control Office (ECO) requires a passing score of 80% for each assigned module to validate training through CITI.
Scope
This program applies to all UNO personnel engaged in or proposing to engage in activities subject to export controls. Activities subject to export controls include, without limitation:
Research subject to restrictions on the dissemination of results;
Research subject to restrictions on participation by foreign persons;
Research involving the use of items subject to export controls;
Travel to embargoed or sanctioned countries for the purpose of conducting, presenting, or otherwise supporting research or other activities on behalf of UNO;
Travel to destinations subject to U.S. State Department Level 3 or 4 travel advisories for the purpose of conducting, presenting, or otherwise supporting research or other activities on behalf of UNO;
Establishing institutional relationships with restricted entities, or entities in embargoed or sanctioned countries; and
Exporting controlled items, including international travel with items subject to export controls, and deemed exports.
Training Standards
CITI export control training is required based on your personnel cohort. Create your user account through the CITI website. See instructions for creating your CITI account
Cohort 1: Research and Academic Personnel (Key Research Personnel, Departmental Research Administrators, Deans, Chiefs, and Associate Deans for Research)
Cohort 2: Administrative Personnel (ORCA, Purchasing, Information Technology Security, Human Resources, Environmental Health and Safety, International Programs administrators, Staff/Administrators screening international students, visiting faculty, graduate students, post-docs)
Cohort 3: Other Personnel (faculty, staff, and students who travel internationally—especially to embargoed countries—or provide support for export-controlled activities that does not place them in another cohort)
Cohort 4: Export Control Office (personnel in the ECO must stay up to date on regulatory and policy changes, and therefore must complete all CITI EC modules)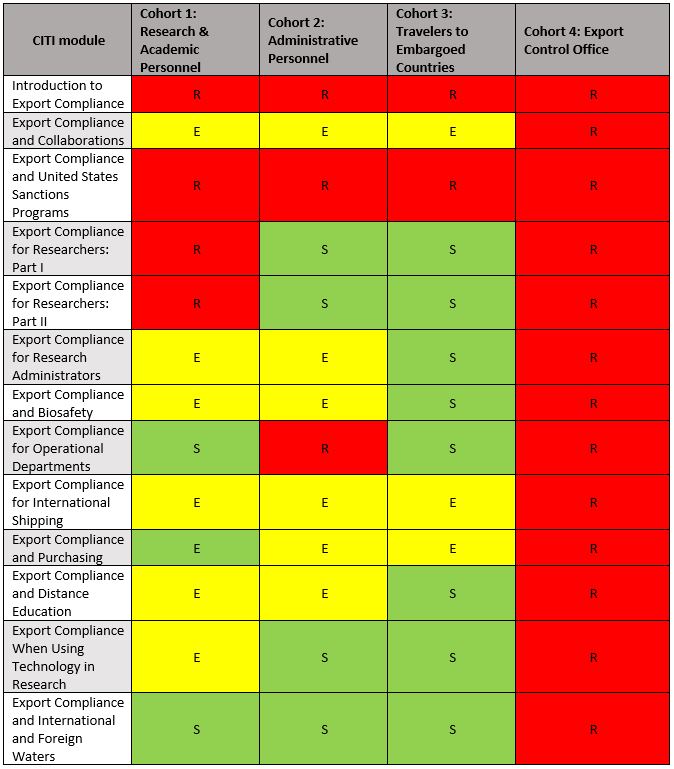 Note:
Required modules are marked with a red R. All required modules must be completed to fulfill the cohort's training requirements.
Elective modules are marked by a yellow E. The ECO may assign elective modules in addition to a cohort's required modules, depending on the nature and sensitivity of the activity triggering the training requirement.
Supplemental modules, marked by a green S, may be completed voluntarily in addition to any required and elective modules.
For more information about the training program, its requirements, and details about each cohort, request a copy of the Export Control Training Program outline.
International Shipping
For more detailed information about international shipping, visit the Transporting & Shipping Internationally site.
All international shipments should be accompanied by a Request for Export Control Review Application. Including a completed form with the international package will help prevent unnecessary delays for the shipment.
The University of Nebraska's Export Control Director, Sam Padilla, is available to help all NU campuses maintain compliance with export control regulations. For export control and international shipping questions, please contact Sam at spadilla@nebraska.edu, or contact UNO's Research Compliance Officer, Brenda Kolobara, at bkolobara@unomaha.edu.