Security and Defense Innovation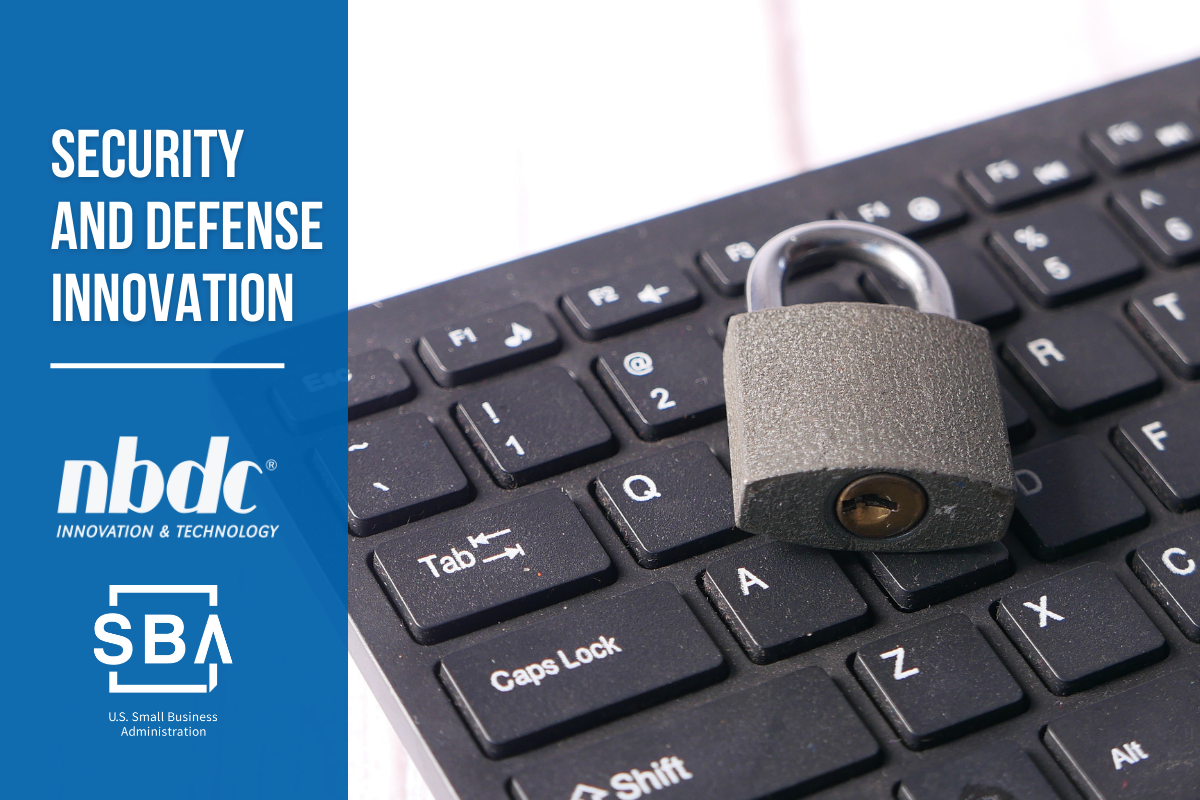 Registration for our 2022 Security and Defense Innovation Cohort is now open
.
Areas of interest for Department of Defense include innovative ideas for securing agricultural production systems and every link in the food supply chain from field to fork as well as optimizing human performance. You'll learn the basics of federal funding, develop a quad chart for your organization and pitch for your product, prepare your grant proposal, and go through the registration process to formally apply.
The program is designed to help you succeed, and includes assignments, templates, and other materials that will ensure you stay on track with your proposal.
"I don't think we would have been able to do any of this without the insight that NBDC has provided." -2021 Cohort Member
Each division of the Department of Defense runs its grant program differently. Participants in this cohort get individualized attention rather than generalized trainings. NBDC will help them identify which pitch events and
Ask Me Anything
s to attend, letters of intent to submit, and contacts to cultivate. Plan to attend the Defense Entrepreneurial Symposium on August 11 and
register below
. Otherwise the journey begins by discussing your innovation and goals with
Josh

Nichol-Caddy at jnicholcaddy@unomaha.edu.
Events
---
Webinar | August 11 | 9:00 A.M.
–

2:00 P.M.
Defense Entrepreneurial Symposium
Connect with other investors, startups, and national organizations interested in national security and defense. This virtual event will feature speakers from Pittsburgh to Hawaii and provides opportunitites for attendees to team up in pursuit of funding.
---
Resources
---
Below are valuable resources when considering applying for funding from the Department of Defense.
Templates
This template is a helpful tool when crafting your pitch.
This template is helpful for crafting your quad chart.
Agencies
AFWERX is the Air Force's program for funding innovation projects. Click to learn more about solicitation open and close dates, proposal preparation, and webinars!
Defense Advanced Research Projects Agency
For sixty years, Defense Advanced Research Projects Agency (DARPA) has held to a singular and enduring mission: to make pivotal investments in breakthrough technologies for national security. Click to learn more about upcoming events, DARPA's research, and current DARPA SBIR/STTR opportunities.
Defense SBIR Innovation Internal Portal
The DSIP (Defense SBIR Innovation Internal Portal) is where you will submit your proposal. The website also links to the Department of Defense (DoD) SBIR topics page where you'll be able to see instructions on submission, open solicitations, and proposal due dates.
Department of Homeland Security
The Department of Homeland Security (DHS) is an agency that has an SBIR program. Click to learn more about their areas of interest, open solicitations, success stories, and upcoming events.
The Office of Naval Research (ONR) has many funding opportunities for research related to the Navy's areas of interest. Click to learn more about the different funding opportunities, how to manage awards if awarded, current research, and events/outreach.
Agency partners
Defense Innovation Marketplace
The Defense Innovation Marketplace website was created to be a consolidated resource for both DoD and industry to help enable communication of DoD needs and industry researchers. Click to learn more about upcoming tech interchange meetings, how to submit projects into their database, publications, and what challenges DoD is currently facing.
Defense Innovation Unit (DIU) is the only DoD organization focused exclusively on fielding and scaling commercial technology across the U.S. military at commercial speeds. They are focused on six technology areas: artificial intelligence, autonomy, cyber, energy, human systems, and space. Click to learn more about open solicitations and other programs for connecting with the DoD.
National Security Innovation Network
National Security Innovation Network (NSIN) is an unrivaled problem-solving network in the DoD that adapts to the emerging needs of those who serve in the defense of our national security. Click to learn more events that connect entrepreneurs with the Department of Defense.
National Strategic Research Institute
National Strategic Research Institute (NSRI) is a trusted agent to the federal government, required to provide and maintain essential engineering, research and development capabilities demanded by the DOD. Click to learn more about the mission of NSRI and funding opportunities for university faculty and students.
State resources
Nebraska Department of Economic Development
Nebraska's Department of Economic Development's mission is to provide quality leadership and services that enable Nebraska's communities, businesses, and people to succeed in a global economy. Click to learn more about events and state funding resources for research and development as well as grant matching and others.
Resources related to information and events
Security Clearance Information
Often when working with DoD, it is necessary or preferred that the business has some security clearance(s). While it is not possible to request security clearance, this website provides information on different levels, the clareance process, and ways that you can obtain security clearance.
SOFWERX is a platform that helps solve challenging Warfighter problems at scale through collaboration, ideation, events, and rapid prototyping. Click to learn more upcoming events and research that is currently being done.
The Vulcan Project is an innovation scouting platform and ecosystem dedicated to solving defense and national security challenges. Please note: You must create an account in order to access the Vulcan Project website.