Spanish-Speaking Graduate Assistants Ease Language Barriers for New Business Hopefuls
Helping the state's Latino entrepreneurs and new business hopefuls overcome language barriers is professionally and personally rewarding for the Spanish-speaking Graduate Assistants (GAs) at the Nebraska Business Development Center (NBDC).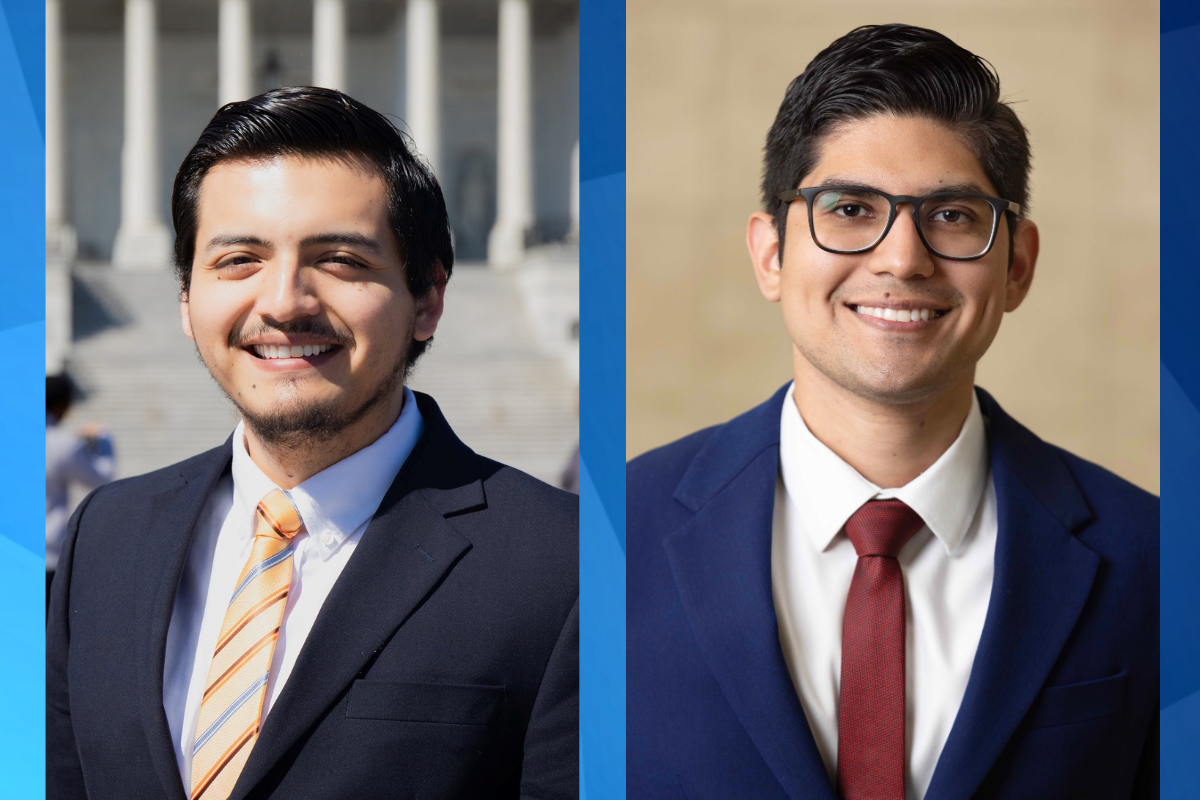 Jonathan Camacho (left) and Luis Franco (right) are graduate assistants at the Nebraska Business Development Center who help Spanish-speaking entrepreneurs and business owners access the resources they need to be successful.
Helping the state's Latino entrepreneurs and new business hopefuls overcome language barriers is professionally and personally rewarding for the Spanish-speaking Graduate Assistants (GAs) at the Nebraska Business Development Center (NBDC).
Jonathan Camacho and Luis Franco are GAs who are based in Omaha and work as business consultants with the Small Business Development Center (SBDC) program of the NBDC.
Additionally, Consultant Alan Martinez serves NBDC clients and potential clients statewide. Martinez is a UNO alum and a former graduate assistant at NBDC.
"The addition of our Spanish-speaking GAs allows us to grow our client base and reach untapped communities for small business development," says Tony Schultz, State Director of America's SBDC-Nebraska. "Anytime we can connect to entrepreneurs to support their business creation or expansion, it creates a ripple effect in the communities we serve, resulting in job creation and wealth building."
Camacho came to the United Sates in 2015 from Juarez, Mexico to further his education. In 2021, he earned a bachelor's degree from Simpson College in Indianola, Iowa, with a major in global management and double minor in French and marketing. At Simpson, he received the Outstanding Senior in Global Management award. Currently, he is working toward his MBA with a concentration in international business at UNOs College of Business Administration (CBA), and is expected to graduate in the fall of 2023.
The opportunity to work as a GA at the NBDC presented itself in August 2022. "Business consulting is something I always wanted to try," he says.
His duties include meeting with potential small business owners and assisting them through the initial processes, from developing a business plan, financial projections and marketing strategies, to connecting them to the proper resources for funding. He says the work has been rewarding, both professionally and personally. "I have found great value in consulting," he says. "It is exciting to see the effort our clients are willing to make to help their dreams come true."
He says his Latino clients often face challenges beyond those of other business hopefuls. "There are so many resources out there for starting a business, but a lot of people in the Hispanic community don't know they exist," he says. "Many are new to the U.S. and face a language barrier, but they still have a strong desire to start a business of their own. They want to do it, but they don't know how."
The national SBDC program is the largest matching grant-funded program of the U.S. Small Business Administration (SBA). The Nebraska SBDC program provides confidential consulting services to entrepreneurs and small business owners looking to start and grow their enterprises or to transition companies to the next generation of ownership. The services are offered at no or low cost to those interested in operating a for-profit business in the state.
Schultz says the program helps entrepreneurs, potential small business owners and bank clients in a number of ways, from the development of business plans, to creating a three-year financial projection model, to market research that includes benchmarking financials as compared to peers.
Through workshops, community outreach and events such as the annual Latino Small Business Conference each summer, NBDC and its consultants are raising awareness and easing access to those resources. Camacho and the other consultants also are translating NBDC materials and other documentation into Spanish to assist clients.
"We are working very hard to change the mindset and let them know we are here to help," Camacho says. "We want them to know they have someone they can reach out to who will connect them with other resource partners when necessary."
Franco is a native of Ecuador who in 2017 earned a bachelor of economics degree from Escuela Superior Politécnica del Litoral (ESPOL) in Guayaquil, Ecuador, and his MBA from UNO in 2021. He is currently working toward an additional master's degree in economics at UNO's CBA, with completion in May. Prior to becoming a GA at the NBDC, Franco served in accounting, payroll and finance roles within the retail industry.
He, too, says the experience as a business consultant has been rewarding and has helped to build upon his background in finance and accounting.
He says some of the most difficult challenges have been convincing his clients to accept his professional advice when it differs from their preconceptions. "I had a client who was starting a business and had prepared some numbers to take to a lender, but their financials were not making sense to me," he recalls.
"The client insisted and went off to the lender, but got rejected," he says. "She came back to me and we worked together to develop new projections. She went back to the lender and this time got the loan."
Franco says the opportunity to work one-on-one with clients will be put to good use going forward. "When I compare my experience before and after being here at the NBDC, I have gained so many skills, from problem solving to public speaking, and it's all boosted my confidence," he says.
Schultz says the GA program at NBDC is fortunate to have a diverse staff from all over the world. "It's fun to get everyone together to share experiences and learn about each other's cultures," he says. "It's a unique pool of talent that enriches the program and benefits all our clients."
Persons interested in meeting with the Spanish-speaking consultants can reach them via email:
Alan Martinez-Statewide Business Consultant
Jonathan Camacho-Business Consultant serving the Omaha Area
Luis Franco-Business Consultant serving the Omaha Area