Program Feature: Nathan Guenther
Graduate Assistant Shows Resiliency as COVID-19 Impacts Data Gathering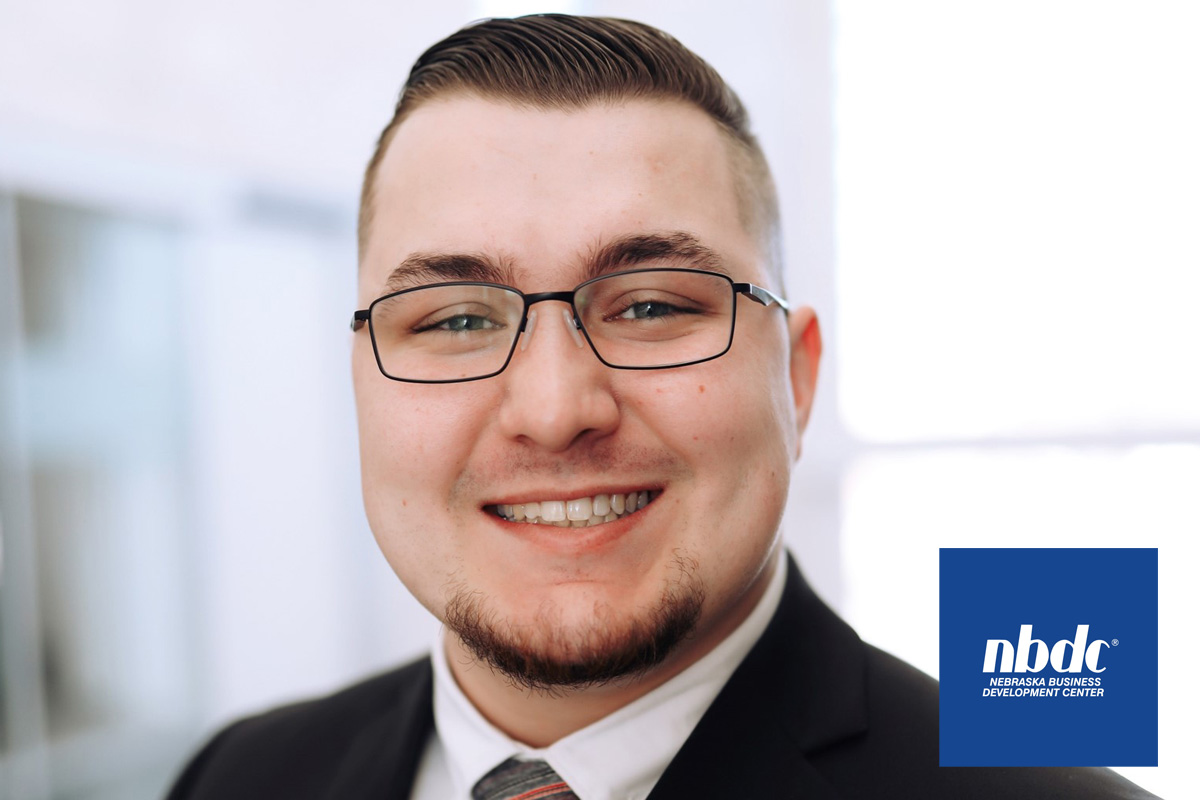 Omaha, Nebraska – Graduate Assistant Nathan Guenther displayed some impressive resiliency of his own when the COVID-19 pandemic changed the processes he employed gathering data during a business preparedness, resiliency and recovery grant project for the Nebraska Business Development Center (NBDC).
The NBDC in 2019 obtained from the Small Business Administration (SBA) a grant for business preparedness, resiliency and recovery. Initially intended to create ways for business owners to learn about and apply resiliency and disaster preparedness in the wake of record Midwest flooding in March 2019, the focus pivoted in 2020 to respond to the COVID-19 pandemic.
Originally, Guenther was to travel the state and meet face-to-face with business owners, development officials and community leaders to ask questions regarding the flooding. COVID-19 abruptly changed those plans.
"To continue to gather information, I had to create an online survey and then begin cold-calling people around the state," Guenther says. "COVID made the work more difficult, because after a time they had become weary of surveys and Zoom calls. It didn't help that it was an election year and people were already inundated with political calls and surveys."
Through perseverance, Guenther was able to collect a significant amount of information that will be made available to businesses within and outside of Nebraska through SourceLink® Nebraska, a statewide platform that connects entrepreneurs to key service providers and resources supporting economic and community development.
The information gathered by Guenther under the guidance of the grant's principal investigators – UNO College of Business Administration (CBA) Professor Steven Schulz, Ph.D., and former NBDC Consultant Rick Yoder – can help Nebraska businesses formulate resiliency plans unique to their locations and industries, says NBDC State Director Catherine Lang.
The variety of tasks Guenther performed illustrates the hands-on experiences NBDC offers its graduate assistants (GAs), Lang says. "Nathan was presented an opportunity to obtain, compile and coordinate data that can have a lasting impact on businesses in our state," she says. "He and the many other GAs we utilize at NBDC gain knowledge and confidence that will further their careers long after graduation."
Schulz says he was impressed by Guenther's ability to transition from in-person meetings to virtual contacts and follow-ups. "No matter what came his way, his professionalism and level of integrity never wavered," he says. "Nathan's positive attitude kept us all moving forward."
Guenther says working as a graduate assistant on the business resiliency and recovery project "has been the greatest opportunity I could have asked for. Anyone considering a master's degree should also go for a GA position. It exposes you to so many real-world experiences compared to a regular student."
Professor Schulz, who began a Supply Chain Management program at CBA that has grown in seven years to a major with a total of 200 undergraduate and graduate students, says businesses that develop and regularly update comprehensive resiliency and recovery plans are better prepared to rebound from potentially catastrophic challenges.
Making the resiliency and recovery information and resources available through SourceLink® Nebraska furthers two of the grant's sub-goals: to create an ecosystem map based on resiliency and to allow businesses to make connections with one another, Guenther says.
"We heard from so many businesses that they had not properly prepared for disasters such as the extensive flooding," he says. "We want to raise awareness to make resiliency and recovery a priority."
Schulz says the data indicated many of the resources that can help businesses are underutilized. He says SourceLink® Nebraska can change that by serving as the starting point to connect businesses with those resources.
Launched in November, SourceLink® Nebraska (available at sourcelinknebraska.com) links users to approximately 500 organizations and nearly 900 business resources across Nebraska. As host of the program, the NBDC is partnering with the Omaha Public Power District, Peter Kiewit Foundation, the University of Nebraska, University Technology Development Corporation, Institute of Agriculture and Natural Resources and Nebraska Extension.
"SourceLink® Nebraska brings all those resources into focus and makes people aware of the options available," Schulz says. "That is the next step of progress for our entire state."