Client Story: Valor General Store
New General Store Specifically Suits its Customers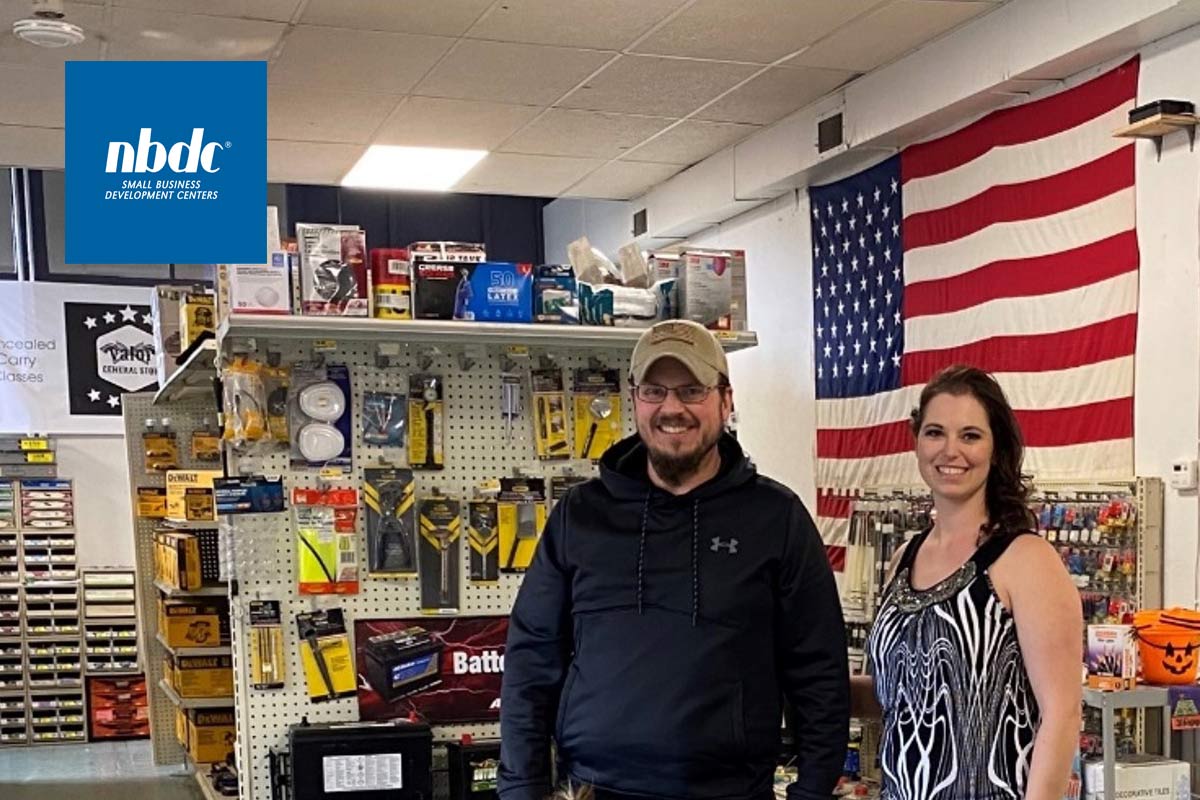 Chadron, Nebraska – The owners of Valor General Store in Hemingford, Neb. are fine-tuning their inventory to serve the unique needs of the residents and businesses of the Box Butte County region, and delivering personalized customer service in the process.
Johnny Covey worked in ranching in the Sandhills for more than 25 years and, most recently, in railroading and as a mechanic after moving to Hemingford. His wife, Lacy had worked in ranching with him for more than 14 years.
When the couple decided to open a combination sporting goods, hardware and household goods business in Hemingford, several people pointed them to the Nebraska Business Development Center (NBDC) and its America's SBDC office at Chadron State College.
The couple had contacted the owners of a former hardware store in a 100-year-old building in Hemingford with the goal of purchasing the building and opening the new store. The Coveys worked with Gary Dusek, administrator of the Chadron SBDC Center, and his team, Office Assistant Jennifer Wittrock and Graduate Assistant Swairie Fernando.
The NBDC team examined the financials and business plan the Coveys had assembled, and then provided gap loan information to cover new inventory and building renovations including a new storefront, a security system to protect the stock of firearms and ammunition, and energy-saving LED lighting.
"In addition to their equity, our meetings with Johnny and Lacy resulted in several loans financing the total project," Wittrock says. "Six of the 10 sources of financing came from the SBDC list."
The NBDC team also advised the Coveys regarding remaining independent of national chains so they could hand-select their inventory. "From the beginning, it was important to Johnny and Lacy that they had complete control of their inventory," Wittrock says. "They wanted to make sure that every item in the store was something the people of Hemingford and area would really need. A lake is nearby, so in addition to providing for the locals, visiting fishermen and hunters were high on their list of potential customers."
The Coveys opened Valor General Store in May of 2021 and sales have been increasing ever since, Johnny Covey says.
"We've had a lot of support from the area's residents and from contractors," he says. "We've been seeing five or six new people come in every week. We'll do special orders, and if several people want something, we'll add it to the regular inventory. We strive to give the local residents what they need."
The Coveys rely on positive word-of-mouth to promote Valor General Store, and they spread that word by supporting local youth sports, school programs and the county fair. "We also host Chamber of Commerce meetings at our store," he says.
Lacy Covey says working with the NBDC team has felt like a partnership. "They became the voice of wisdom for us," she says. "They were with us every step of the way. We'd bounce ideas off them all the time. In return, they gave us honest feedback and we welcomed it."
About NBDC
The Nebraska Business Development Center (NBDC) helps Nebraska businesses start, grow and develop, by strengthening Nebraska businesses for a healthy economy and prosperous communities. NBDC is a University of Nebraska at Omaha center that provides confidential consulting business development services across Nebraska to entrepreneurs and business owners for the life cycle of their business. NBDC partners with the University of Nebraska-Lincoln, University of Nebraska at Kearney, University of Nebraska Medical Center, Wayne State College, and Chadron State College to deliver its services statewide. The U.S. Small Business Administration (SBA), the U.S. Defense Logistics Agency (DLA), the U.S. Department of Commerce (EDA), and other federal, state and private organizations support NBDC. Visit nbdc.unomaha.edu for more information.
---
If you have a story idea, news tip or event, please contact:
Kelly Jefferson, Communications Director
kjefferson@unomaha.edu | 402.554.6256