Client Story: ARYSE
A Lincoln firm that designs, manufactures and distributes orthopedic and performance bracing credits continued guidance and support from NBDC's PTAC with helping to secure contracts with the U.S. Department of Defense.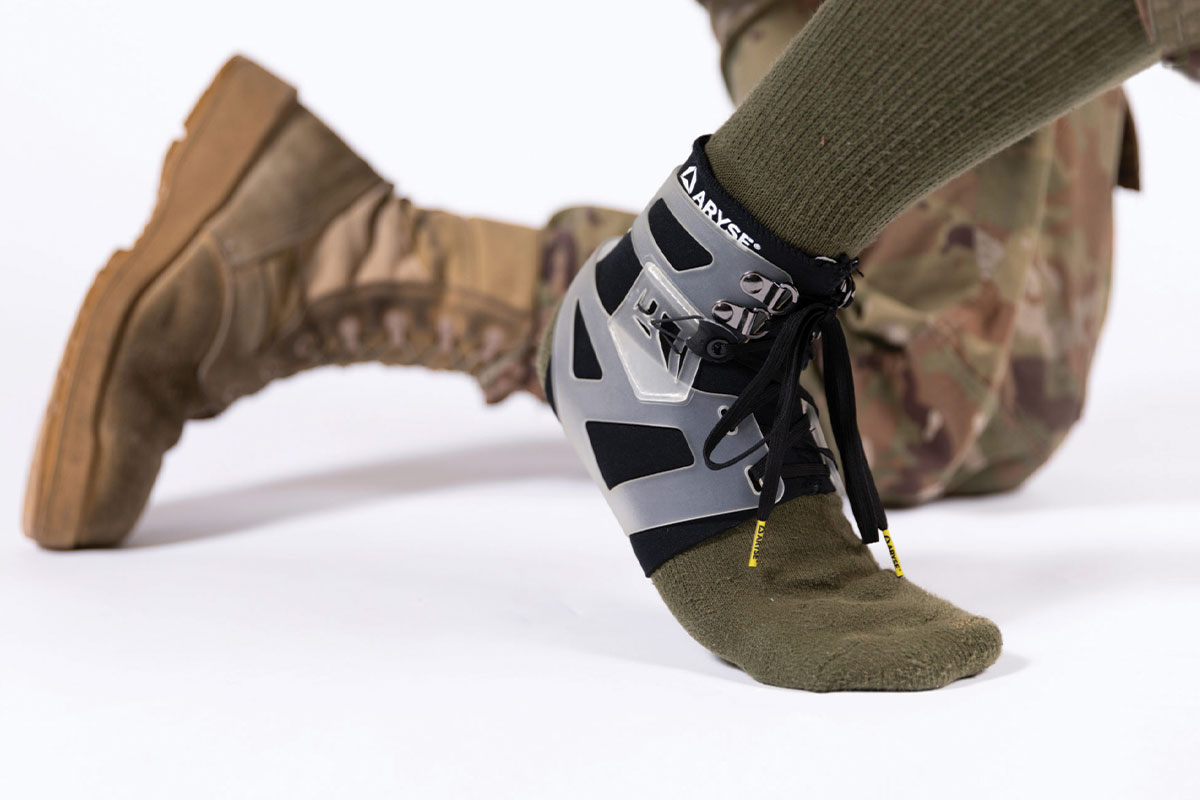 Lincoln, Nebraska – A Lincoln firm that designs, manufactures and distributes orthopedic and performance bracing is crediting the continued guidance and support from the Nebraska Business Development Center (NBDC) and its Procurement Technical Assistance Center (PTAC) with helping to secure a growing number of contracts with the U.S. Department of Defense.
ARYSE (pronounced "arise") is the parent brand of a family of companies that were launched in 2016.
Erin Dutter, director of legal and compliance and director of government partnerships at ARYSE, a small business located in Lincoln, was introduced to NBDC services in 2019 while attending a meeting concerning Nebraska Department of Economic Development grants. This led to initial discussions with NBDC PTAC consultants about how companies pursue military contracts.
In addition to attending several PTAC workshops, Dutter has since worked with NBDC Technology Commercialization Director Josh Nichol-Caddy and PTAC Consultant Quentin Farley. They helped Dutter and other ARYSE representatives prepare to pitch for tech scouts representing the DoD at an Encountering Innovation event in Kansas City. NBDC regularly conducts workshops for developing pitches as well as posters and other required documentation for the Encountering Innovation events.
"Encountering Innovation introduced us to the idea that we may have an opportunity to support the mission of the DoD, but we needed to validate where and how our technology could make a significant difference," Dutter says.
She says the company determined that lower extremity musculoskeletal injuries were very common in military training and combat, with 25 percent of men and 50 percent of women sustaining one or more ankle injuries in an initial training environment. "We also learned that these injuries result in 25 million limited duty days, costing the Military Health System $548 million dollars annually," she says.
Among its technologies, ARYSE has created and manufactures the IFAST, a dynamic ankle stabilizer. The IFAST moves the way the body moves and protects the way the body protects by allowing the joint's normal range of motion. It fits easily inside any shoe or boot, giving athletes and military personnel ankle protection without compromising performance.
"We believe the IFAST is ideal for military training and active duty environments and will reduce the occurrence of preventable musculoskeletal injuries," Dutter says.
With guidance from the NBDC, ARYSE has succeeded in securing three Phase I Small Business Innovation Research (SBIR) contracts with the U.S. Air Force and recently applied for a Phase II contract to fund the further testing and development of a military-approved IFAST. "The only way this was possible was because the NBDC walked us through the application process, gave us advice on submitting the proposals and helped answer the technical follow-up questions," Dutter says.
She says ARYSE also secured its first five-year contract for a medical device, a plantar fasciitis night splint, to be utilized by the Military Health System.
In addition, ARYSE has succeeded in becoming a subcontractor with three Medical/Surgical Prime Vendors (MSPV's) with the Veterans Administration and Defense Logistics Agency.
PTAC Consultant Farley says Dutter has attended a number of NBDC Industry Day events to increase the visibility of ARYSE products. "Erin and her team worked diligently to make inroads with government buyers," he says. "They continue to take advantage of PTAC training opportunities, and currently we are working on submitting a Federal Supply Schedule application to the GSA."
Dutter says the NBDC's suggestion to offer a military discount to individuals on its e-commerce site is resulting in 25 to 50 individual pairs of IFASTs sold to military personnel and first responders weekly.
"We couldn't be successful in our procurement efforts without the help of the PTAC consultants," she says. "Everything we have accomplished with the military has roots with the NBDC."
About NBDC
The Nebraska Business Development Center (NBDC) helps Nebraska businesses start, grow and develop, by strengthening Nebraska businesses for a healthy economy and prosperous communities. NBDC is a University of Nebraska at Omaha center that provides confidential consulting business development services across Nebraska to entrepreneurs and business owners for the life cycle of their business. NBDC partners with the University of Nebraska-Lincoln, University of Nebraska at Kearney, University of Nebraska Medical Center, Wayne State College, and Chadron State College to deliver its services statewide. The U.S. Small Business Administration (SBA), the U.S. Defense Logistics Agency (DLA), the U.S. Department of Commerce (EDA), and other federal, state and private organizations support NBDC. Visit nbdc.unomaha.edu for more information.
---
If you have a story idea, news tip or event, please contact:
Jen Decker, Communications Manager, Nebraska Business Development Center
jenniferdecker@unomaha.edu | 402.554.3616