SBDC's Enlighten Offers Opportunities for Small Business Owners to Learn and Grow
A virtual video library that Nebraska small businesses can access on-demand.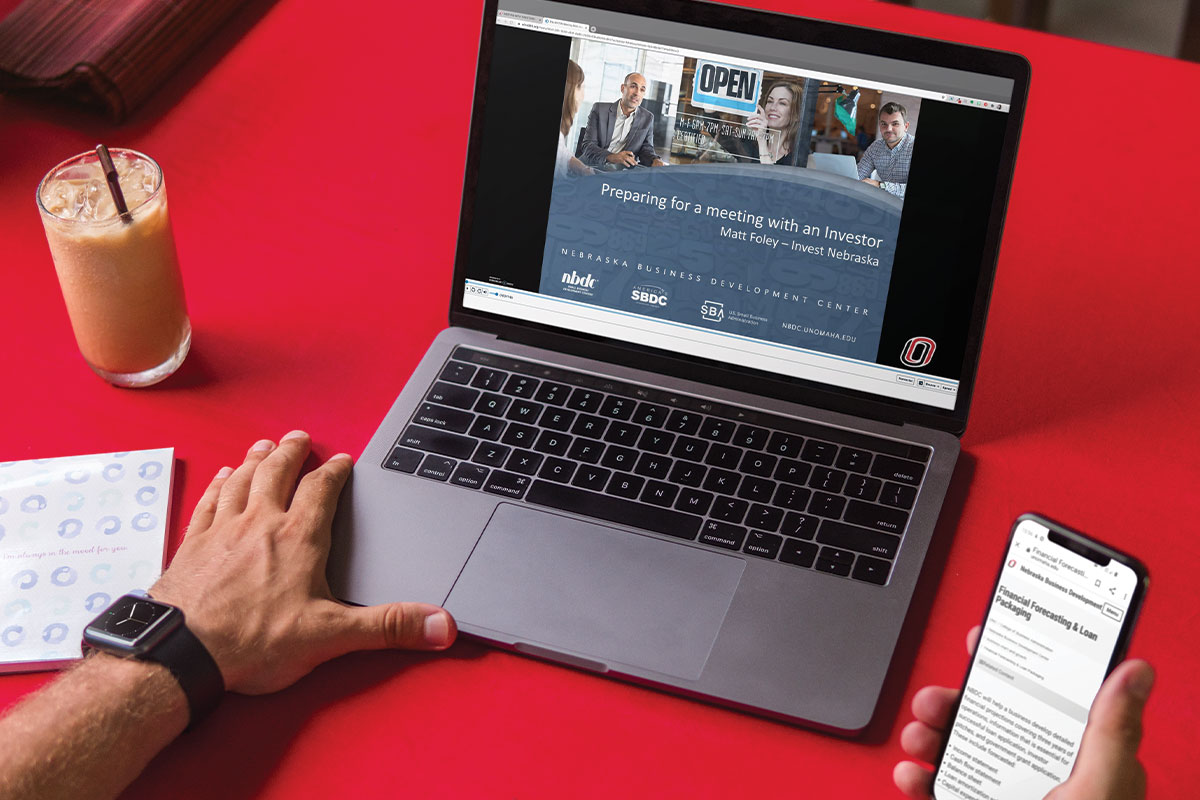 Omaha, Nebraska – A small business owner must wear a lot of hats. In addition to needing the basic knowledge that keeps a business running and growing, small business owners will confront a wide range of issues in their path to success. They will need to answer important questions, such as, "how can I build resiliency into my business?" and "how can I keep my data secure?"
Nebraska Business Development Center has been in the business of helping small businesses answer questions since 1977, with a combination of professional consulting, mentoring and workshops. The pause in face-to-face consulting and classroom delivery created by the pandemic, provided the time and stimulus for NBDC to take an in-depth look at online education focused on the small business community.
The result was Enlighten, a virtual video library that small businesses can access on-demand from any part of the state. NBDC consulted subject matter experts from a wide variety of disciplines – from legal to cybersecurity – to create courses that address today's critical business topics, including employee development, protecting intellectual property and investor relationships.
The format allows small businesses to choose which videos to watch at their convenience from anywhere. Enlighten modules are never more than 20 minutes long and are available 24/7. All videos are closed captioned and have transcripts available in case the listener is in a noisy environment. Many of the videos are in Spanish. All videos and checklists are free to small businesses, at least until October 1, 2021.
Covering all stages in business development, Enlighten also includes checklists to supplement the videos. NBDC consultants across Nebraska will be able to serve the instructional needs of businesses in their areas. "I have people eagerly awaiting its release, as a lot of clients have asked for a self-paced training option," says Spencer Rien, Scottsbluff center director.
Nebraska SBDC director Aretha Boex and program developer Beth Giesbrecht were instrumental in selecting topics and moving courses to an online platform. Says Boex, "NBDC hopes these instructional videos and checklists will save time and give confidence to Nebraska entrepreneurs as they navigate the complexities of establishing and growing their business."
The initial videos for Enlighten will be available mid-January and new ones will be added in the following months. To receive updates, join the Enlighten Signup list today:
About NBDC
The Nebraska Business Development Center (NBDC) helps Nebraska businesses start, grow and develop, by strengthening Nebraska businesses for a healthy economy and prosperous communities. NBDC is a University of Nebraska at Omaha center that provides confidential consulting business development services across Nebraska to entrepreneurs and business owners for the life cycle of their business. NBDC partners with the University of Nebraska-Lincoln, University of Nebraska at Kearney, University of Nebraska Medical Center, Wayne State College, and Chadron State College to deliver its services statewide. The U.S. Small Business Administration (SBA), the U.S. Defense Logistics Agency (DLA), the U.S. Department of Commerce (EDA), and other federal, state and private organizations support NBDC. Visit nbdc.unomaha.edu for more information.
---
If you have a story idea, news tip or event, please contact:
Jen Decker, Communications Manager, Nebraska Business Development Center
jenniferdecker@unomaha.edu | 402.554.3616