Special Collections and Rare Books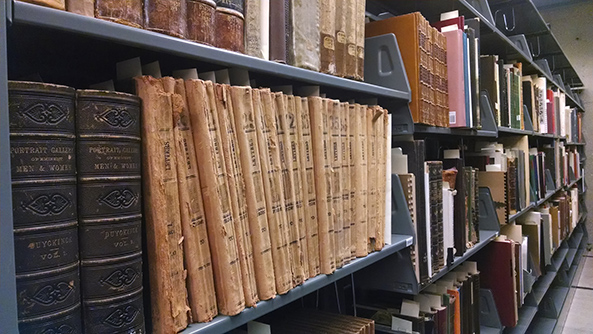 Special Collections
Search Nebraska Archives Online, Archives and Special Collections' finding aids database, for collections or browse a research guide presenting collections by subject area such as architecture, arts, Great Depression, LGBTQIA+ studies, music, women's history, and more.

Highlights of the Rare Books Collections
Fine Arts Press
A large collection of fine arts press books and broadsides from around the United States. The most important of these are the Mary L. Richmond Cummington Press Collection and UNO's own Abattoir Editions.
Icarian Collection
The Icarian Collection contains books formerly owned by a nineteenth century utopian socialist community as well research materials about the history of that community. The largest portion of the collection is comprised of several hundred books which belonged to the Icarian community near Corning, Iowa, which existed from 1852 until 1898.
The vast majority of these books are in French, and most were published from the early 1700s to the late 1800s. The collection also includes a research section containing resources about the Icarian community near Corning, Iowa. Most of these books were published after the community ceased to exist and the majority are in English with a small number in French or German.

Local History
A growing collection of books and printed material about the history of Omaha and Nebraska with strengths in Omaha people, places, and organizations.
Omaha Magical Society
Members of the Omaha Magical Society built a collection that contains books, periodicals, and pamphlets, some of which date back to the 19th century and covers topics including magicians, sleight of hand techniques, and the history of magic. The over 1,000 books in the collection will also be of interest to researchers investigating recreation and leisure activities, the evolution of local and international entertainment, gender roles, gambling, and other topics.
Nebraska Authors & Literature
A number of first editions and autographed copies of books by Nebraska authors, including Wright Morris, Weldon Kees, and Wayne C. Lee. In addition, Special Collections also houses archival collections of Seven Anderton and Steppenwolf, a poetry magazine edited by Philip Boatright.
Queer Omaha Archives
In addition to the growing collection of archival material documenting Omaha's LGBTQIA+ history, significant gifts of printed material from Dr. Meredith Bacon, the Rainbow Outreach Center, and Dr. Jim Medder have created a research collection with strengths in several topics including trans issues, LGBTQIA+ fiction and literature, LGBTQIA+ history, and 20th century pulp fiction.
View Queer Omaha Archives

Arthur Paul Afghanistan Collection
One of the largest collections of books, maps, personal papers, and other historical material about Afghanistan in the United States.
View Arthur Paul Afghanistan Collection
History Of Our Rare Book Collection
The beginning of the Rare Book collection can be traced to a collection acquired from Tabor College in Tabor, Iowa. Tabor College closed in 1927 and Omaha University acquired the approximately 20,000 rare books, books, and government documents from Tabor College's library through a receiver's sale in December 1933.
The Municipal University of Omaha's Board of Regents supported the expenditure of $1,000.00 at their December 14, 1933, meeting to support the purchase and the books were moved to Omaha within days. The purchased library included the Icarian Collection as well as other single volumes of rare books now found in Archives & Special Collections.
Books can be identified through a Tabor College library stamp usually on the first page of the book. The Tabor College acquisition brought the Municipal University of Omaha's library collection of 52,000 books. Criss Library continues to add to the Rare Book collection through gifts, transfers from the library's general stacks, and the purchase of material.