Special Collections and Rare Books
Other subject areas and formats include Omaha and Nebraska history, pre-19th century books, autographed books and rare first editions.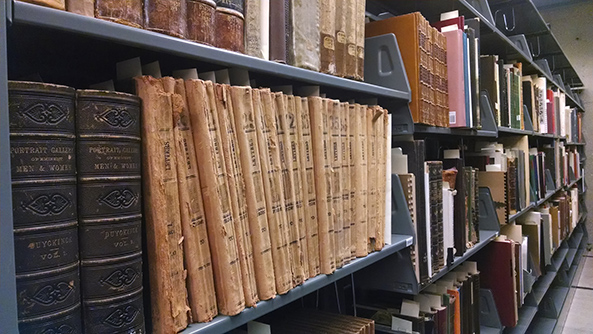 Our Rare Book Collection
The beginning of the Rare Book collection can be traced to a collection acquired from Tabor College in Tabor, Iowa. Tabor College closed in 1927 and Omaha University acquired the approximately 20,000 rare books, books, and government documents from Tabor College's library through a receiver's sale in December 1933.
The Municipal University of Omaha's Board of Regents supported the expenditure of $1,000.00 at their December 14, 1933, meeting to support the purchase and the books were moved to Omaha within days. The purchased library included the Icarian Collection as well as other single volumes of rare books now found in Archives & Special Collections.
Books can be identified through a Tabor College library stamp usually on the first page of the book. The Tabor College acquisition brought the Municipal University of Omaha's library collection of 52,000 books. Criss Library continues to add to the Rare Book collection through gifts, transfers from the library's general stacks, and the purchase of material. 
Highlights of the Special Collections and Rare Books Collection
Omaha Theater Company Records
Materials from 1949 to the present, documenting the history of the organization, its administration, and its productions.
View Omaha Theater Company Records
Queer Omaha Archives
This collecting initiative documents Omaha's long and rich LGBTQIA+ history. 
View Queer Omaha Archives

Fine Arts Press
A large collection of fine arts press publications from around the United States. The most important of these are the Mary L. Richmond Cummington Press Collection and UNO's own Abattoir Editions.
Nebraska Authors & Literature
A number of first editions and autographed copies of books by Nebraska authors, including Wright Morris, Weldon Kees, and Wayne C. Lee. In addition, Special Collections also houses archival collections of Seven Anderton and Steppenwolf, a poetry magazine edited by Philip Boatright.
Arthur Paul Afghanistan Collection
One of the largest collections of books, maps, personal papers, and other historical material about Afghanistan in the United States.
Our Campus. Otherwise Known as Omaha.
The University of Nebraska does not discriminate based on race, color, ethnicity, national origin, sex, pregnancy, sexual orientation, gender identity, religion, disability, age, genetic information, veteran status, marital status, and/or political affiliation in its programs, activities, or employment. Learn more about Equity, Access and Diversity.
scroll to top of page