The Arthur Paul Afghanistan Collection in UNO Libraries' Archives and Special Collections is one of the largest collections of material about Afghanistan in the United States.
The collection has over 20,000 titles in twenty-nine different languages. Although a large number of titles in the collection cover political history and literature, other disciplines are also well-represented, including:
Economics
Education
Folklore
Law
Agriculture
Language
Architecture
Music
Geography
Geology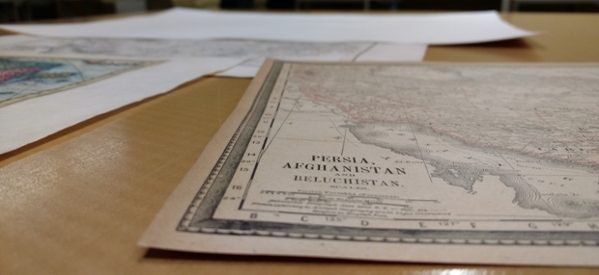 In the fall of 1974, the private collection of Arthur Paul, an economic advisor to the Royal Government of Afghanistan from 1960 to 1965, was donated to UNO's Center for Afghanistan Studies by Arthur and Daisy Paul. The library then acquired the collection and it later became part of what is today UNO Libraries' Archives and Special Collections. During his time in Afghanistan Arthur Paul (1898-1976) collected both published and unpublished material, including many unique items.
The library has made extensive efforts to add to Paul's original donation of over 1,200 items through purchases and donations from many other supporters. Learn more about donating materials and funds to support the collection. The repository does not accept multiple copies of the same titles. Potential donors of books and other material should contact Amy Schindler, Director of Archives and Special Collections, to discuss your potential gift.
Note that like most special collections, the material in the Arthur Paul Afghanistan Collection is only available for use in UNO Libraries' Archives and Special Collections with the exception of some microforms and selected titles. Interlibrary loan requests from researchers for books and other printed material are individually reviewed by an archivist for potential loan or digitization on demand. Researchers with questions about whether it may be possible to loan or digitize a title should contact Archives and Special Collections at unoasc@unomaha.edu.