Dean Bartle Will Step Down June 2024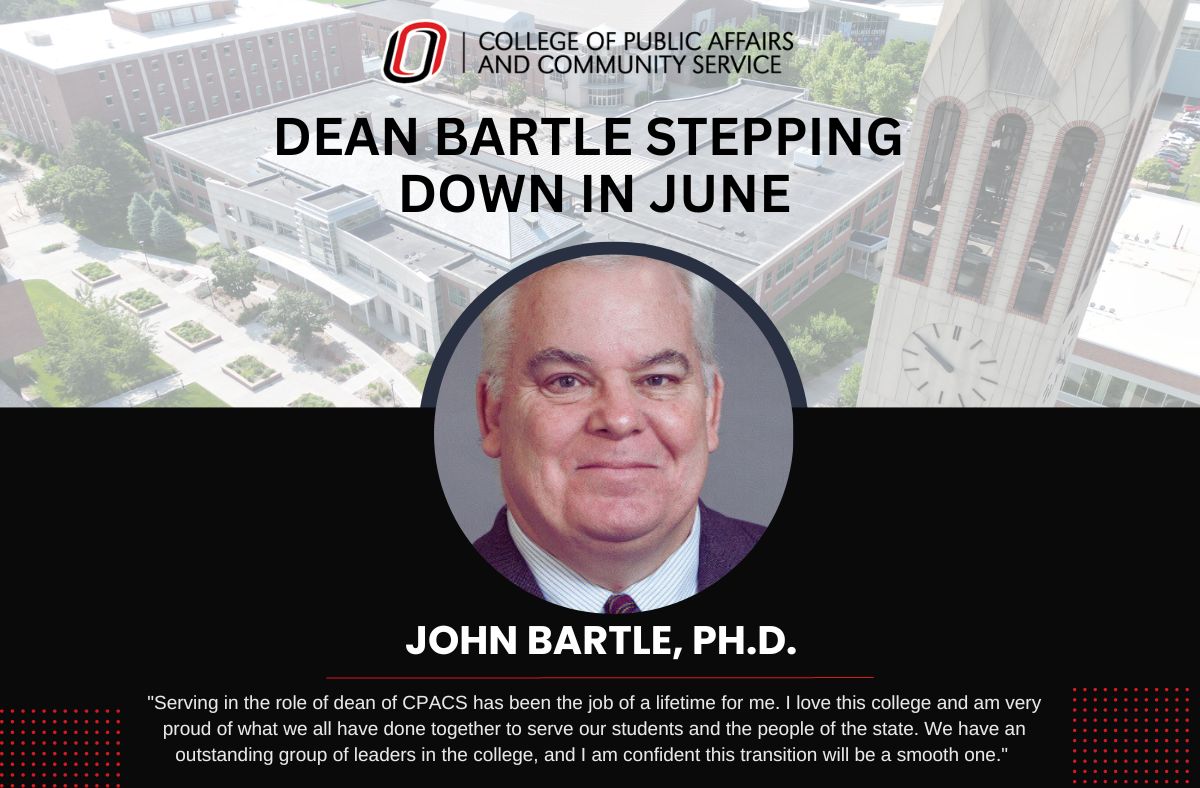 In the world of higher education, few leaders leave an indelible mark upon their institutions, reshaping academic landscapes and fostering real transformation. Among these visionaries, Dean John Bartle is poised to step down from his position as Dean of the College of Public Affairs and Community Service (CPACS) at the University of Nebraska at Omaha (UNO) in June of 2024. He will resume his position as Professor of Public Administration. This transition marks the culmination of a tenure characterized by unwavering dedication and pioneering accomplishments.
"Dean Bartle is a true Maverick who constantly seeks to serve the students, faculty, and staff in his college, as well as the broader Omaha community through innovation and research," UNO Chancellor Joanne Li, Ph.D., CFA, said. "A remarkable amount of positive transformation within CPACS took place because of his leadership and I thank him immensely for his contributions to the university."
Dean Bartle's multifaceted journey through various administrative roles at UNO, including his directorship of the School of Public Administration (SPA) and the Master of Public Administration (MPA) program, reflects an enduring commitment to innovation and progress.
Assuming the mantle of Dean of CPACS in 2013, following his tenure as Acting/Interim Dean, Dean Bartle orchestrated a transformative era. Under his leadership, CPACS flourished, witnessing a notable 36% surge in enrollments from fall 2010 to 2021. This remarkable upswing, reaching its peak of 3,435 students in fall 2020, solidified CPACS's status as UNO's second-largest college by enrollment.
Among the many accomplishments, Dean Bartle spearheaded the development of new academic programs attuned to the dynamic needs of the modern world. His efforts included pioneering the establishment of a Ph.D. in Gerontology and a B.S. in Emergency Management, exemplifying his dedication to equipping students with cutting-edge insights. Notably, he also championed the creation of innovative concentrations like Applied Leadership, Sustainability, Tribal Management and Emergency Services, and Nonprofit Management, underscoring his comprehensive vision for education.
Guided by his vision, CPACS achieved prominence not just within the local academic landscape, but on the national stage as well. The relentless pursuit of excellence culminated in eight CPACS programs securing positions in the top 30 nationally, as recognized by US News & World Report in 2022-23. This distinction reaffirmed the influence his leadership exerted in refining the college's academic caliber and innovative climate.
Dean Bartle's unwavering commitment to diversity and inclusivity emerged as a hallmark of his legacy. Employing strategic initiatives such as the Special Faculty Development program, and the establishment of practitioner networks, he fostered an environment within CPACS that celebrated and embraced diverse voices. "His transformative leadership has propelled CPACS to new heights. We eagerly anticipate the continued impact Dean Bartle will have on CPACS and UNO as a distinguished faculty member," Phil He, Senior Vice Chancellor for Academic Affairs said.
Beyond his academic feats, Dean Bartle's legacy extends to impactful fundraising and philanthropy. His resolute efforts garnered over $7 million through the University of Nebraska Foundation, underwriting the establishment of endowed professorships, scholarships, and pivotal programming. The cascading impact on CPACS's growth and outreach will endure.
As Dean Bartle prepares to transition from his leadership role, he leaves behind a legacy characterized by innovation and advancement.. His dedication to nurturing the next generation of leaders, fostering diversity, and elevating the frontiers of academic excellence has been a wellspring of inspiration. As he steps down from this leadership role, Bartle leaves behind an exceptional leadership team and a legacy of achievement that will continue to shape the college's trajectory for years to come.
The search for the next leader to take up the mantle at CPACS is underway, and while Dean Bartle's presence will be missed, his impact will endure. The university community eagerly anticipates the next chapter in CPACS' journey as it builds upon this legacy.