Announcing Dr. Susan Reay as the New Director of the Grace Abbott School of Social Work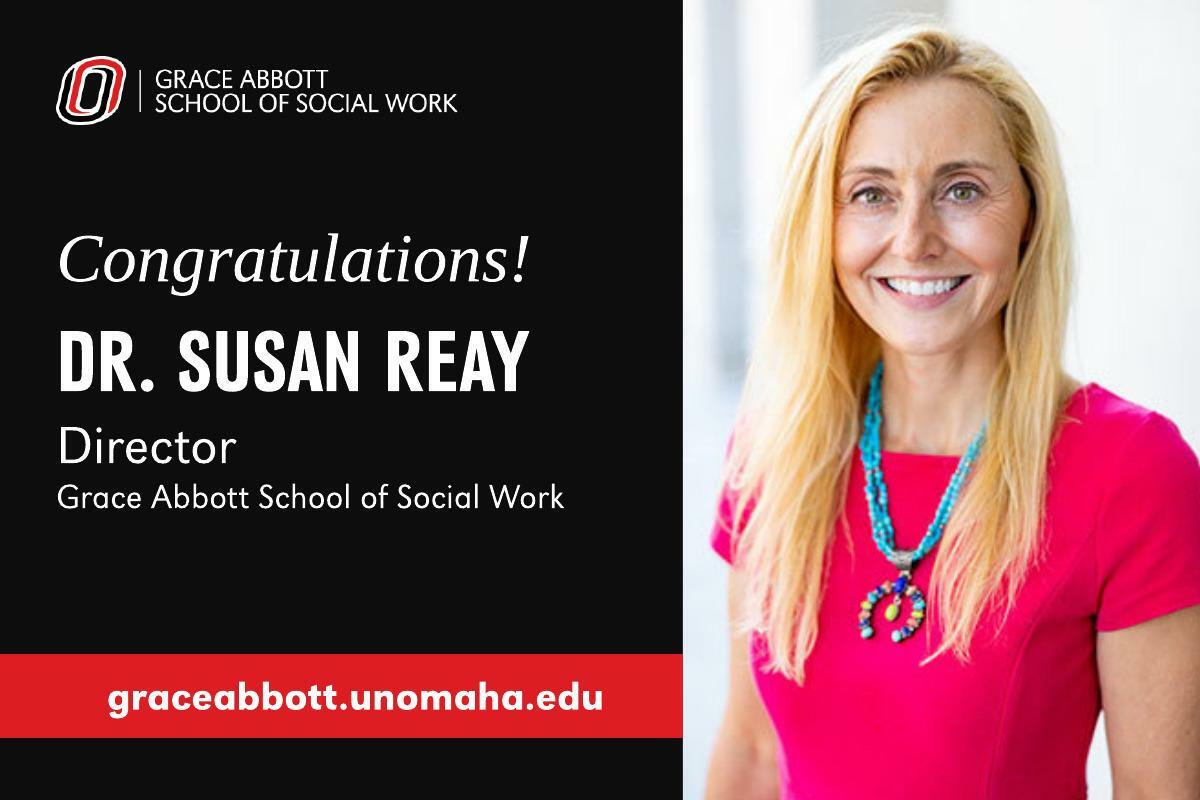 The University of Nebraska at Omaha (UNO) Grace Abbott School of Social Work is delighted to announce the appointment of Dr. Susan Reay as its new director. With an impressive background in social work, extensive experience in clinical practice, and a passion for education, Dr. Reay brings a wealth of knowledge and expertise to this position.
Dr. Reay is currently an assistant professor at the Grace Abbott School of Social Work, where she has made valuable contributions to the field of social work. She earned her bachelor's and master's degrees in social work from the University of Nebraska at Omaha and completed her Doctorate in Education at the College of Saint Mary.
With a remarkable career spanning 25 years, Dr. Reay has excelled as a clinical social worker in various leadership roles. Her experience includes serving as a non-profit clinical director and administrator of multiple behavioral health education programs. Notably, Dr. Reay's outstanding dedication led her to be appointed to the Nebraska Board of Mental Health Practice, where she served for 13 years, nine of which were spent in leadership positions.
Recognized for her exceptional contributions to the field, Dr. Reay served as the training and technical assistance project coordinator for the Nebraska System of Care SAMHSA grant, demonstrating her commitment to improving mental health services in the community and across the state. She also coordinated a $1.3 million HRSA grant for social work education, highlighting her dedication to advancing the field through research and funding opportunities.
Dr. Reay's expertise lies in the areas of ethics, licensure, and children's mental health. Her deep knowledge of evidence-based mental health practices for treating youth psychopathology has made her a sought-after speaker on ethics in behavioral health, regulation, wellness, and eating disorders. In addition, Dr. Reay's contribution extends to the Association of Social Work Boards, where she writes exam questions for the licensing exam used across North America.
As the Faculty Community Engagement Liaison for the Grace Abbott Supervision and Training Academy (GATSA), Dr. Reay has played a pivotal role in fostering collaboration and enhancing the educational experience for students and faculty alike. Her commitment to community engagement and building meaningful partnerships will further strengthen the Grace Abbott School of Social Work's impact in the field.
Please join us in congratulating Dr. Susan Reay on her appointment as the Director of the Grace Abbott School of Social Work. Her passion, expertise, and leadership will undoubtedly make a profound impact on the students, faculty, and the broader community.