SCCJ Juvenile Justice Certificate Program Graduates First Cohort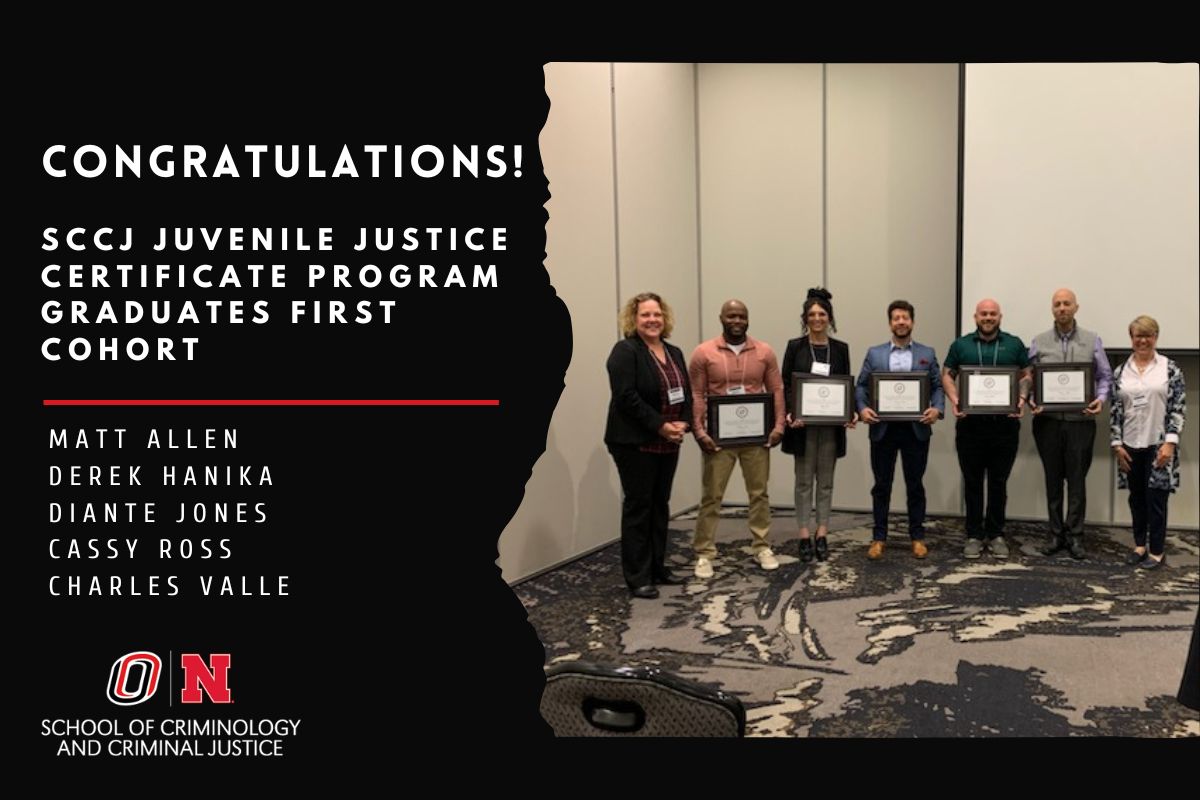 University of Nebraska at Omaha's (UNO) School of Criminology and Criminal Justice (SCCJ) and The Juvenile Justice Institute (JJI) recognized participants completing the inaugural Juvenile Justice Certificate Program on May 3, at the Nebraska Juvenile Justice Association Conference in Kearney, Nebraska. JJI Director, Dr. Anne Hobbs and Assistant Director, Monica Miles-Steffens awarded certificates of successful completion to Matt Allen, Diante Jones, and Charles Valle all from Community Based Services in Omaha; Derek Hanika, District 2 Juvenile Probation Supervisor, Sarpy County; and Cassy Ross, Communications Director for Senator Megan Hunt in Lincoln.
Program participants met monthly from August-April engaging with local and national speakers on relevant juvenile justice and reform topics including, but not limited to motivational interviewing, youth engagement, educational rights, policy and reform efforts, equity and inclusion, and adolescent development. Participants utilized this knowledge and applied skills to develop final projects which were presented at the NJJA conference. Project topics included development of a new gang intervention program model, adolescent development training for policy makers, and measurement of restorative justice attitudes in a probation district.
The goals of the program aim to develop capacity of current and future juvenile justice professionals to implement best practices in their organizations and Nebraska's juvenile justice system; equip future juvenile justice leaders with the knowledge to lead Nebraska in an evidence-based way; and grow a statewide network of juvenile justice professionals who act as a resource and support to each other and their communities. Enrollment information for the next cohort can be found at UNO's
Juvenile Justice Institute
.