UNO's Flight Team, Back in the Air and Heading to Nationals
Fifteen UNO Aviation Institute students competed with the Flying Mavs at the 2021 National Intercollegiate Flying Association (NIFA) Conference in Minnesota.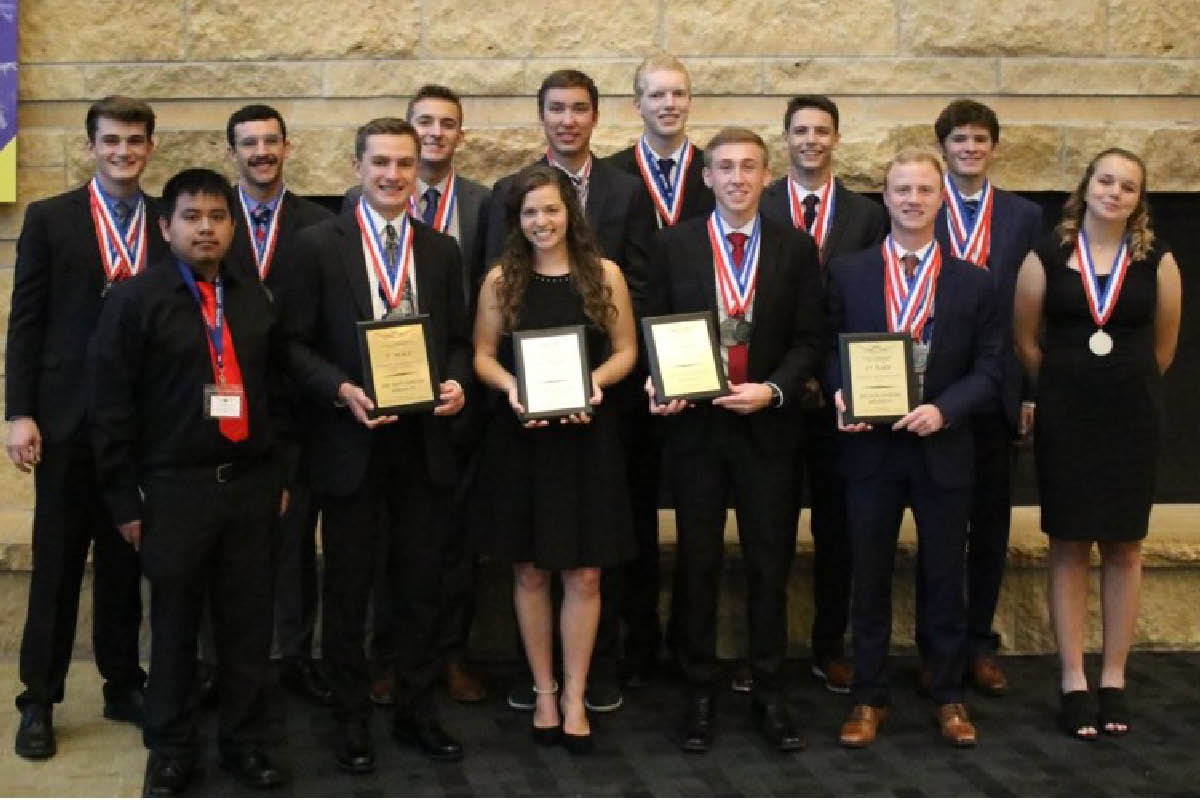 The Flying Mavs, the University of Nebraska at Omaha's student flight team, returned to competition October 20, 2021 – October 23, 2021, in Mankato, MN. The 2021 National Intercollegiate Flying Association (NIFA) Region VI Safety and Flight Evaluation Conference (SAFECON) was hosted by Minnesota State University Mankato.
The Flying Mavs took 15 competitors to this year's competition lead by Captains Mitch Scott (junior from Papillion LaVista South High School) and Josh Wordekemper (senior from Guardian Angels Central Catholic in Templeton, NE). Overall, the Flying Mavs placed behind the University of North Dakota, which won the 2019 National and Region VI championships. The Flying Mavs are coached by Skip Bailey and Scott Vlasek, who also serves as the team's faculty advisor.
COVID-19 canceled the 2020 National SAFECON which was to be held in Oshkosh, WI to celebrate the 100th Anniversary of Collegiate Aviation Competition. The 2021 Regional and National SAFECONS were held virtually for the first time in NIFA's history.
Captain Josh Wordekemper said, "I am very impressed with the team's commitment to success. This team has put in countless hours of preparation and endured long days of competition in Mankato. It was great to see our hard work pay off with a great placement at the Region VI SAFECON."
According to Scott Vlasek, "the team came to Mankato ready to compete, they put in a lot of work over the past 10 months to get ready for this event and it paid off." The Flying Mavs practice ground events on campus every Monday and Wednesday from 8:00 AM until 10:00 AM. On Fridays they take evaluations to track their progress and qualify for the travel team. Additionally on Friday you will find the Flying Mavs at the Council Bluffs Airport practice for the landing events and navigation event from noon until 4:00 PM.
The rigorous practice schedule paid off as 21 Flying Mavs placed in the top 10 in the regional competition's different events. Vlasek also noted, "we excelled in the Aircraft Preflight Inspection and Unlimited Navigation events placing 2nd, 3rd, and 6th in Preflight and 2nd, 4th, and 5th in the Navigation event. To have all three of your team's competitors place within the top 6 in these events helped us a lot."
The Flying Mavs were 32 points shy of beating the Fighting Hawks of North Dakota in the Flying Events. Overall, however the Flying Mavs came up 215 points short to North Dakota in the SAFECON Region VI Championship.
Coach Bailey talked about how impressed he was with the team's commitment to the hard work and preparation. He stated, "they showed up at 8am three days a week over the last few months when most college students would rather be sleeping. It was a great feeling as a coach to hear their names called at the banquet and watch the looks on their faces as they received their medals, certificates, and plaques. The early mornings and hard work paid off."
The second-place finish extends the Flying Mavs' thirteen-year streak of earning a bid to the National SAFECON which will be held in May 2022 at Ohio State University.
Captain Mitch Scott said, "Since competing two years ago, all the work we've done has truly paid off. I couldn't be prouder of this group and the success that we've achieved. It's a setting where piloting skills are cultivated and shared, and I get to be a part of it. From the juniors and seniors that have been at it for years, to the freshmen who placed after two months of practice, this team has shown up and proven that we're ready for the national level of competition."
A complete list of the results from the Region VI SAFECON can be found at https://nifa.aero/2021-region-vi-safecon-official-results/ and a list of the University of Nebraska Omaha Flight Team results is listed below.
For additional questions or comments please feel free to reach out to Scott Vlasek at svlasek@unomaha.edu 402-554-3785 or Skip Bailey at lbaileyjr@unomaha.edu 402-554-6722.
2021 University of Nebraska Omaha Flight Team Results
Aircraft Preflight Inspection
Owen Brennan – 2nd Place
Danielle Jacobson – 3rd Place
Hunter Pehrson – 6th Place
Aircraft Recognition
Kenneth Thomason – 5th Place
Sidnee Fuller – 9th Place
Jonathan Corey – 12th Place
Tyler Haney – 27th Place
Cole Dostal – 28th Place
Computer Accuracy
Tomas Kathol – 4th Place
Owen Brennan – 6th Place
Marcus Gross – 18th Place
Edgar Gaspar-Francisco – 29th Place
Cole Dostal – 31st Place
Ground Trainer
Josh Wordekemper – 7th Place
Tomas Kathol – 12th Place
Tyler Haney – 19th Place
Simulated Comprehensive Aircraft Navigation
Mitch Scott – 9th Place
Josh Wordekemper – 10th Place
Hunter Pehrson – 15th Place
Garrett Ferguson – 16th Place
David Wellnitz – 24th Place
Unlimited Navigation
Garrett Ferguson and Kenneth Thomason – 2nd Place
Owen Brennan and Cole Dostal – 4th Place
Josh Wordekemper and Hunter Pehrson – 5th Place
Short Field Landing
Mitch Scott – 4th Place
Garrett Ferguson – 8th Place
Hunter Pehrson – 9th Place
Owen Brennan – 12th Place
Josh Wordekemper – 20th Place
Power Off Landing
Garett Ferguson – 4th Place
Owen Brennan – 6th Place
Mitch Scott – 13th Place
Jonathan Corey – 19th Place
Josh Wordekemper – 26th Place
Message Drop
Owen Brennan and Tyler Haney – 5th place
Jonathan Corey and Josh Wordekemper – 6th Place
Josh Wordekemper and Jonathan Corey – 7th Place
Mitch Scott and Danielle Jacobson – 11th Place
Danielle Jacobson and Mitch Scott – 12th Place
SAFECON Regional Championship
1st Place – University of North Dakota
2nd Place – University of Nebraska Omaha
3rd Place – Kansas State University Polytechnic
4th Place – Minnesota State University Mankato
5th Place – St. Louis University – Parks College
6th Place – University of Central Missouri
7th Place – University of Dubuque
8th Place – Hesston College
Flight Event Champions
1st Place – University of North Dakota
2nd Place – University of Nebraska Omaha
3rd Place – Kansas State University Polytechnic
4th Place – Minnesota State University Mankato
5th Place – St. Louis University – Parks College
6th Place – University of Central Missouri
7th Place – University of Dubuque
8th Place – Hesston College
Ground Event Champions
1st Place – University of North Dakota
2nd Place – University of Nebraska Omaha
3rd Place – Minnesota State University Mankato
4th Place – St. Louis University – Parks College
5th Place – University of Central Missouri
6th Place – Kansas State University Polytechnic
7th Place – Hesston College
8th Place – University of Dubuque
Top Pilot
3rd Garrett Ferguson
4th Owen Brennan
10th Mitch Scott
11th Josh Wordekemper
Top Scoring Contestant
2nd – Owen Brennan
4th – Garrett Ferguson
13th – Josh Wordekemper
14th – Mitch Scott
21st – Hunter Pehrson
30th – Jonathan Corey
32nd – Danielle Jacobson
33 – Tomas Kathol
46th – Kenneth Thomason
54th – Sidnee Fuller
71st – Marcus Gross
72nd – Tyler Haney
2021 UNO Flight Team Competitors
Mitch Scott – Junior from Papillion LaVista South High School
Josh Wordekemper – Senior from Templeton, NE Guardian Angels Central Catholic HS
Owen Brennan – Sophomore from Skutt Catholic High School
Jonathan Corey – Freshman from Elkhorn South High School
Cole Dostal – Sophomore from Gretna High School
Garrett Ferguson – Junior from Lincoln, NE Lincoln North Star High School
Sidnee Fuller – Senior from Hastings, NE Adams Central High School
Edgar Gaspar-Francisco – Senior from Omaha Burke High School
Marcus Gross – Freshman from Harlan, IA Harlan Community High School
Tyler Haney – Junior from Bellevue East High School
Danielle Jacobson – Junior from Overland Park, KS Mother of Divine Grace School
Tomas Kathol – Junior from Hartington, NE Cedar Catholic High School
Hunter Pehrson – Junior from Laurel, NE Laurel-Concord-Coleridge High School
Kenneth Thomason – Junior from Greenwood, NE Ashland Greenwood High School
David Wellnitz – Freshman from North Platte, NE North Platte High School