Two Major Honors: Two Exceptional Aviation Scholars
The UNO Aviation Institute has received many accolades throughout 2021, including two scholars being honored with national recognition this month.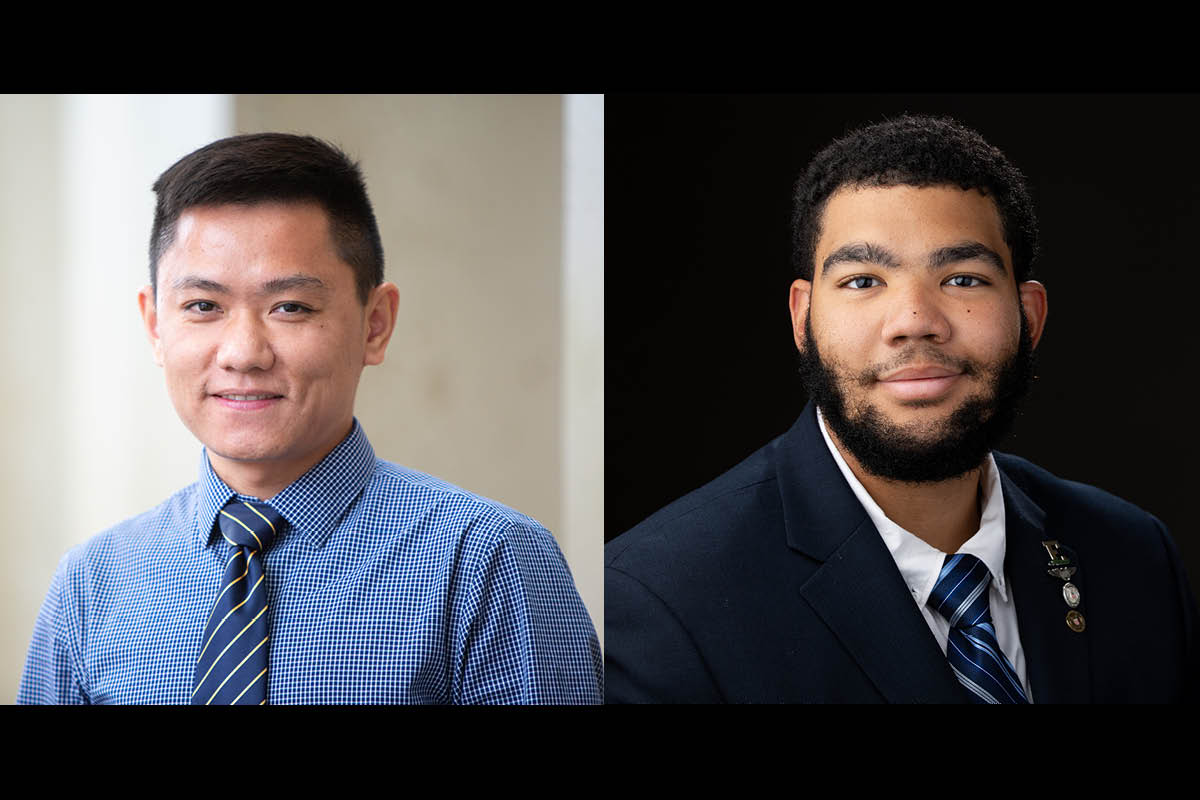 Kudos are in order to two exceptional scholars within the Aviation Institute, including assistant professor, Dr. Chenyu "Victor" Huang, and instructor, Theodore Johnson.

Chenyu "Victor" Huang
Dr. Huang is the recipient of this year's University Aviation Association's (UAA) Frank E. Sorenson Award. The Sorenson Award is presented to professional educators who are University Aviation Association actively involved members in good standing. Nominations for this award should reflect substantial scholarly contributions to the field of aviation research and scholarship comparable to the scope of research, scholarship and publications attained by Dr. Sorenson.

"The award is a great honor and tremendous encouragement for me to continue dedicating myself to aviation research and education for a safer, more accessible, sustainable, and diverse aviation community," shares Dr. Huang. "I attribute this honor not only to my personal efforts spent on aviation research and education but also the substantially supportive environment at CPACS and tremendous colleagues from Aviation Institute and School of Public Administration."

Much like the prestigious honor from the UAA, Theodore Johnson was recognized as a Leading Black Male Educator.

Theodore Johnson
Theodore Johnson, an instructor within the Aviation Institute at UNO, was acknowledged as one of 41 Leading Black Male Educators highlighted as making an impact on education, specifically within higher education by UpLIFT.

UpLIFT is dedicated to celebrating black male educators across the USA - For Us, By Us - Combining vivid visuals and reflections in combatting oppressive experiences through this innovative affinity movement.

According to the organization's website, "Across the USA black male educators make up about 2% of all educators despite research indicating the impact educators of color have on all students. Black male educators are faced with so many challenges in the field of education … This publication is created in the spirit of decolonizing these educational oppressive challenges and UpLift the experiences of black male educators in a reflective visual approach."

Through an extensive three-tiered application process, Johnson was selected after submitting an initial application, completing short answer/essay questions, and undergoing an application and resume review.

As Johnson reflections on this distinguished recognition he shares, "This honor means more to me than words can describe. Being a highlighted for such an achievement was extremely humbling, but also affirms that I am utilizing my knowledge, skills, abilities, and experience in a manner that can be of beneficence to students, the university, and the community. Specifically, building future generations of leaders while serving as a symbol of empowerment that students, especially for those that look like me, can overcome various racial, social, financial, and institutional barriers that seem insurmountable to achieve their dreams or goals. Lastly, the honor underscores the salience of the values and principles instilled in me by my parents, both of whom were public servants, that have since served as my 'compass' and provided the foundation for me to strive towards success whilst assisting others to do the same that I encounter along my journey."

Both awards highlight the tremendous efforts of the faculty who make up the UNO Aviation Institute, and their exceptional contributions to the field.



UNO's Aviation Institute
UNO is home to one of the nation's best-kept secrets in the sky: its Aviation Institute. Since its inception in 1990, the institute has soared to great heights, offering students flight instruction and education in the many other facets of aviation such as air traffic control, airport management, ground operations and security.